Shares of EMC Corporation (EMC) came under a short attack last year but have managed to rise anyway. Despite a struggling market for external storage, the company continues to book strong cash flows and is relatively cheap on a sum-of-parts basis. Even if management is not able to unlock significant value over the short-term, a rebound in business investment and longer-term catalysts should provide solid returns.
Once bitten, twice Shy
The shorts started their campaign against EMC in earnest back in October of last year, more than doubling the short position before the end of the year. At the height of the short attack, nearly 151 million shares were borrowed and shorted for a massive $4 billion bet against the company. While that's only about 7.5% of the float, it is still a pretty strong bet against a mega-cap company.
Granted, the naysayers were not without an argument. The company's major revenue stream, storage and infrastructure, has been facing a multi-year decline and may continue to be weak on greater virtualization. On the other hand, this isn't some just issued tech startup with only the hope of earnings. The company made $2.9 billion in earnings last year and has more than doubled free cash flow to $5.5 billion over the last five years.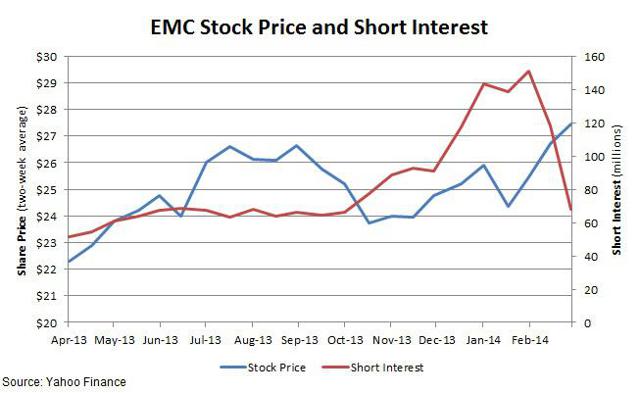 Now it seems the shorts are running for the exits, buying back 83 million shares within a month. While not a squeeze, it has pushed the shares up more than 10% since January. Short interest is now where it was for most of last year. You could argue that this leaves the shares open for another attack but I doubt that those burned will be back to bet against the stock any time soon. The shares are still relatively cheap, especially against a market full of hot IPOs and new tech companies.
Compelling valuation and a long-term upside
Revenue has increased at an annualized pace of 9.3% over the last five years though growth slowed to 7.0% last year. Capital spending by businesses has disappointed the market for several years but there is good reason to believe that spending on technology should ramp up this year. Tech spending as a percentage of total business investment was near a 15-year low last year and Charles Schwab's Sonders is pointing to a confluence of events that could benefit technology and industrial firms this year. An increase in tech spending could show through across the company's business line, in infrastructure and cloud virtualization.
Analysts covering EMC are expecting sales to grow just 5.5% this year to $24.5 billion. While this is well below the longer-term average and likely does not include a pickup in capital spending, shares are relatively cheap even on this assumption. Storage accounted for 70% of 2013 revenue with intelligence and security accounting for another 7% of sales. Revenue from the company's ownership of VMware (NYSE:VMW) accounted for 23% of total sales.
The company had $5.17 billion in net cash at the end of 2013, nearly 10% of the market capitalization and trades for an enterprise value of 2.13 times sales.
Storage companies are trading for fairly low valuations on the secular weakness in PCs and enterprise spending. Enterprise values for the mega-cap companies range from 1.25 times sales for shares of Western Digital Corporation (NYSE:WDC) to 2.8 times sales for shares of SanDisk (SNDK). We will use the more conservative 1.25 times sales for the storage business even though EMC commands a stronger market share and scale than Western Digital. Shares of virtualization companies are trading relatively higher with VMware valued at 7.5 times trailing sales.
Assuming that VMware contributes 25% of sales over the next year and weighting revenue by the appropriate multiples yields a fair value of 2.81 times sales.
Free cash flow last year increased to $5.5 billion with a relatively strong capital spending program. Assuming expenses grow at the rate of sales or less, the company could easily decrease its enterprise value by $4.5 billion through paying down debt or an increase in cash. This would lead to an enterprise value of roughly $45.1 billion and a multiple just 1.84 times expected 2014 sales.
Even assuming the shares remain around 2.15 times sales would mean a 17% upside from here. Whether you believe the company is worth the weighted average of 2.81 times sales, a 53% premium on the modeled multiple, there is still some deep value in the shares.
This all assumes a continued decline in storage and that management fails to unlock the value inherent in the different segments. A recovery in business investment in technology over the next few years could drive higher revenue and stronger sentiment in shares of EMC.
Over the longer-term, products like Google Glass could drive an explosion in bandwith and storage needs. Only a third of the world's population is online and internet traffic hit 242 exabytes in 2010. Can you imagine the data needs when people are able to simply say, "start recording," and every second of their life can be uploaded to the net? While the company's storage and infrastructure segment have been an albatross over the last several years, it could very well be a growth segment again in the future.
Shares of EMC are trading at a steep discount to the fair value of its business segments. Besides controlling 30% of the worldwide external storage market, the company has strong assets in the cloud virtualization. The shares have fought off a short attack and there may not be many left willing to bet against the company. Shares pay a modest 1.5% cash yield but investors should be able to realize attractive total returns on a rebound to fair value.
Disclosure: I am long EMC. I wrote this article myself, and it expresses my own opinions. I am not receiving compensation for it (other than from Seeking Alpha). I have no business relationship with any company whose stock is mentioned in this article.