by Dominic Cimino
Technology is currently experiencing a setback that is garnering media attention. At one point on Monday, the Nasdaq 100 Index was nearly 7% lower than its high from only one month ago. Since tech stocks have become market leaders, perhaps a broader general market correction is underway. If you remember, I believe a 10%-15% correction is possible. But let me explain why I believe even if a correction is unfolding, I do not believe the current risk is high for a new bear market.
I believe global central bank policies have largely been responsible for the current bull market in stocks. The coordinated efforts of global policy makers have so far provided for low interest rates, added liquidity, and currency stability. During this same time commodity prices and inflation in general have remained tame. I believe this dynamic has resulted in a significant rally for stocks since the 2009 secular market low, and as long these underpinnings remain in place, I cannot foresee another bear market. On the other hand, if at some point interest rates begin to rise significantly, or if global policy shifts and embraces a more substantial contraction of liquidity, or if global currency valuations begin to gyrate meaningfully, or if inflation earnestly begins its long anticipated rise, then I might greater expect a bear market for stocks.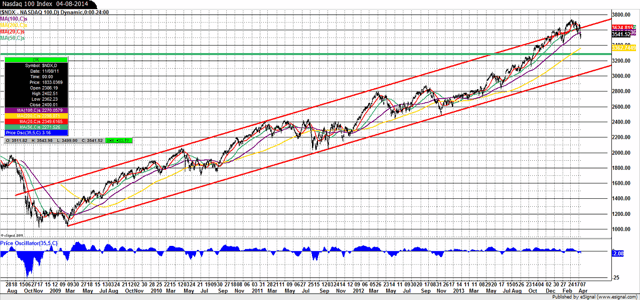 Click to enlarge
Presently, technical divergences on some charts are raising red flags, but as I have previously stressed, this central bank driven rally has ground up chart divergences into minced meat as it has relentlessly pushed higher, and the result has been to marginalize the significance of those types of divergences. Never before have divergent chart patterns been confronted by trillions of dollars of coordinated money aimed at pushing markets higher. That being said, I believe we must not forget the experimental nature of these elixir policies, and instead must remember that in the world of investing, nothing is guaranteed. Ultimate failure of policy remains a possibility.
In conclusion, the sell-off in technology may be portending a further market correction, but the underpinnings that have driven stock prices higher remain in place. The second quarter has seasonally been a difficult one for technology, so a correction at this time of year is not unusual. In addition, although divergent technical indicators are present on charts, similar ones have previously failed in their warnings during this bull market, one which is accompanied by unprecedented global financial support.
Finally, the coordinated efforts of central banks continue to fight a global economic slowdown. Their effect thus far has been to push markets higher, but I do not yet believe this game can be declared finished. It remains uncertain as to whether central banks will ultimately succeed.
Important Disclosures
Please be aware that this is not a recommendation to purchase or sell any security. This is not a recommendation for any individual or institution to alter their portfolio holdings. Every individual or institution has its own risk tolerance and investment objectives and perspectives.
Any above opinions of the author should be viewed as such. These opinions in no way represent any type of guarantee. Realize that if you choose to invest in securities, investing in securities carries with it uncertainty and the risk of loss of principal. Lost investment opportunity is also a possibility. Investing in securities carries no guarantees.
Past performance is no guarantee of future results. The price movements within capital markets cannot be guaranteed and always remain uncertain. The above opinions are meant to stimulate thought and should be viewed as such. You are encouraged to discuss these views with your representatives if you have any questions or concerns.
Any indices mentioned are unmanaged and cannot be invested in directly.
It must here be mentioned that technical analysis offers no guarantees of future price movements. Technical analysis represents an observation of past performance and trend, and past performance and trend are no guarantee of future performance, price or trend. The price movements within capital markets cannot be guaranteed and always remain uncertain.
Neither Cambridge Investment Research nor Preferred Planning Concepts is responsible for the accuracy of content provided by third parties. All material presented herein is believed to be reliable but we cannot attest to its accuracy.
All charts presented were made available by eSignal, a charting service available to individuals or professionals. Anyone interested in exploring the potentials of eSignal should give us a call.