There are a great many factors that go into stock analysis, and we cover all of the perspectives at Valuentum (from value through momentum -- Valu-entum). In this article, however, let's narrow things down a bit and address only the dividend growth prospects of a hidden gem, Meridian (NASDAQ:VIVO). But before we dive in, please get comfortable with our process on our YouTube page here. There's a series of videos that cover the rigors embedded within our approach, and we think it is just great viewing for anyone eager to learn as much as they can about the stock markets. It's well worth the time.
Key Investment Highlights
Meridian's business quality (an evaluation of our ValueCreation™ and ValueRisk™ ratings) ranks among the best of the firms in our coverage universe. The firm has been generating economic value for shareholders with relatively stable operating results for the past few years, a combination we view very positively.
Meridian is a fully-integrated life science company with principal businesses in making clinical diagnostic test kits, bulk antigens, antibodies, PCR/qPCR reagents, nucleotides, proteins and other biologicals. Diagnostic products represent about 75% of revenue.
Meridian has an excellent combination of strong free cash flow generation and low financial leverage. We expect the firm's free cash flow margin to average about 25% in coming years, and the firm had no debt as of last quarter.
The global market for infectious disease tests continues to expand as new disease states are identified, new therapies become available, and worldwide standards of living and access to health care improve. We like Meridian's position.
Meridian possesses a lot of qualities that we look for in a dividend growth idea. The company has a nice net cash position and no debt. This coupled with strong free cash flow and a solid Valuentum Dividend Cushion score makes for a great combination.
The Valuentum Dividend Cushion
The Valuentum Dividend Cushion considers dividend safety, dividend growth, and a firm's historical dividend track record and rolls this analysis into a quantitative ratio -- one derived strictly from the future fundamentals. More specifically, the measure is a ratio that sums the existing cash a company has on hand plus its expected future free cash flows over the next five years and divides that sum by future expected dividends over the same time period. Basically, if the score is above 1, the company has the capacity to pay out its expected future dividends. As income investors, however, we'd like to see a score much larger than 1 for a couple of reasons: 1) the higher the ratio, the more "cushion" the company has against unexpected earnings shortfalls, and 2) the higher the ratio, the greater capacity a dividend-payer has in boosting the dividend in the future. Please view the image of our dividend report on Meridian below (definitions can be found at the bottom of this article).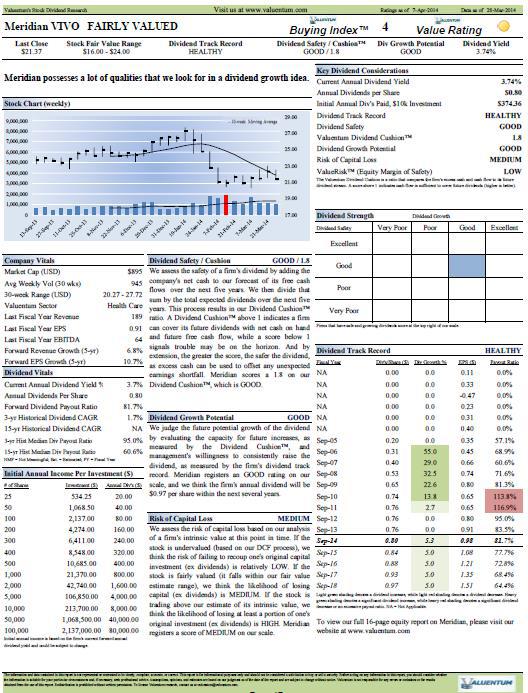 Under the Valuentum Dividend Cushion framework, the safety of Meridian's dividend is good, as the firm's Dividend Cushion score is comfortably over 1 (in fact, it is 1.8). The high score indicates to us that the company can cover its dividend and even increase it at a level slightly higher than our forecasts before we would even start growing concerned about its safety. What's so impressive about this measure, however, is not that it is comfortably above 1 (many other firms have this, too), but hardly do we ever see a company with nearly a 4% yield possessing a Dividend Cushion score that high. Remember, to derive this score, we're forecasting free cash flows and taking their sum and dividing it by the sum of its forecasted growing dividends. Meridian has a very impressive score in this regard, and its healthy balance sheet gives the dividend even more support. Its score is so good, for example, that it mirrors that of one of our favorite dividend growth ideas, cash-rich Microsoft (NASDAQ:MSFT).
The larger the "cushion" the larger capacity a company has to raise the dividend in the future. As with credit considerations, capacity and willingness are also two key concepts for dividend growth to materialize -- you can't have one without the other. We evaluate the company's historical dividend track record to assess willingness. Though Meridian hit a speed bump in annual dividend increases during the past few years and doesn't meet the criteria of having a nice near-term historical dividend growth rate, we assign Meridian's future dividend growth potential as good. The slide below is certainly worth a look.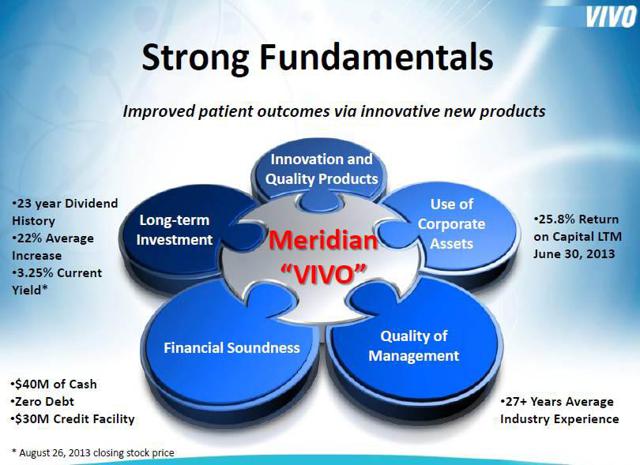 Click to enlarge
Source: Archived Presentations
Meridian possesses a lot of qualities that we look for in a dividend growth idea. Frankly, we're very impressed with its fundamantal dynamics, and we don't think it as mainstream of an idea as other dividend growth giants we sometimes hear too much about. In any case, we're paying close attention to the firm as an addition to the Dividend Growth Portfolio.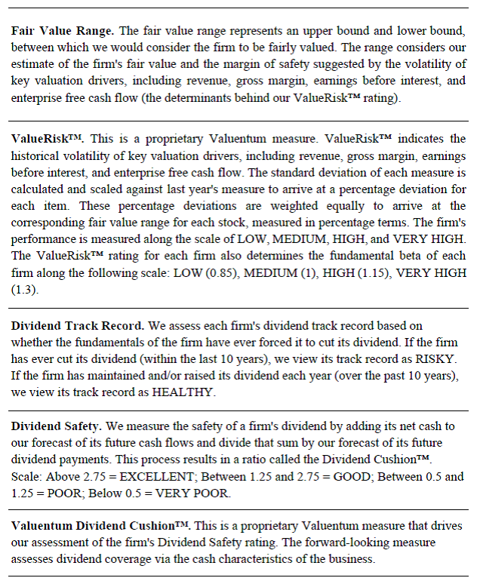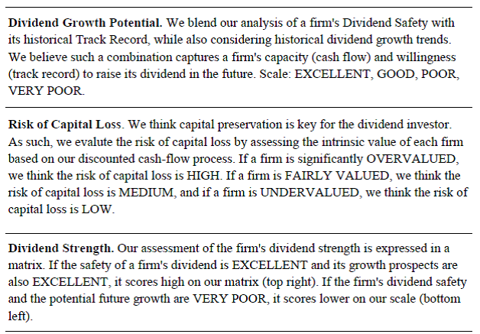 Disclosure: MSFT is included in the Dividend Growth portfolio. I have no positions in any stocks mentioned, and no plans to initiate any positions within the next 72 hours. I wrote this article myself, and it expresses my own opinions. I am not receiving compensation for it (other than from Seeking Alpha). I have no business relationship with any company whose stock is mentioned in this article.