Just a while back, in November 2011, I wrote an article about Alcoa (NYSE:AA) titled "Is Alcoa a Buy or a Sell at $9 per share". The sell-off in aluminum companies made exposure to Alcoa particularly attractive and I recommended the stock for contrarian investors who wanted to play a recovery in the aluminum market. Sentiment about Alcoa was pretty negative at the time and nasty fourth quarter results certainly didn't add to the appeal of the stock in the short-term. However, long-term investors can often find extraordinary bargains when the market turns negative and short-term results cloud the bigger picture.
Companies that go through difficult economic times often make extremely attractive value propositions. This is because many investors are obsessed with quick fixes instead of sustainable solutions. Instead of sweating over specific quarterly results, investors might very well endorse a long-term investing mindset.
Alcoa is one of the largest aluminum players in the industry and I always found the amount of negativity surrounding the company to be unfair. I can hardly imagine an aluminum sector without Alcoa.
In November 2011, when Alcoa traded at $9.06, I aggressively recommended the commodity firm, mostly because global aluminum demand was forecasted to grow and because a soft pricing environment still determined news headlines -- a great contrarian signal.
A few month later, Alcoa now trades at $12.53 -- a plus of more than 38% in less than four month. Not a bad performance for a company that everybody seems to have written off.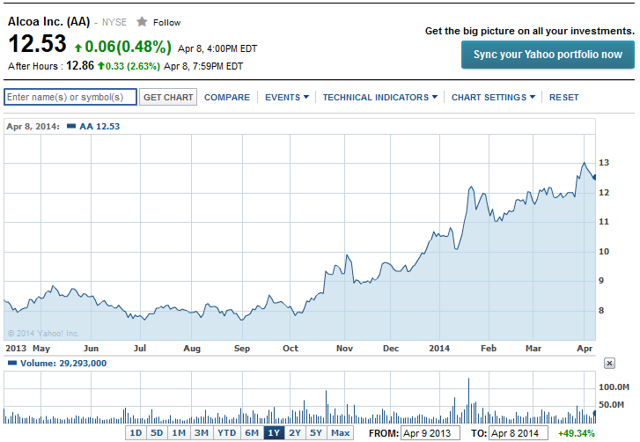 (Source: Yahoo Finance)
In January 2014, after the company presented ugly fourth quarter results, I also used the opportunity to recommend Alcoa to special situation investors, even though the company took a hit in terms of revenues and was impacted by asset impairments. Ongoing restructuring charges caused further unease for investors.
First quarter results
Alcoa released first quarter results this week which showed a clear improvement in adjusted profitability. The realized aluminum price recovered to $2,205/mt compared to $2,157/mt in the previous quarter. At the same time, the company posted lower revenues on a sequential basis (see below). Alcoa's net loss improved to $178 million compared to a whopping net loss of $2,339 million in the previous quarter and net income of $149 million in the year ago quarter. Adjusted net income increased to $0.09 per share compared to $0.04 per share in the previous quarter and $0.11 per share in the year ago quarter.
While Alcoa might not be completely out of the woods just yet, rebounding adjusted net income clearly signals that the company is on the right path to higher sustainable earnings down the road. As I have said before, Alcoa's share price almost solely depends on the aluminum price.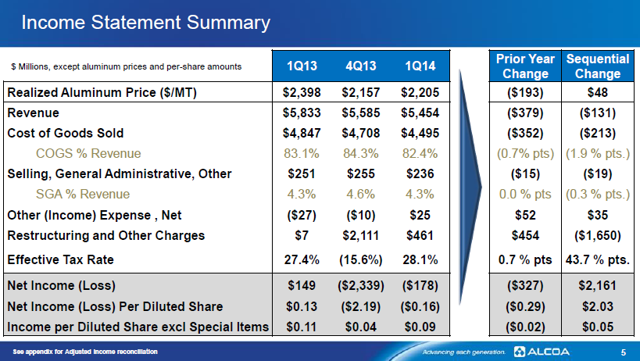 (Source: Alcoa 1st Quarter Earnings Conference Presentation)
Market valuation
From a valuation perspective, aluminum producers don't look that appealing on first glance. However, I believe Sell-side analysts largely underestimate EPS growth prospects when aluminum markets improve. Now, this could clearly be a couple of quarters down the road, but anti-cyclical investors make their money when they buy stocks at a time when nobody wants them.
Consequently, I do not rely on analyst opinions much and prefer to buy stocks when they quote at low prices -- preferably accompanied by negative sentiment. Once analysts and investors love aluminum stocks once again, which will be when aluminum prices gain momentum, investors should consider selling them into the ensuing relative strength. After all, this is the essence of contrarian investing: Buy stocks when nobody wants them, sell stocks when everybody wants them.
The following chart displays the current P/E ratios of aluminum players in the sector: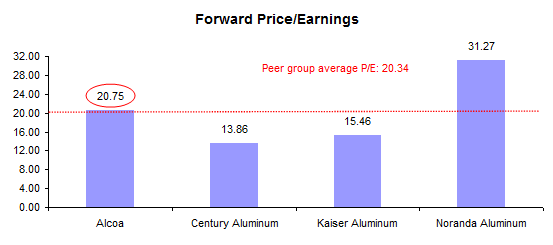 (Source: Achilles Research, Finviz.com)
Income investors, however, clearly shouldn't consider aluminum producers for their portfolios. Many of the companies in the sector still suffer from a weak pricing environment and restructuring expenses/impairment charges which put pressure on a company's cash flow. Alcoa, for instance, pays $0.03 per quarter in dividends which translates into an annualized forward dividend yield of less than 1% (see below).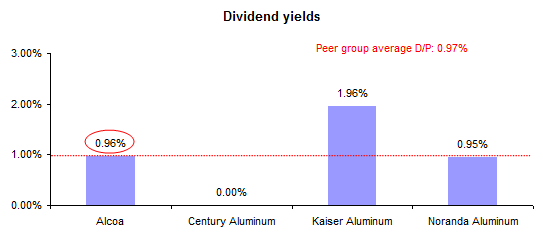 (Source: Achilles Research, Finviz.com)
The following table summarizes the valuation metrics from above:

(Source: Achilles Research, Finviz.com)
Conclusion
Alcoa's share price continues to be highly correlated with the underlying aluminum price and I believe Alcoa still has extraordinary turnaround potential once aluminum prices recover and aluminum demand, particularly in China, bounces back. Alcoa is a cyclical bet on recovering manufacturing activity and an ongoing expansion of the industrial base in China. Investors who are seeking anti-cyclical exposure to an industry-leading aluminum player and embrace a long-term investment horizon, should consider Alcoa. Cyclical tailwinds could quickly justify a reevaluation of the earnings potential of the company with more positive opinions from the Sell-side. For the time being, Alcoa remains a solid commodity bet with potential to double over the next two to three years. Long-term BUY.
Disclosure: I have no positions in any stocks mentioned, and no plans to initiate any positions within the next 72 hours. I wrote this article myself, and it expresses my own opinions. I am not receiving compensation for it (other than from Seeking Alpha). I have no business relationship with any company whose stock is mentioned in this article.