This week's circular will take us to the Materials Sector of the stock market, where we will search for some hot deals on dividend growth prospects for your portfolio.
3. Energy
4. Financials
5. Healthcare
6. Industrials
7. Technology
8. Materials
9. Telecommunications
10. Utilities
Sector #8 - Materials
Investopedia defines the Materials Sector as:
A category of stocks that accounts for companies involved with the discovery, development and processing of raw materials. The basic materials sector includes the mining and refining of metals, chemical producers and forestry products.

The basic materials sector is sensitive to changes in the business cycle. Because the sector supplies materials for construction, it depends on a strong economy. This sector is also sensitive to supply and demand fluctuations because the price of raw materials, such as gold or other metals, is largely demand driven.
The Materials Sector is another under-represented sector, as it contains just 35 of the 519 (6.9%) members of David Fish's "CCC List". Interestingly, while the sector is a relatively small part of the total list, it is equal portion of the Champions List, where it takes 11 of the 105 (10.5%) spots.
Whether the slightly lower number of potential candidates is the reason to blame or not, this proved to be one of the more difficult sectors thus far in which to find five attractive candidates. Of the five companies selected, there was just one Contender and one Challenger, with the remaining selections coming from the Near Challengers found in Appendix B of the "Notes" tab of the CCC spreadsheet.
| | | | | | | | |
| --- | --- | --- | --- | --- | --- | --- | --- |
| Company | Symbol | Sub-Industry | Price | P/E | Yield | 5YR DGR | 10YR DGR |
| Albemarle Corp. | (NYSE:ALB) | Chemical-Specialty | $66.07 | 13.5 | 1.66% | 15.00% | 13.20% |
| Eastman Chemical Company | (NYSE:EMN) | Diversified Chemical | $86.36 | 11.6 | 1.62% | 7.60% | 3.80% |
| International Paper | (NYSE:IP) | Paper Products | $46.03 | 14.8 | 3.04% | 25.20% | 12.60% |
| Rock-Tenn Company | (RKT) | Packaging | $101.87 | 9.9 | 1.37% | 22.80% | 13.70% |
| Reliance Steel & Aluminum Co. | (NYSE:RS) | Metal Fabrication | $70.85 | 17.1 | 1.98% | 28.80% | 28.40% |
Albemarle Corp. develops, manufactures, and markets engineered specialty chemicals. It provides flame retardants for consumer electronics, printed circuit boards, wire and cable, electrical connectors, textiles, and foam insulation. The company also offers refinery catalysts and offers bromine products for use in chemical synthesis, oil and gas drilling, paper manufacturing, water purification, beef and poultry processing, and other industrial applications. The company was founded in 1993 and is headquartered in Baton Rouge, Louisiana.
Albemarle is a member of the Dividend Contenders List, having raised its dividend for the last 20 consecutive years with an average increase over the last 10 years of 13.2%. On February 25, the company announced a 15% increase in the payout, leading to an annual dividend of $1.10 per share.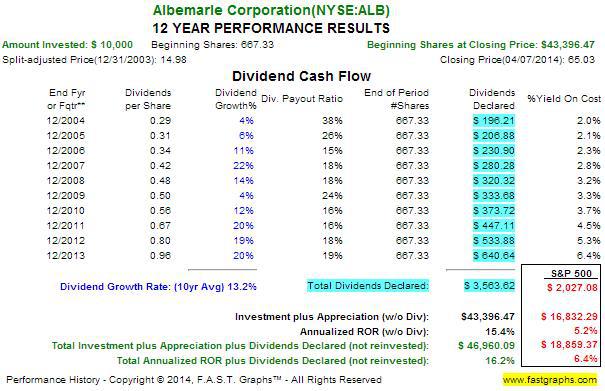 The company has been a consistent grower over the last decade as it has increased its earnings at a 13% rate over the period. This is expected to continue over the next 5 years, with analysts projecting 8-10% earnings growth going forward.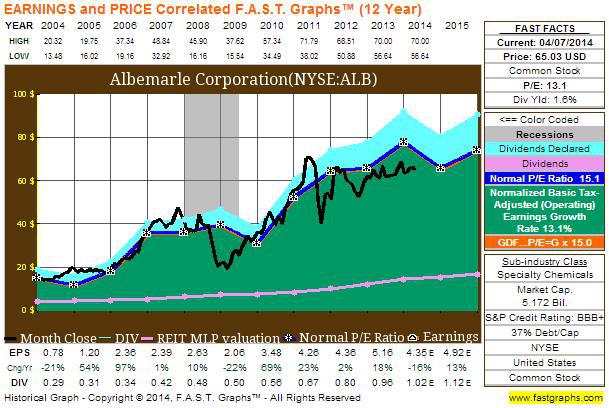 The company has shown a commitment to share buybacks in addition to the strong dividend growth as it has decreased the number of shares outstanding from 92 million to 84 million since the end of 2011. Management expects to continue this trend as it projects total return of capital through dividends and buybacks of 55% of cash flow in 2014.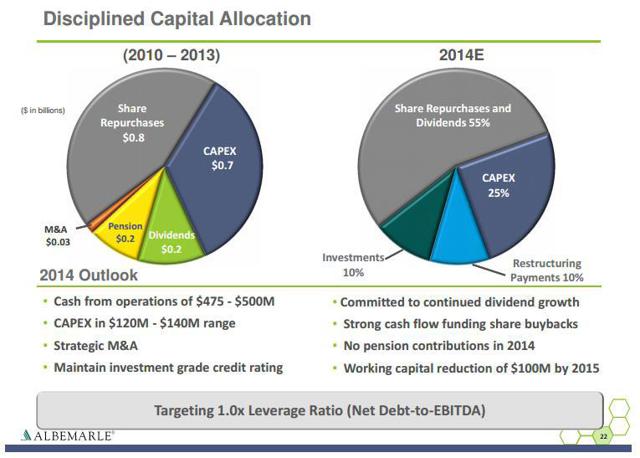 Eastman Chemical Company is a specialty chemical company that manufactures and sells chemicals, plastics, and fibers in the United States and internationally. It operates in five segments: Additives & Functional Products, Adhesives & Plasticizers, Advanced Materials, Fibers, and Specialty Fluids & Intermediates. The company was founded in 1920 and is headquartered in Kingsport, Tennessee.
Eastman Chemical is a member of the Near Challengers List, having raised its dividend for the last 4 years, with the most recent increase of 17% announced in December.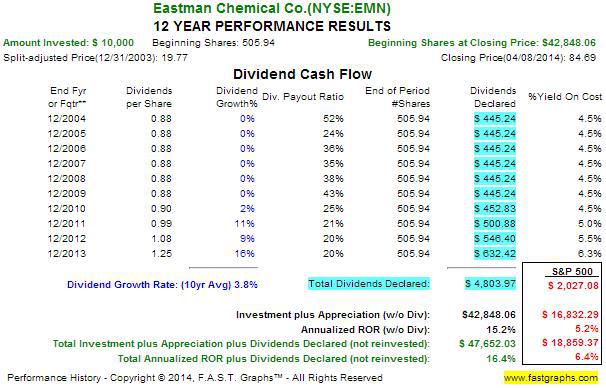 Eastman was a company that struggled going in to, and coming out of, the "Great Recession" as earnings were flat to declining from 2005 to 2009. They have rebounded strongly since then as earnings increased from a low of $2.05 in 2009 to a projected $6.87 in 2014.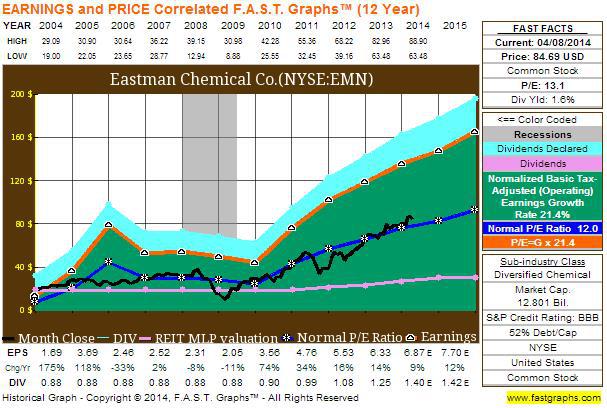 The recently announced authorization for $1B in share repurchases, in addition to expected growth over its various business segments, should lead to continued growth in earnings, which analysts project to increase at an 8-9% rate over the next 5 years.
International Paper Company operates as a paper and packaging company in North America and internationally. The company operates in several segments: Industrial Packaging, Printing Papers, Consumer Packaging, and Distribution. International Paper sells its paper, packaging products, and other products directly to end users and converters, as we as through agents, resellers, and paper distributors. The company was founded in 1898 and is based in Memphis, Tennessee.
Internation Paper is another member of the Near Challengers List, having raised its dividend for the last 4 consecutive years. The company most recently increased the dividend by 17% in November of 2013 to $1.40 per share. The company cut the dividend in 2009 after several years of a flat dividend rate. However, as earnings increased with the economic recovery, the company quickly boosted the payout back to the pre-recession rate and has grown the dividend at a similar rate to earnings increases since then.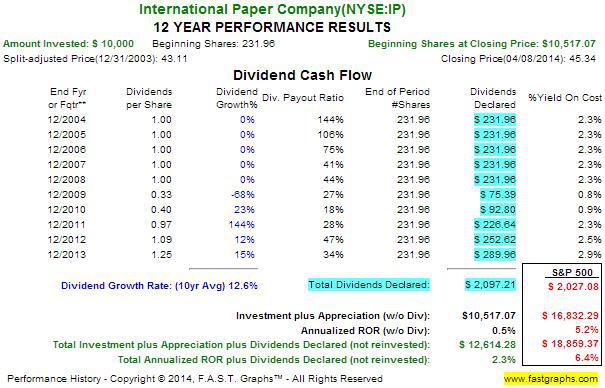 As you can see below, the company's earnings have been fairly volatile over the last decade, with several instances of year over year declines. However, earnings have roughly tripled since bottoming out at $1.22 in 2009 and are projected by analysts to grow at a 14-15% rate over the next 5 years.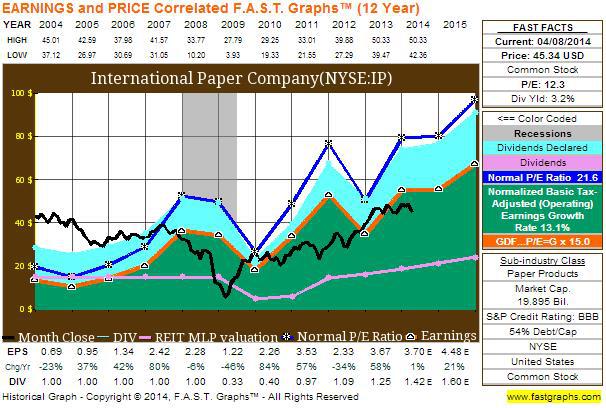 With a current payout ratio at a reasonable 40% of earnings and the company having very strong cash flows in the current operating environment, I think the future is bright for continued double digit growth in dividends. With the stock currently yielding 3.2%, total annual returns of 15-20% are certainly possible over the next couple of years.
Rock-Tenn Company manufactures and sells corrugated and consumer packaging products in North America, South America, and China. The company operates in three segments: Corrugated Packaging, Consumer Packaging, and Recycling. The company was founded in 1936 and is headquartered in Norcross, Georgia.
Rock-Tenn is a member of the Dividend Challengers List, having raised its dividend for the last 5 consecutive years. While the company has frozen the dividend a few times over the last decade, it still shows a strong overall growth in the payout over the period, as it has provided an average increase of 13.7% during the time frame.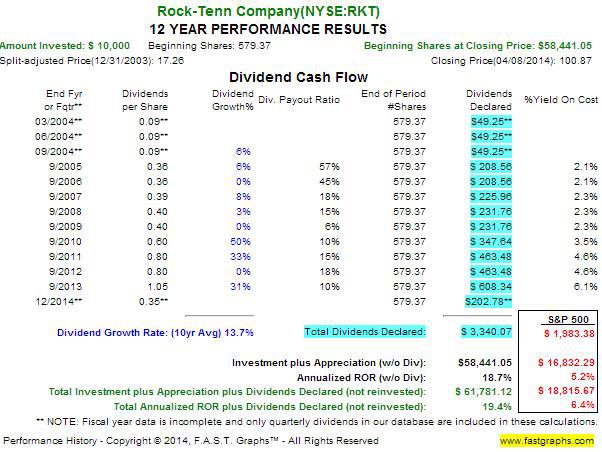 Much like International Paper above, Rock-Ten struggled coming out of the recent recession as earnings fell from $6.19 to $4.42 before growing strongly in 2013. The company has maintained a much lower payout ratio than International Paper, which is reflected in the paltry current yield of just 1.4%. However, even with the low payout ratio, an investor who bought at the beginning of the 10 year period would still be enjoying a respectable 6.1% yield on their investment because of the double digit growth rate of the dividend.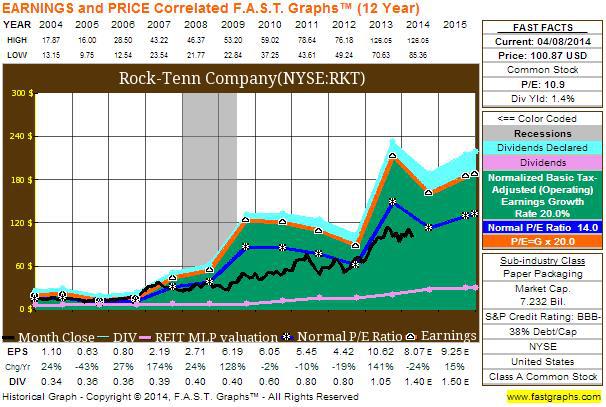 With continued projections of double digit earnings growth of 13-15% going forward, Rock-Ten should continue to provide solid returns for investors.
Reliance Steel & Aluminum Company provides metals processing services and distributes a line of approximately 100,000 metal products, including alloy, aluminum, brass, copper, carbon steel, stainless steel, titanium, and specialty steel products to machine shops and fabricators and OEM customers. The company serves general manufacturing, non-residential construction, transportation, aerospace, energy, electronics, and semiconductor fabrication and related industries. Reliance maintains metals facilities in the United States, Australia, Europe, and Asia. The company was founded in 1939 and is headquartered in Los Angeles, California.
Reliance Steel & Aluminum is a member of the Near Challengers List after failing to raise its dividend in 2009 and 2010. The company has shown plenty of growth outside of those two years however, as dividends have grown at an average rate of 28.4% over the period. This growth has been even more robust lately as the company has been announcing increases twice a year since 2012.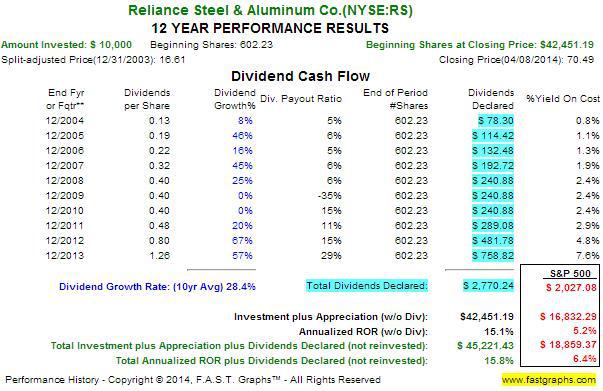 Like many companies in the materials sector, Reliance saw a huge drop in earnings following the recession as businesses cut back on expansion and their sales fell off a cliff. However as the economy improved, so has earnings as they are expected to return to pre-recession highs in 2015.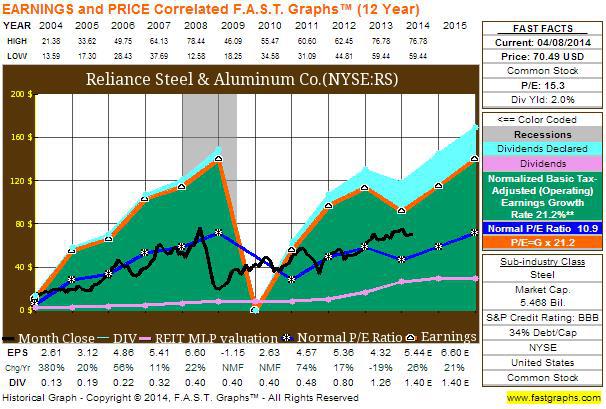 Between the expected growth and respectable 2.0% yield, Reliance Steel & Aluminum appears to be a good prospect for the coming years.
Summary
While I was able to come up with five stocks that look to be good candidates for further due diligence, the Materials Sector proved to be the most challenging yet in finding the candidates.
Of the five stocks discussed, just two have grown dividends for greater than 5 consecutive years. This is a result of the companies being in a cyclical sector and generally capital intensive businesses.
While the Materials Sector takes up a fairly large percentage of the membership on the Dividend Champions List, many of those stocks are trading at what I would considered overvalued prices.
With the next part of the series, I will be looking at companies in the Telecommunications Sector, as I continue to search for Blue Light Specials In The Market.
Disclosure: I have no positions in any stocks mentioned, and no plans to initiate any positions within the next 72 hours. I wrote this article myself, and it expresses my own opinions. I am not receiving compensation for it (other than from Seeking Alpha). I have no business relationship with any company whose stock is mentioned in this article.
Additional disclosure: I am a Civil Engineer by trade and am not a professional investment adviser or financial analyst. This article is not an endorsement for the stocks mentioned. Please perform your own due diligence before you decide to trade any securities or other products.