Clorox (NYSE:CLX) has sold consumer products for over 100 years, with 36 years of continuous dividend growth. Clorox's mission is to "make everyday life better, every day" through their portfolio of consumer products. Clorox is a global business, operating in over 100 countries. 90% of Clorox's brands are #1 or #2 in their categories. Clorox owns household-name brands including: Formula 409, Clorox, Liquid-Plumr, Tilex, Kingsford, Glad, Fresh Step, Hidden Valley, Brita, Burt's Bees, Aplicare, & HealthLink.
Source: Clorox 2013 Annual Report
Clorox breaks down its company into 4 divisions: cleaning, household, international, & lifestyle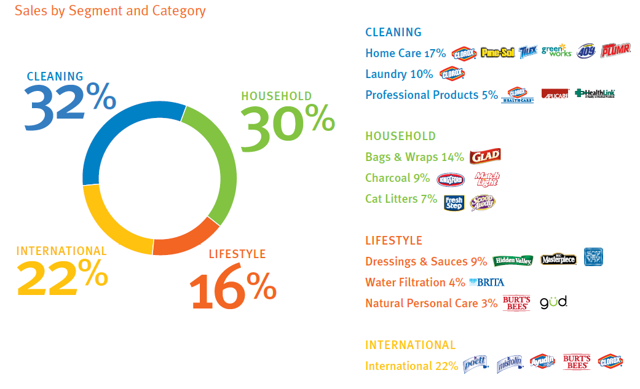 Source: Clorox 2013 Annual Report, Page 8
Growth
Clorox grew revenues 3% in 2013. They expect 3% to 5% sales growth for the foreseeable future (through 2020). Clorox's growth by division for 2013 is broken down below:
Cleaning 5%
Household 1%
Lifestyle 3%
International 2%
Clorox's future growth is dependent on incremental improvement in their established brands, bolt-on acquisitions, and greater penetration into the health care sector. Clorox has made the following acquisitions in recent history:
Valuation
Clorox's P/E ratio of 20.92 is very similar to that of its peers. Based on its peers, Clorox is fairly valued.
| | | |
| --- | --- | --- |
| Company | Ticker | P/E Ratio |
| Clorox | CLX | 20.92 |
| Newell Rubbermaid | | 20.53 |
| Jarden Corp. | JAH | 31.12 |
| Helen of Troy | | 20.32 |
| Procter & Gamble | | 21.99 |
| Unilever | UN | 18.54 |
| Kimberly-Clark | | 20.03 |
Clorox's median 10-year P/E ratio is 18.65. It is currently trading at a slight premium to its historical valuation.
The S&P 500 P/E ratio is 18.65 as well. Clorox is trading at a slight premium to the S&P 500. This is common for Clorox; it has traded at a P/E multiple above the S&P 500 for 8 of the last 10 years.
Source: multpl.com
Based on Clorox's peer group and historical P/E ratio, Clorox is either fairly valued or trades at a slight premium.
Dividend Aristocrat Comparison
Clorox compares favorably to other dividend aristocrats using the 5 buy rules from the 8 Rules of Dividend Investing. Clorox currently ranks in the top 10 best dividend aristocrats based on the 5 rules below.
Rule 1: 25+ Years of dividend increases
Rank: Paid increasing dividends for 36 consecutive years.
Why it Matters: The Dividend Aristocrats (stocks with 25+ years of rising dividends) have outperformed the S&P 500 over the last 10 years by 2.88% per year.
Source: S&P 500 Dividend Aristocrats Factsheet, February 28 2014, page 2
Rule 2: Rank Stocks by Dividend Yield
Rank: Clorox has a Dividend yield of 3.16% which ranks them at 20 out of 102 stocks with increasing dividends for 25+ years
Why it Matters: The highest yielding quintile of stocks outperformed the lowest yielding quintile of stocks by 1.76% per year from 1928 through 2013.
Source: Dividends: A Review of Historical Returns by Heartland Funds, page 2
Rule 3: Rank stocks by payout ratio
Rank: Clorox has a payout ratio of 66.19% which ranks them at 84 out of 102. Clorox's payout ratio is higher than the majority of other dividend aristocrats, which is undesirable.
Why it Matters: High yield low payout ratio stocks outperformed high yield high payout ratio stocks by 8.2% per year from 1990 to 2006.
Source: High Yield, Low Payout by Barefoot, Patel, & Yao, page 3
Rule 4: Rank stocks by revenue per share growth
Rank: Clorox has a revenue per share growth rate of 6.35% over the last 10 years, ranking them 32 out of 102
Why it Matters: Growing dividend stocks have outperformed stocks with unchanging dividends by 2.4% per year from 1972 to 2013.
Source: Rising Dividends Fund, Oppenheimer, page 4
Rule 5: Rank stocks by their standard deviation
Rank: Clorox's long-term standard deviation of 18.40% ranks them at 6 out of 102
Why it Matters: The S&P Low Volatility index outperformed the S&P 500 by 2.00% per year for the 20 year period ending September 30th, 2011.
Source: S&P 500 Low Volatility Index: Low & Slow Could Win the Race, page 3
Shareholder Return
Clorox had $696 million in net share repurchases in the 3 year period ending 2013. If Clorox continues its share repurchases at this rate, it will purchase about 2% of its market cap each year.
Clorox has a dividend yield of 3.16%. They have increased their dividend each year for 36 years. Clorox last increased their dividend in late April of 2013, from $0.64 per quarter to $0.71 per quarter (a 10.94% increase). They should announce another dividend increase before the end of April 2014.
Clorox should achieve a shareholder CAGR between 8% and 10% a year going forward from their dividends (3%), share repurchases (2%), and growth (3% to 5%).
Conclusion
Clorox is an excellent long-term investment for dividend growth investors. They have a long history (36 years) of increasing dividends, a dividend yield north of 3%, and actively repurchase stock. Clorox's portfolio of staple consumer products and strong brand names gives shareholders of Clorox significant long-term protection against business obsolescence and recessions.
Disclosure: I have no positions in any stocks mentioned, and no plans to initiate any positions within the next 72 hours. I wrote this article myself, and it expresses my own opinions. I am not receiving compensation for it (other than from Seeking Alpha). I have no business relationship with any company whose stock is mentioned in this article.