Investment Rationale
An investment in WMT might not sound like the most glamorous opportunity in the world, but we focus on maximizing risk adjusted returns. Wal-Mart has three primary business segments: Wal-Mart U.S., International and Sam's Club.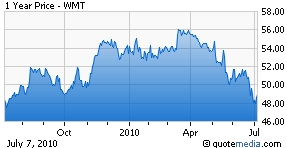 Wal-Mart U.S still generates 64% of their sales from Wal-Mart U.S., but the number is dropping as international sales are becoming a bigger part of the business. International sales in 14 countries and Puerto Rico generated 24.7% of 2010 net sales, while Sam's Club generated 11.5%. The Wal-Mart brand is synonymous with being the true low priced leader in the United States retail industry.
Wal-Mart has maintained this advantage through capitalizing on their superior scale and top of the line logistics platform, to squeeze the best pricing and efficiencies, out of both their suppliers and operating costs. Retailers as a whole aren't usually fertile grounds for value investors due to the volatility of fashion trends, and the fickle nature of their clientele. WMT is unique in that its appeal is to those that are looking for the lowest prices possible. In a downtrodden and consumer strained economy, pricing is more than ever a leading factor in the consumer spending decision making process.
Wal-Mart's operational efficiency and scale has allowed them to enter businesses such as electronics, pharmaceuticals, and financial services, and in a very short time they have been able to compete with the industry incumbents. If you have been following the volatility of Gamestop's (NYSE:GME) stock price you are probably aware of the impact that Wal-Mart is having on its business, and this is a very common story as WMT has eaten many businesses for lunch in the past, and is likely to continue to do so in the future.
Revenue growth is beginning to slow for Wal-Mart and their competitive advantages internationally are vastly inferior to their domestic footprint, but WMT's model of being the low cost leader is likely to lead to a reasonable share of victories abroad. Markets such as Brazil, Mexico, and China offer bright growth prospects, and due to Wal-Mart's superior financial condition we believe they should still handily out-earn their cost of capital making the growth profitable. Wal-Mart has also bought in excess of 40 MM shares over the last two years at prices that are below our intrinsic value estimate, so management seems to be improving in the essential role of capital management by avoiding costly acquisitions, and returning cash to shareholders.
WMT is currently yielding about 2.52% but we believe that there is a tremendous amount of flexibility for WMT management to increase that yield in excess of 4% at some point in the near future. By returning money more aggressively to shareholders through both dividends and share buybacks we believe that WMT could appreciate to the mid 60's with very limited risk. WMT is generating in excess of $14 Billion in net income while investing close to 90% of that to fund its growth initiatives. At any point WMT could scale down on CAPEX to grow free cash flow. As growth slows and as the return on invested capital declines WMT should start returning money hand over fist to shareholders. We believe that when they do the stock will reflect the trust that such actions would instill in management by going significantly higher.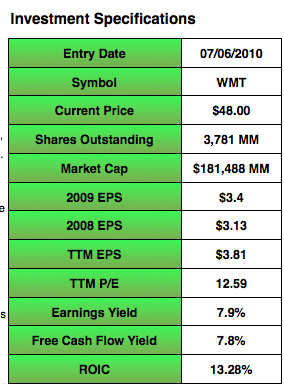 Investment Strategy
We are recommending the hybrid investment strategy for WMT and we are going out to August. The reasoning behind this strategy is that we feel there is very little real risk at these levels and we'd be happy to add to the position via dollar cost averaging. We also know that because of WMT's size and the lack of consumer spending growth that it could take 2-3 years for WMT to reach its potential valuation. The hybrid strategy allows us to generate income at a high annualized return, while taking very little risk assuming you are comfortable owning the stock.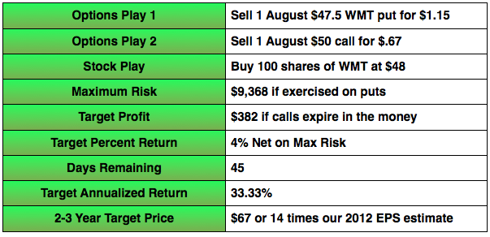 The worst case scenario is that you get exercised on the the puts and you would own 200 shares at a price equivalent to $46.84 a share. This scenario actually gives you the most upside potential as you would collect dividends and any appreciation on the stock which we see as a very likely probability over the next 2-3 years. We attempt to avoid risk as defined by the permanent loss of capital so we view this as an attractive, low risk opportunity.
Disclosure: Long WMT, Short WMT puts, Short WMT calls