The ETRACS Monthly Pay 2xLeveraged Closed End Fund ETN (NYSEARCA:CEFL) is an exchange-traded note linked to the monthly compounded 2x leveraged performance of the ISE High Income™ Index, which comprises 30 closed end funds. The ETN is yielding 18% through its most recent monthly distribution (ex-date, April 9). It has attracted considerable interest here at Seeking Alpha with recent articles by me where I tried to get a sense of how safe this highly leveraged and high yielding investment might be (including the first one here) and by Lance Brofman who has special expertise in leveraged ETNs.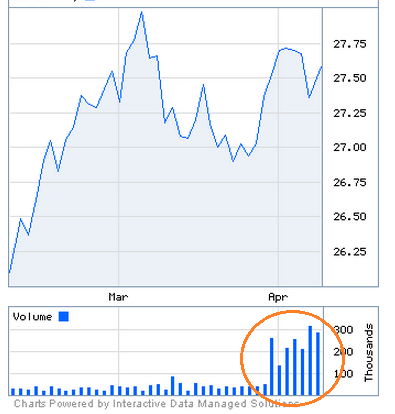 There has also been extensive interest in the market where, beginning March 31 volumes have shot up to four times the average daily volume for the ETN. Net inflows are up to $7M a day. That may not sound like a lot but the ETN has total net assets of $68M according to UBS' investor relations (via phone). Thus, the fund is currently growing at the rate of 10% per day.
In considering this growth, I wanted to expand on my earlier thoughts on the possible safety of investing in CEFL.
Presumably the sponsor is purchasing shares in the constituent holding of CEFs at or near this rate of inflow. The constituent CEFs are themselves modest size funds (see table below), averaging about $1.2B in total net assets. One must naturally ask what impact the ETN's buying spree will have on the market prices of the closed end funds that make up the index. Consider that closed end funds tend to be somewhat more illiquid than many other investment vehicles. CEFs' client base is, to a great extent, dominated by retail investors. The presence of a new large - and growing - buyer (or, eventually, seller) in the market can have a disruptive effect on valuations. The existence of a CEFL can potentially have a profound impact on the market price and discount/premium status of its component holdings.
Table 1 shows the component CEFs (per ETRACS' factsheet, which is hardly current) with the total net assets and average daily volumes (from cefconnect.com and Yahoo Finance).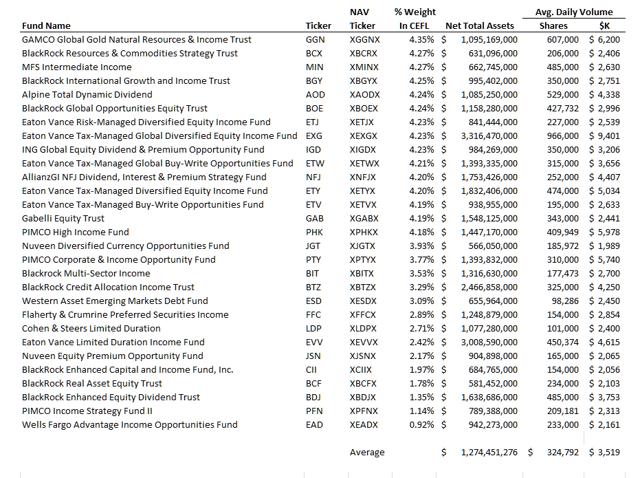 Table 2 shows the value of CEFL's holdings for each of the component funds (calculated from the weightings listed in ETRACS' factsheet) and the percentage of each funds' net total assets.

Thus, at its present asset status of $68M, CEFL likely holds no more than a half percent of any funds' net total assets. This is not an unusually high level of ownership by a single institutional owner. If, however, the ETN continues growing near its current rate (10% a day), these values will necessarily rise. Indeed, with this level of growth we should have begun to see what impact the ETN's purchases may have been having on the component CEF holdings.
To see if there may already be an effect I chose 6 CEFs: the four largest holdings ((NYSEMKT:GGN), (NYSE:BCX), (NYSE:MIN), (NYSE:BGY)), (JGT) which has the highest fraction of its assets held by CEFL, and (NYSE:ETJ) which is the largest domestic equity holding. This provided a reasonably representative sampling of CEFL's portfolio. I used Morningstar's data because it supplies a ready comparison with appropriate categories. Table 3 summarizes the data.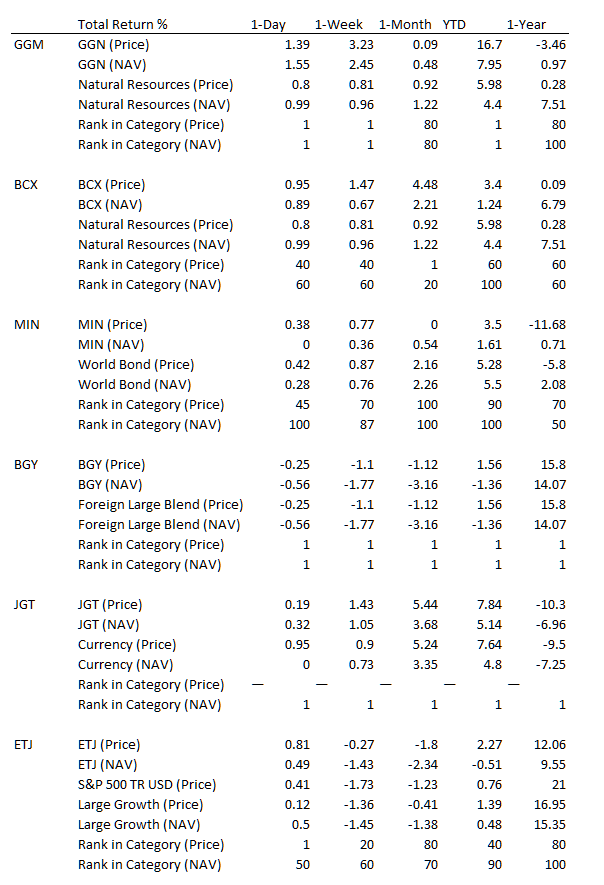 There does not seem to be a readily apparent effect of the presumed buying by CEFL in the past week with the possible exception of EJT which has moved up sharply in its category on price, but less so on NAV. MIN has also seen a rise in its category on the basis of market price somewhat in excess of that for its NAV. The other 4 have been fairly stable.
It is hard to know what to make of this. The sample size is small and the time line is short. If the buying spree in CEFL continues, it's probably worth watching to see there is a discernible trend on the market vs. NAV status of its holdings. For the present, I do not see anything here that would lead me to reject CEFL as an investment opportunity if I were satisfied that all the other pros and cons worked out in its favor.
For the investor holding any of CEFL's component funds, there is some potential for a minor windfall if CEFL's buying spree impacts the discount at market. On the other hand, prospective buyers of these funds might want to consider the likelihood of continued inflows into CEFL and how the associated buying or selling by the ETN might factor into that decision.
Disclosure: I have no positions in any stocks mentioned, and no plans to initiate any positions within the next 72 hours. I wrote this article myself, and it expresses my own opinions. I am not receiving compensation for it (other than from Seeking Alpha). I have no business relationship with any company whose stock is mentioned in this article.
Additional disclosure: I have no positions in any stock mentioned but may initiate a long position in CEFL over the next 72 hours. I am long some of the closed end funds in CEFL's portfolio.