The recent tech sector sell-off has pushed many stocks back down to attractive levels. The market pullback in the tech sector might be over, as some bellwether stocks are already starting to rebound. In addition, the hot IPO market looks poised to continue doing well as investors seek companies with significant growth prospects. These factors appear to indicate that investors should use this pullback as a buying opportunity. There is one way to buy into some of the fastest growing tech companies as well as into some of the hottest IPO stocks.
The Firsthand Technology Value Fund (NASDAQ:SVVC) is a closed-end fund that is focused on buying promising tech companies, especially in a pre-IPO situation. This fund is managed by Kevin Landis who is a well-known investor in the tech sector. His investment experience and contacts have allowed the fund to invest in some of the hottest tech stocks, even before an IPO.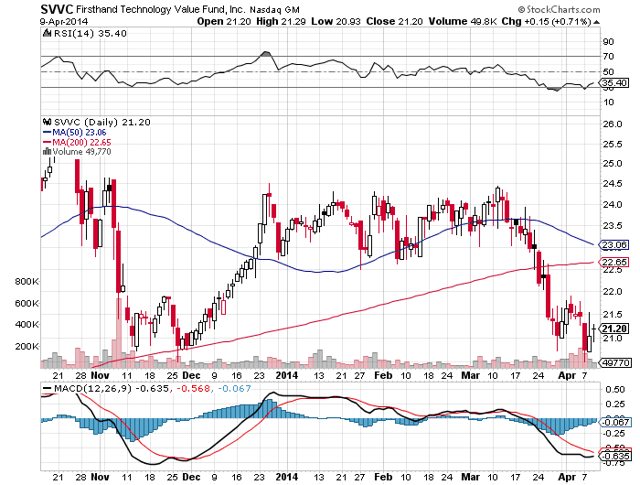 As the chart above shows, the Firsthand Technology Value Fund has seen a sharp pullback from about $24.50 in early March to just over $21 per share, in recent days. That puts the share price back to levels not seen since December, and it also creates a potentially bullish double bottom on the chart. At current levels, this closed end fund appears cheap, as it is trading at a major discount to net asset value, which was last reported to be (on March 14, 2014) at $28.32 per share. The fund also has a significant amount of its net asset value in cash, about $9.17 worth, on a per share basis. This is another reason why the pullback is overdone.
Some of the largest holdings in this fund include stocks like Facebook (NASDAQ:FB), SolarCity (NASDAQ:SCTY), and Twitter (NYSE:TWTR). This fund is also invested in some lesser-known but very interesting technology companies, some of which are pre-IPO. Its portfolio holdings include companies like: Gilt Group, which is a members only "flash-sale" website that offers luxury products. It also owns shares in "Tapad" which is a company that offers tracking technology which works across multiple devices like desktops, tablets and smartphones. As a recent Barrons article points out, Mr. Landis is very bullish on the prospects for Tapad as well as "Turn," which is another investment he thinks will go public soon. Mr. Landis has also led the fund to buy a wearable tech company called "Jawbone," and the Barrons article details the success of this investment by stating:
Landis went with the express intention of looking over the action in wearable technology, given that he has a $10 million investment in fitness band maker Jawbone. His cost basis was $4.75 a year ago, and after another recent round of funding, bringing Jawbone's valuation to probably about $3 billion, his investment has risen to perhaps $11 or so.
In summary, this fund is clearly investing in many of the right companies and at the right price. The Jawbone investment is a good example of why the net asset value of this fund could be significantly higher than the current valuation. This fund is a great way to participate in some of the hottest pre-IPO stocks and in companies that are emerging with very high potential. The recent pullback in the share price of nearly 20% is a terrific buying opportunity for these reasons but also because for just over $21, you can buy around $28 worth of highly coveted tech stocks and get diversification.
Here are some key points for Firsthand Technology Value Fund:
Current share price: $21.25
The 52 week range is $18.39 to $26.42
Earnings estimates for 2014: n/a on Yahoo Finance
Annual dividend: n/a
Disclosure: I am long SVVC. I wrote this article myself, and it expresses my own opinions. I am not receiving compensation for it (other than from Seeking Alpha). I have no business relationship with any company whose stock is mentioned in this article.