The share price of Seadrill (NYSE:SDRL) has suffered from a 23% tumble over the past 6 months, compared to a 12% return for S&P 500 Index. The plunge was driven by the market's concern over weak pricing in the offshore drilling market which weighs on the sustainability of the stock's current dividend yield at 11.2%. In my view, investors should buy Seadrill on the current price weakness as I believe the market has overacted to the negative industry development and thus the shares are oversold.
There are a few reasons making me believe that the current industry weakness is just temporary and Seadrill is capable of weathering the short-term headwind without any dividend deterioration.
Offshore (especially deep water and ultra-deep water) drilling remains a long-term growth story as O&G companies continue to look for alternative drilling sources in order to sustain production growth as a majority of O&G reserves are owned by sovereign governments or entities.
According to management, comments from a few major offshore drillers such as Seadrill and Transocean (NYSE:RIG), the current price weakness is not caused by fundamental imbalance between supply and demand but rather by a cyclical downturn. The executives believe that contract prices should see a recovery over the next 18 to 24 months.
Seadrill should be much less affected by the industry headwinds relative to its peers given the company's strong contract coverage for its fleet. Under the current contracts, Seadrill's rig contract coverage rate is 98%, 66%, and 47% for 2014, 2015, and 2016, respectively. If the company is able to secure contracts for its West Saturn and West Jupiter rigs, which management suggested is highly possible, the coverage rate in 2015 and 2016 would increase to 72% and 53%.
Furthermore,

Seadrill owns the newest and most advanced fleet in the global offshore drilling field. It is noted that approximately 30% of floating rigs in the world are more than 30 years old. This gives the company a competitive advantage in securing contract renewals or winning new contracts at better prices.
At ~$34, the stock trades at 9.0x consensus estimated 2015 EPS, which is at 14% premium over its peer average at 7.9x. Given Seadrill's high quality fleet and better contract coverage and the fact that its consensus long-term EPS growth estimate, return on equity, and dividend yield are much superior to peer averages, I believe the company should reasonably command a premium valuation over its peers (see chart below). As such, the premium can be even greater than the current 14%.

The stock's 9.0x 2015 forward P/E multiple is at 43% discount to the same multiple of S&P 500 Index, which stands at 15.8x (see chart below). The large valuation gap to the market is a strong buy signal to me because 1) the valuation discount to the market averaged at just 23% in the past 12 months; 2) Seadrill's 24% consensus long-term EPS growth estimate is more than twice of the average estimate of 9% for S&P 500 companies; and 3) the stock's 11.2% dividend yield, which I believe can be sustained through the current downturn, compares favorably to S&P 500's average at 1.9%.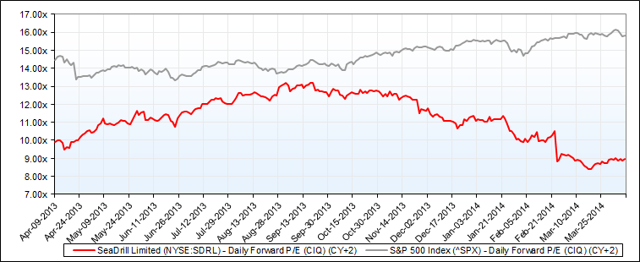 From a dividend growth prospective, I also concluded that the shares are oversold. My analysis is based on a Gordon growth dividend discount model. Based on CAPM model, I estimated that Seadrill's cost of equity should be within a range from 12% to 13% (see chart below).

Given the current annualized dividend of $3.92, the dividend growth model suggests that the current share price of $34.50 implies an average future dividend growth rate at just slightly above 1%, which is substantially below historical dividend growth rate (see chart below). Although management has recently announced a pause in dividend growth, as the company navigates through the current headwind and industry growth re-accelerate, I expect management should resume dividend growth and the level would stay above the 1% implied by the current valuation.

In conclusion, the share price of Seadrill is overly penalized as the company's strong fundamentals should ensure dividend safety amid the industry downturn. As the current valuation is cheap on both relative and absolute basis, investors are recommended to start accumulating shares.
All charts are created by the author, and data used in the article and the charts is sourced from S&P Capital IQ, unless otherwise specified.
Disclosure: I am long SDRL. I wrote this article myself, and it expresses my own opinions. I am not receiving compensation for it (other than from Seeking Alpha). I have no business relationship with any company whose stock is mentioned in this article.