Hewlett-Packard Company (NYSE:HPQ) is one of Silicon Valley's oldest companies that offer their customers a wide range of products. Since some of the company's products lost customer traction its sales were declining. Its new CEO, Meg Whitman, has assumed charge of the company and is trying hard to make it successful once again. Barron's recently published that the company has a 20% upward potential as it is trading at steeper price multiples than the industry and its peers. The focal point of this article will be to assess how much Hewlett-Packard's stock can offer its investors in terms of stock price movement.
Share Price Movement

Source: Y-charts
Hewlett-Packard has seen various ups and downs in its stock price in the last ten years. During the period the company also had to contend with challenges during the 2008-09 financial crises. Over a 10 year time period, the stock price reached its all-time high of $54/share in April 2010 and all-time low of $12 in November 2012. After being too low the stock price is slowly and gradually moving upwards and has reached $32 but that is still at a 41% discount to its all time high price (in the past 10 years). Despite the crises, the company met with on various occasions it continued paying a steady rate of dividends to its stockholders. The graph below depicts the company's 10 year dividend profile. After 2010, dividends from the company increased by 25%, 26% and 10%, respectively in the last 3 years.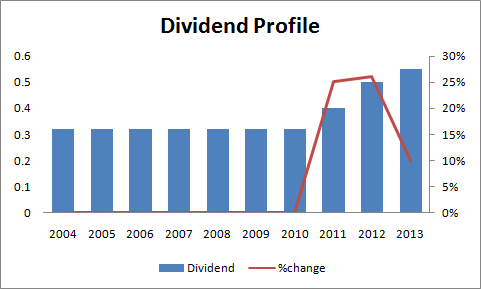 Source: 1stock1.com
The following table makes it clear that Hewlett-Packard is trading at steep low price multiples when compared to the industry and its peers such as Microsoft Corporation (NASDAQ:MSFT), Xerox Corporation (NYSE:XRX), and Cisco Systems (NASDAQ:CSCO). The PEG ratio also demonstrates the fact that Hewlett-Packard still has more room to grow its price multiple at least as much as the current industry level.

Source: Yahoo Finance
The Road Ahead
Hewlett-Packard has been progressing under the command of its new CEO (former eBay Chief Executive) Meg Whitman since 2011. The company has undergone a massive restructuring and has shifted its focus towards the high demand high margin products after pricey personal computer and printer use has declined. Hewlett-Packard seems to understand the fickle nature of the industry and thus is becoming more consumer-oriented. The company is striving to grab a majority market share in the server business and is bolstering its computing hardware business. Its efforts have enabled the company to secure a 28.10% market share overtaking its rival International Business Machines Corp (NYSE:IBM) and has become the majority share holder of the market.
Moreover, Microsoft Corporation under its new CEO, Satya Nadella is offering free Windows 8 licenses for any gadget with a display size of 9 inches or smaller. This move may come as a game changer for Hewlett-Packard as it will result in higher operating margins for the company. Since HP is the manufacturer of tablets, phablets, and phones, it can now offer these products at competitive or lower prices while still earning better margins due to the free Windows 8 license. Apart from its free Windows 8 licenses, HP itself is working hard on cutting down its costs as visible in its latest quarter figures where despite the sales plunge the company managed to generate positive margins.
HP is moving into the 3D printing industry and this is also something worth watching since it carries much brighter prospects. It is anticipated that the 3D printing products and services will grow by $10.8 billion in revenues by 2021. However HP needs to establish itself in this domain before it can see its top and bottom lines bolstered.

Source: HPQ Earning Tables
Currently, printing is at the heart of the company since it contributes 21% to revenues and 37% to the company's operating Income. In light of this entire scenario I believe the company will continue its progress towards attaining its top notch position and thus its top and bottom lines will see accelerated growth.
Price Potential
In order to forecast HP's EPS over the next 5 years I utilized the company's 10 year financial summary on MSN Money in order to calculate the annualized growth rate.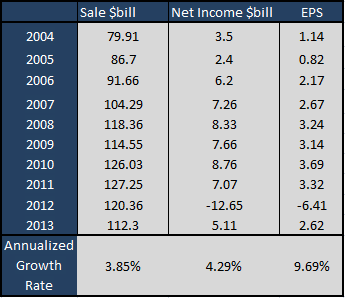 Source: MSN Money

If we extrapolate HP's sales and net income by 3% and 4% respectively it will lead us to sales revenue of $115 billion in 2014 to $130 billion in 2018. Net income will increase from $5 billion in 2014 to $6 billion by 2018. HP reported $28.2 billion in revenue during the first quarter of fiscal year 2014 which if taken constant for all four quarters of the fiscal year will result in an annual revenue figure of $112 billion. This is 2.6% less than the revenue figure in the table above. During the first fiscal quarter of 2014, HP earned a GAAP net income of $1.4 billion that implies an annual figure of $5.6 billion and is almost in line with my estimates.
The 1st quarter EPS stood at 90 cents implying an annual EPS of $3.6 almost in line with my estimates. Growing the EPS at a conservative annual growth rate of 8% gives us an EPS of $4 in 2015 and $5 in 2018. Forward P/E ratios for 2014 and 2015 have been obtained from Yahoo Finance and I assumed that later on the multiple will show its tendency to revert back to the industry P/E ratio that currently stands at 19.13. The projected stock price is increasing from $32 in 2014 to more than $50 by 2018. The calculated CAGR, assuming the current stock price ($32.64) as the base, shows an upward potential of 15% over a 5 year time period. This contradicts with the over optimistic projection presented by Barrons of 20% upward price potential in just one year.
Final Take
Although I couldn't see as much price potential as expected by Barrons' I still think Hewlett-Packard has much room to grow. Growth opportunities in 3D-printing and the Windows smart phone market are worth watching for their impacts on the stock price. In my opinion, the opportunities and Hewlett-Packard's long term expertise warrants a bullish run for the stock price. Hence I would suggest investors consider this stock for its long term growth prospects and enviable dividend offerings in the meanwhile.
Disclosure: I have no positions in any stocks mentioned, and no plans to initiate any positions within the next 72 hours.
Business relationship disclosure: The article has been written by a Gemstone Equity Research research analyst. Gemstone Equity Research is not receiving compensation for it (other than from Seeking Alpha). Gemstone Equity Research has no business relationship with any company whose stock is mentioned in this article.