By Jake King
When Mr. Deryugin penned his original thoughts on Acorda Therapeutics (NASDAQ:ACOR) in mid-2013, the stock traded around $38. While investors heeding his advice sit slightly in the green today, we believe the thesis holds with momentum gaining into 2014. The company continues to grow its main revenue-generating asset, Ampyra (dalfampridine), at a low double-digit pace in Multiple Sclerosis (MS) patients with walking disabilities. In 2013, the asset generated $302M of the company's $336M net revenue. Acorda is leveraging the dalfampridine platform to boost future sales and is Phase 3-ready to expand the label in patients with post-stroke walking deficits.
Acorda's prospects are improving with a NDA submission for Plumiaz (nasally administered diazepam) in cluster seizures; an approval decision is expected by 3Q14. We believe FDA approval of Plumiaz is likely by September, and the drug will usher in a new standard of care for seizure therapy. Plumiaz approval will be the most followed Acorda catalyst in 2014.
Why are we optimistic about Plumiaz's market potential? Valeant Pharmaceuticals' (NYSE:VRX) Diastat, diazepam gel administered rectally via syringe, is the current standard in this indication. Plumiaz's nasal administration is an obvious advantage. Diastat is the only approved treatment for cluster seizures and generated peak sales of roughly $100M. Plumiaz could easily supplant Diastat with greater ease of administration (and, orphan designation through 2021). Fundamentally speaking, matching diastat sales would boost Acorda's top-line by 30%, our base-case scenario.
Acorda filed the Plumiaz NDA through the 505(b)(2) pathway in November of 2013. The company studied Plumiaz's safety and PK profile in an open-label Phase 2 trial with patients both dosed during seizure (n=10) and post-seizure (n=20). The safety and tolerability of Plumiaz were consistent with previous rectal diazepam trials, with the exception of adverse events related to administration that were transient in nature - an altered sense of taste and nasal discomfort were observed in 26% and 23% of patients, respectively. Mean plasma concentration levels closely mirrored those of Diastat and had the same duration of effect. These data points suggest FDA approval is likely, an outcome bolstered by the fact that diazepam's is backed by decades of clinical data.
Additionally, Acorda develops the remyelinating antibody, rHIgM22, for MS. Existing MS treatments slow or limit the destruction of myelin, an insulation that helps speed nerve transmission. rHIgM22 has demonstrated preclinically an ability to rebuild damaged or missing myelin as opposed to slow its destruction. Although far from commercialization, this novel mechanism in a $15B indication will garner investor attention as proof of concept data materialize over the next two years.
Expanding the Breadth of Ampyra
Acorda is attempting to jolt Ampyra sales beyond low double-digit growth by expanding the label into post-stroke walking deficit, an indication for which no therapy exists.
Dalfampridine was studied in a Phase 2 double-blind, placebo controlled trial (protocol) in ischemic stroke patients (n=83) and met its primary safety endpoints while also meeting an exploratory efficacy endpoint of improving walking speed. Results (page 52) for the timed 25-foot walking test (T25FW) showed a mean change from baseline of 0.21 ft/sec versus 0.10 ft/sec for placebo (n=78, p<0.027). Similarly, responder rates mirrored those of registration trials for walking in MS patients where 50%+ of patients reported a >10% mean change from baseline walking speed for the T25FW (see ischemic stroke and MS trial comparisons below).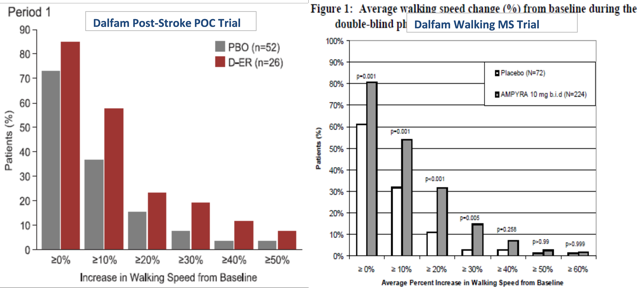 Since Mr. Deryugin penned his thesis, Acorda's dalfampridine program has progressed beyond Phase 2. The company met with the FDA in December for guidance on a Phase 3 program. Acorda expects to proceed with these studies in 2Q14. The first Phase 3 will be a blinded, parallel group study of two dalfampridine doses versus placebo, utilizing mean change from baseline in T25FW as a primary efficacy endpoint. The company is also implementing an adaptive design: an interim futility analysis of the planned trial will guide the initiation of a second Phase 3 registration trial. For investors continually rummaging through trial data, we appreciate the ease of clean comparisons among historical trials.
The post-stroke market is multi-fold greater than the MS opportunity. Acorda projects between $328M and 335M in Ampyra sales this year, which is based on a total addressable population of about 200,000 (growth comes via price increases as penetration slows). Of the 7 million post-stroke patients in the US, 3.5M suffer from walking deficit. At a response rate of 30% (slightly lower than that seen in MS), the addressable market could reach more than a million patients, dramatically larger than the current Ampyra opportunity.
Promising Early Stage MS Therapy To Drive Interest in 2H14
Looking further down the pipeline and into 1Q15, Acorda will have Phase 1 data (protocol) from a small safety/tolerability study, with some exploratory efficacy endpoints, for the remyelinating antibody rHIgM22. The remyelination approach is a major breakthrough in multiple sclerosis, as the drug treats the underlying cause of MS (demyelination) by stimulating cells to rebuild myelin rather than ameliorating inflammation as do approved therapies. While still early, advancement of the rHIgM22 program into Phase 2 trials would garner significant investor interest. MS is an extremely lucrative indication with numerous blockbusters on the market running $60k+ per course of treatment.
Biogen Idec's (NASDAQ:BIIB) BIIB033, an anti-LINGO monoclonal antibody, works in a similar remyelinating fashion. The much larger Biogen Idec ($73bn market cap) will have proof of concept results later this year for BIIB033, and despite differing mechanisms of action, the first evidence of utility in humans will bring investors around on what is now an early-stage asset at Acorda. In CEO Ron Cohen's own words: "If this works, it's huge." BIIB033 is being studied in an acute optic neuritis ((NYSE:AON)) trial that could inform future developments of BIIB033 in MS patients, in addition to a trial in relapsing remitting MS ((NYSE:RRMS)) as an adjunctive therapy alongside Avonex. Data are expected for the AON trial in 2H14, and RRMS results will be available in 2015. We are focused initially on the AON trial for proof of concept for this remyelination approach in RRMS patients since both diseases are similarly a function of lesions/myelin sheath degradation, with up to 50% of MS patients developing AON. Positive AON results from Biogen Idec should offer some flow-through to Acorda by association until its rHIgM22 trial (some efficacy measurements) reports out in 1Q15.
Acorda is one of just a few CNS players remaining since large pharma culled the difficult segment from their R&D budgets in the last few years. The stock is currently bumping up against 52-week highs after a 38% run since early February and held up well even during the sector's tumultuous March, indicative of investor interest. Positive news in 2Q14 on advancing the dalfampridine program provides a catalyst for shares to break above $41. Couple this with 2H14 catalysts such as approval of Plumiaz and Biogen Idec's proof of concept for BIIB033, and Acorda investors could see a sustained rally into the back half of this year when rHIgM22 becomes a major focus.
Disclosure: I am long ACOR. I wrote this article myself, and it expresses my own opinions. I am not receiving compensation for it. I have no business relationship with any company whose stock is mentioned in this article.
Additional disclosure: PropThink is a team of editors, analysts, and writers. This article was written by Jake King. We did not receive compensation for this article, and we have no business relationship with any company whose stock is mentioned in this article. Use of PropThink's research is at your own risk. You should do your own research and due diligence before making any investment decision with respect to securities covered herein. You should assume that as of the publication date of any report or letter, PropThink, LLC and persons or entities with whom it has relationships (collectively referred to as "PropThink") has a position in all stocks (and/or options of the stock) covered herein that is consistent with the position set forth in our research report. Following publication of any report or letter, PropThink intends to continue transacting in the securities covered herein, and we may be long, short, or neutral at any time hereafter regardless of our initial recommendation. To the best of our knowledge and belief, all information contained herein is accurate and reliable, and has been obtained from public sources we believe to be accurate and reliable, and not from company insiders or persons who have a relationship with company insiders. Our full disclaimer is available at www.propthink.com/disclaimer.