One of the things that never cease to amaze me, is how quickly investors and analysts change their opinion about an investment. Just two years ago, Bank of America (NYSE:BAC) was one, if not the, most hated stock. Not only in the banking sector, but I would assert in the entire stock market. Ongoing legal battles about toxic mortgages stemming from Bank of America's acquisition of Countrywide had a profoundly negative impact on Bank of America's stock price.
Interestingly, investors who bought when pessimism peaked (somewhere in 2012 assuming that the average investor unlikely caught the bottom) did tremendously well. Since I follow a contrarian investing philosophy, I often point to Bank of America as a classic turnaround example. Bank of America's two-year chart impressively shows, what can happen to a stock price when investor perceptions change. Ultimately, security prices for companies in special situations are often determined by mass psychology, and not by rational investors who strictly follow the efficient market theory.
I vividly remember Bank of America trading at a third of book value back in 2012 -- which was when investors assumed the holes in the bank's balance sheet to be so large, that the company was literally about to close its doors. Of course, this assumption was ridiculous. Bank of America is one of the strongest financial enterprises in the business and one the pillars of the American financial services industry. A financial sector without Bank of America would not be conceivable.
Tailwinds and catalysts
Fast forward two years and Bank of America has closed a large part of the gap between book value and market price. Nonetheless, Bank of America is still a great financial bet on the cyclical resurgence of the financial services sector. I think only a few people will doubt that interest rates are going to increase -- either in 2014 or 2015. Large consumer franchises like Bank of America are looking at serious tailwinds over the next couple of years as the economic picture improves. Higher investment-, loan- and mortgage demand as well as a buoyant mergers- and acquisitions practice should provide meaningful boosts to Bank of America's top and bottom line.
With still a solid unemployment rate of approximately 7%, low interest rates and inflation and suppressed real GDP growth, financial companies like Bank of America or Citigroup (NYSE:C) have literally nowhere to go but up over the next five years. I believe that the US economy is looking at accelerating growth rates in 2015-2017 accompanied by higher interest rates and loan demand. In fact, I believe this scenario is the most likely of all.
With cyclical tailwinds from the macroeconomic front, Bank of America's profitability should experience a substantial boost -- especially if its CRES (Consumer Real Estate Services) unit returns to profitability.
In a related article about the attractiveness of bank holding investments, I pointed out that Bank of America faces a series of positive catalysts which would support an investment in the banking franchise. Those catalysts certainly included the recent passing of the Federal Reserve's stress test which could lead to a hike in quarterly dividends a few quarters down the road.
In addition, Bank of America works vigorously on improving its underlying asset quality and has continuously worked through its legal woes. With high-profile lawsuits out of the way, Bank of America looks to be in much better shape today than just two years ago. It should serve investors as a powerful reminder, that the most pessimistic expectations (infinite litigation costs, bankruptcy etc.) most often than not will be disappointed.
Technical picture
From a technical point of view, investors should welcome the recent consolidation of Bank of America's stock. Shares of the banking giant have fallen approximately 8% below their most recent 52-week High of $18.03. I believe the consolidation is healthy and allows savvy long-term oriented investors to pick up more shares at discounted prices.
The Relative Strength Index clearly suggests, that Bank of America is currently oversold. While I do pay attention to some technical indicators, I believe the long-term fundamentals make an even stronger case for Bank of America (cyclical loan- and investment demand, cyclical M&A tailwinds, GDP growth above trendline, higher interest rates and inflation etc).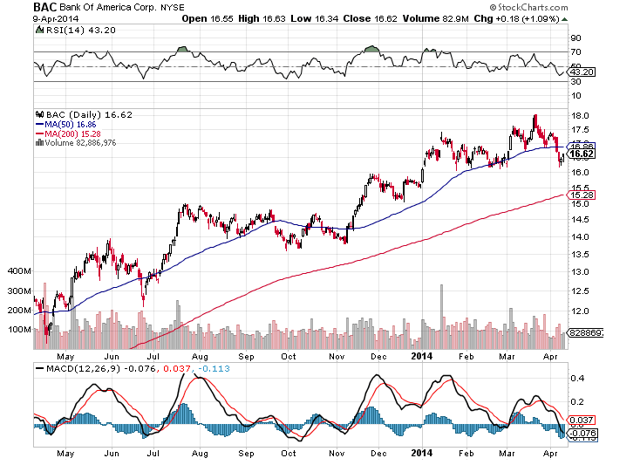 (Source: StockCharts.com)
Conclusion
Bank of America has nearly doubled over the last two years and I am convinced the banking franchise has substantially more room to run. With litigation costs expected to decrease, improving asset quality trends, positive news from the stress test front and a persistent discount to book value, Bank of America makes an extraordinary value proposition for investors who want to benefit from the resurrection of the US financial sector.
With a book value of $20.71 per share, Bank of America still trades at a nearly 20% discount to book value -- a high margin of safety even though the value drivers depicted above should cause substantial book value growth for the company. Bank of America is a first-class bet on the recovery of the US financial sector and I believe the recent consolidation offers long-term investors a solid opportunity to purchase more of an undervalued, highly promising banking franchise. Strong, long-term BUY.
Disclosure: I am long BAC, C. I wrote this article myself, and it expresses my own opinions. I am not receiving compensation for it (other than from Seeking Alpha). I have no business relationship with any company whose stock is mentioned in this article.