IDC and Gartner are the foremost forecasters in the personal computing and mobile devices space. I wait anxiously for their forecast updates and try to build them into my models of the businesses affected by the trends.
Way back in 2010, IDC was forecasting personal computer unit sales worldwide would reach almost 500 million by 2014. Investors buying into that forecast would have seen the outlook for Intel (NASDAQ:INTC) as very promising and no doubt considered it as an investment with a tailwind.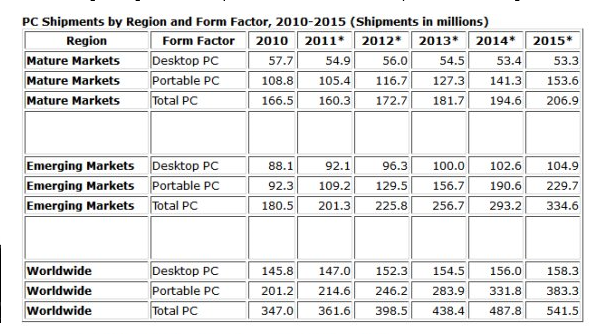 Source: Dark Vision Hardware
The world did not unfold as forecast and the 2014 PC market is likely to end up some 35% to 40% below IDC's 2010 forecast.
Over the past several quarters, I have concluded both firms are "lagging indicators" who, rather than providing solid forward looking guidance, seem to lag what is actually happening in the market almost as if their own forecasts used exponential smoothing. To keep this article short, I am going to use IDC data.
The latest PC forecast is a good example of how the forecasts lag rather than lead events so I will do a brief recap of recent forecasts by IDC.
In May 2013, IDC forecast the global PC market for the year at 321.9 million units.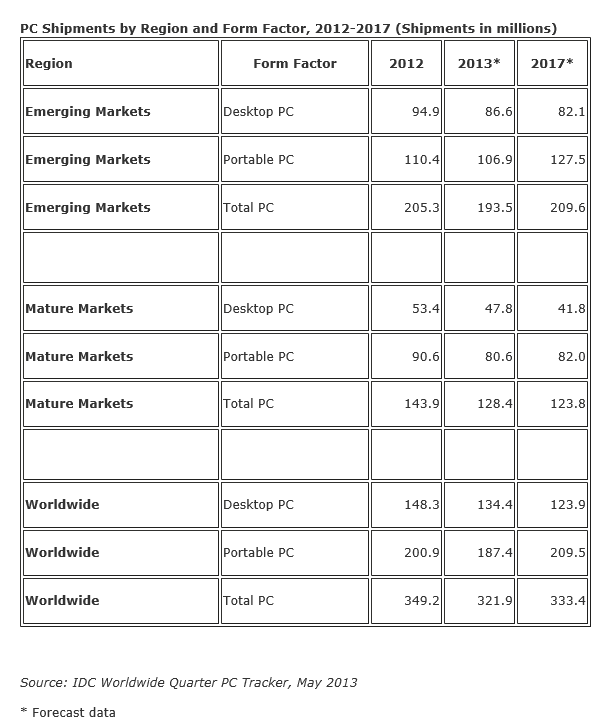 In August, IDC called that forecast down to 315.4 million units.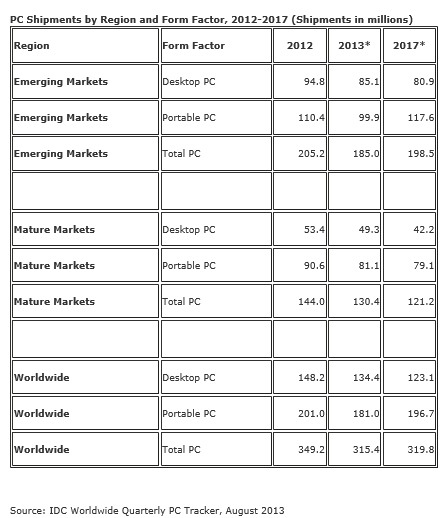 In November, IDC tweaked that forecast even lower to 314.2 million units.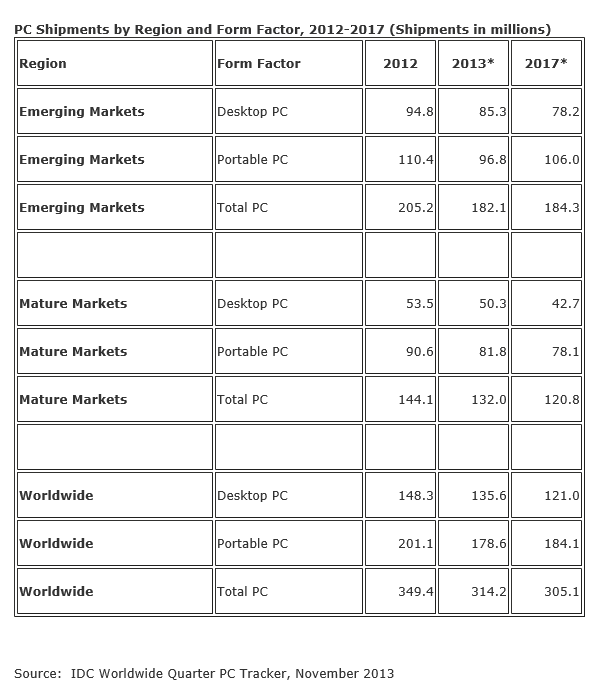 In February of 2014, IDC reported that 2013 shipments were 315.1 million units but called for a 6.1% decline in 2014.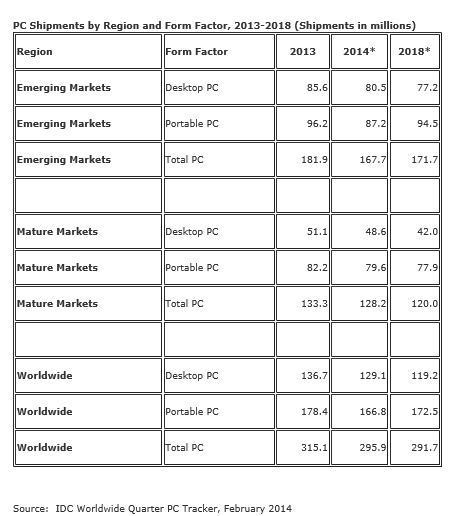 IDC's February forecast provided a chart illustrating the moderating rate of decline in the PC market with 2015 forecast to decline by 0.8%.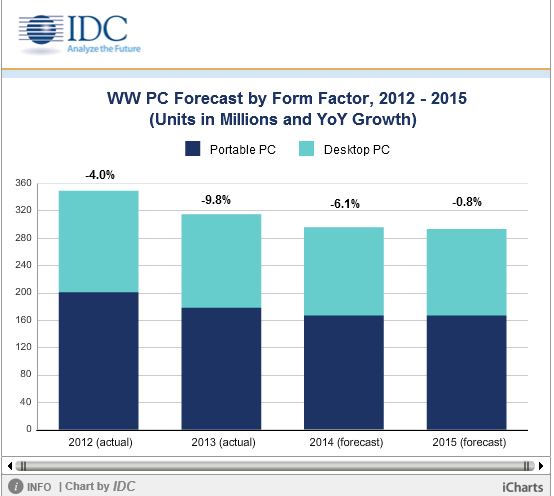 This week, IDC reported an updated Q1 2014 forecast indicating that the decline in PC sales was less than previously forecast with the estimated decline for Q1 2014 at 4.4%.
Gartner put the Q1 decline at 1.7%.
IDC Vice president Loren Loverde commented:

I don't follow how the "net result" remained consistent with IDC's previous forecasts. It seems that each forecast was an after-the-fact attempt to catch up with the unfolding market, rather than an attempt to see ahead.
As a follower of Intel, I have been struck by the incongruity between Intel reporting record sales of its Core line of processors and IDC and Gartner reporting very high rates of decline in the PC industry. My conclusion is simple. The forecasters may just be reporters who cautiously project a smoothed least squares fit to past data to predict coming periods without attempting to get empirical data on orders; failure or replacement rates; customers' intentions; or, production schedules of major OEM's. These latter inputs would likely lead to more reliable forecasts.
One thing is certain, however. Stability in PC markets is good for Intel. My own forecast is that PC markets will grow in 2014 and not decline at all. Why would I make such a bold statement?
The end of support for Windows XP will prompt an upgrade cycle. Last June Netmarketshare.com reported that Windows XP had a 37.1 % market share which amounts to several hundred million PC's still using that operating system. PC's that old are reaching the end of their lives and software has moved on. Many if not most will be upgraded to a new machine and not just a new OS, a process I see gaining real traction this year.


Source: Netmarketshare

The world's fascination with tablets and particularly with iPads may be ebbing a bit. Tablets are fine for consuming content, but useless for real work. When the iPad was released there were few truly lightweight PC's and what laptops were worth carrying around had battery lives of about three hours based on my experience. That has changed. Very light ultrabooks are now offered at a wide range of prices; many are powered by Haswell Core processors with outstanding power and quite long battery lives; and, many hybrids and two-in-one devices are now in the market. Consumers and businesses today have much wider choice.
Smartphones are becoming more powerful and sporting larger screens. As this trend continues, users are likely to eschew tablets and choose a smartphone with a large screen for their casual content consumption and a real laptop with substantially more processing power than an iPad or its Android equivalent and with comparable battery life.
As a result, I am bullish on Intel. Over time, I think IDC and Gartner will catch up to these trends. Investors who get ahead of the curve are the ones who make the most money. My bullish bets on Intel have been very rewarding so far and I am staying in the trade until I see some evidence the trend will turn negative. I don't see any today.
Disclosure: I am long INTC. I wrote this article myself, and it expresses my own opinions. I am not receiving compensation for it (other than from Seeking Alpha). I have no business relationship with any company whose stock is mentioned in this article.