When myself and Dennis Beaudet wrote our first article about Taipan Resources Inc. (OTC:TAIPF) (TPN.V), they had just completed a farm out deal with Premier Oil Plc (PMO.L) on their Block 2B property in Kenya. On Tuesday April 8th, Taipan announced the closing of a private placement of CAD$6.48 million (US$5.94 million) priced at CAD$0.36 per share and oversubscribed by CAD$0.48 million (US$0.44 million). And Wednesday, April 9th, they announced a second Farm Out deal on the prolific Badada prospect in Block 2B Kenya where Tower Resources Plc (TRP.L) will take 15% of the Block in exchange for US$4.5 million in cash, 9 million Tower shares (worth US$583,000), a payment of US$1 million in cash should Taipan drill a second well on Block 2B and agreeing to pay their share of the oil drill in Quarter 3, an estimated cost of US$4.4 million in itself. The Farm Out deal total consideration of US$9.5 million in firm commitment for just a 15% stake is a resounding vote of confidence in Taipan and their management as operators of the upcoming drilling. It provides further third party verification of the seismic data on Block 2B itself as being world-class, showing some big shale sand intervals, necessary for cooking and trapping oil. The below chart shows ]Taipan's stepped change in valuation since the start of the year but this article will show the mismatch between Risked-Net-Present-Value (RNPV) of the prospects and the current share price.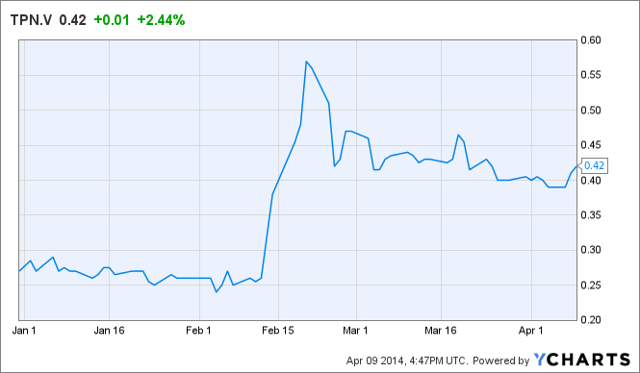 The Tower Deal - Further third party de-risking of the play
The deal is a significant pro-rata premium to the December '13 deal where the multi-billion dollar exploration company Premier Oil Plc (PMO.L), paid US$30.5 million for 55% of the Block. Last Monday's private placement coupled with the cash from the Farm Out has now fully de-risked this small cap explorer and there now lies a clear path to the phenomenon of Pre-Drill-Multi-Bagging hypothesis playing itself out with in Taipan as we approach the two drill dates in Q3 and Q4 this year. In fact, Taipan has a chance of becoming the small-cap exploration stock of the year as their RNPV is a multiple of 4.4 times their market capitalization while their un-risked NPV is 16 times their market capitalization and Kenya is definitely the current world exploration hotspot. Taipan holds the fourth largest onshore Kenya gross acreage position after the multi-billion dollar Tullow Oil (OTCPK:TUWLF), Africa Oil Corporation (OTCPK:AOIFF) and Afren Plc (AFR.L) who are their Kenya Block 1 partners. Indeed Taipan need not look any further than their new exploration partners Tower where a classic instance of Pre-Drill-Multi-Bagging took place from a share price of 1.15 pence last Fall to more than 3 times that now, at 3.85 pence on multi-million dollar daily stock volume. Taipan has an estimated cash balance of US$11 million and has big partners on both blocks; with drilling now fully funded by their partners and by cash, the Pre-Drill price appreciation chances look good.
2014 - Onwards and Upwards
Taipan started the year at US$ 0.25 cents per share and now stands at US$ 0.36. The 56% rise resulted from a spectacular increase in their mean prospective resources on Block 2B from 382 million barrels to 1,593 million barrels. The company then yesterday proceeded to raise CAD$6.48 million which was oversubscribed by CAD$0.48 million. The share price constantly stayed 12% higher during the private placement period. It is envisaged that US$2.8 million (source: Taipan Jan 31, 2014 Quarterly financials on SEDAR) of this will be paid to Afren Plc (AFR.L), for Block 1 seismic and drill preparations on the Khorof prospect in Quarter 3. On Block 2B Taipan announced a further seismic program had been completed in February by BGP China on the Badada prospect and confirmed robust closure where they, Premier and now Tower Resources will spud again in late Fall. Both drills are expected to spud around September / October this year, an unprecedented event where a small cap's first drill catalyst is two drills at the same time on prolific acreage. Typical market capitalizations for companies holding one shot at oil in prolific acreage would reach over US$150 million but Taipan have two drills, with reasonable equity positions in each. (30% in Block 2B and 20% in Block 1). Let's now take a look at the prospects and start with Block 1 - the Khorof prospect. Some financial analysts previous to this week's private placing and yesterday's cash Farm Out, did not even have any value in their RNPV calculations for Block 1, something which must now surely correct itself over the coming months.
The Khorof prospect - Quarter 3, 2013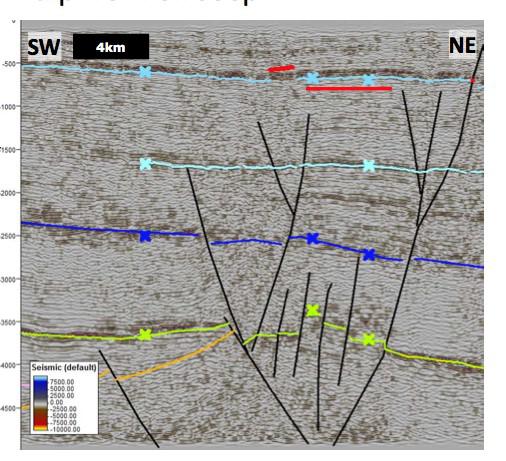 Size: 390 mmbbl (PMean) (Source: Afren Plc)
Operator: Afren Plc
Taipan's Equity: 20%
Location: South East section of Block 1 Kenya, Mandera Basin
Prospect type: Four-way-closure in Upper Triassic and Jurassic
Source rock evidenced by oil seeps at Tarbaj and Mansa Guda (Source: Sproule 2012)
Chance of success 20% (Source: Afren Plc)
Primary risks: That the prospect has been charged by oil and that the seal is adequate
Well cost: To be funded by partners according to their participating interests
Quote from the operator Afren:
"Block 1 is looking better and better the more work we do on it"
(Source: Iain Wright Associate Director, Afren Plc annual results webcast www.afren.com)
Further information can be found on the operations section of the Afren website. They are comparing the Mayo and the Kalicha-Seir formations in the Block 1 seismic to the proven oil bearing Lower and Upper Hamanlei (Jurassic) formations in the Ogaden Basin, just North of Block 1 where El Kuran and Ogaden basin discoveries were made by Tenneco in the 1980s. This discovery is currently being appraised by NewAge (African Global Energy) Limited, Africa Oil and Afren with full results expected soon however preliminary results have confirmed oil and gas although fracture stimulating or acid may be required to flow it. The encouraging thing here is that the discoveries prove oil source and reservoir accumulations in the same aged rock as present in Taipan's Block 1.
"Many of these prospects have successful analogues in the Ethiopian sector of the basin immediately north of Block 1. The new data set has also enhanced our view of the oil prospectivity in the south of this large frontier block." (Source: Afren Plc)
The Badada prospect - Quarter 3, 2013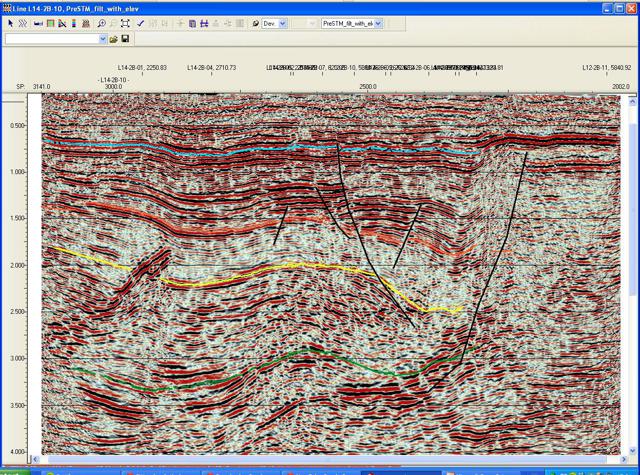 Size: 251 mmbbl (PMean) (Source: Taipan Resources Inc. website)
Operator: Taipan Resources Inc.
Taipan's Equity: 30%
Location: South East section Anza Basin, Block 2B Kenya
Partners: Premier Oil Plc and Tower Resources Plc
Prospect type: Four-way-closure "String of Pearls play" in Tertiary
Source rock evidenced by fluorescence in Hothori-1 well 1989, gas shows Hothori-1 and the Bogal gas discovery 2009 is 50 kilometres away
Chance of success: (30%) (Source: Taipan Resources Inc. website)
Primary risks: That the prospect has been charged by oil and that the seal is adequate
Well cost funded by Premier Oil Plc and Tower Resources Plc up to a gross $29.5 million
Quote from the operator Taipan:
"Now if it comes in and you don't bother with the risking, the prospect is potentially worth about $700 million to the company. And that is just one prospect. There are numerous other follow-on leads of the same size or greater that we would then follow up and drill at a later time" (Source: Taipan Resources Inc. website, Maxwell Birley CEO, October 28th conference call)
Management promotion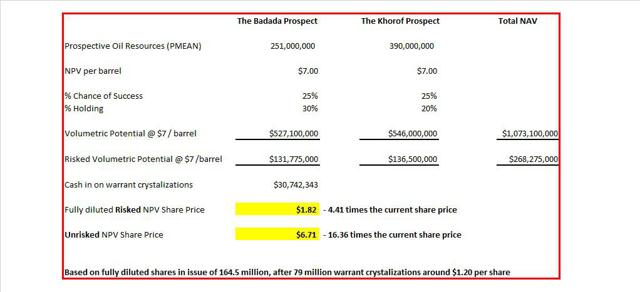 Having secured their private placement on Tuesday, the Taipan management know that they are now incentivized to get out there and promote the company to eliminate the difference between their RNPV of US$268 million and their current market capitalization of a mere US$37 million. If this difference narrows towards drill dates five months from now, the 50c and 60c options will exercise, giving the company an extra $31 million in cash which will more than secure other drills in East Africa. This opportunity to crystalize more cash for Taipan without more private placements represents enhanced upside for stockholders from now on, with the private placement out of the way, management can focus on promotion as a primary means of bringing in more cash for entry into other high impact drills in East Africa, while stockholders benefit from the increased promotion of Taipan's value proposition.
Risks
The Sala well is currently drilling in Block 9 and a poor result here might lessen the positive sentiment on the Badada prospect 60 kilometres South. Although it is similar to Badada in that it is close to the bounding fault, it is mainly a Cretaceous test as opposed to the Tertiary Badada. The Sproule report 2012 confirms that the Anza basin "plunges South-East toward the Lamu Basin" (source: Sproule International consultants geological report, Taipan Filing Statement, July 2012, SEDAR, page 30). This simply means the Tertiary layers are bigger in the South of the Anza Basin. The idea is that the Anza Basin was an old freshwater lake in the Tertiary age and lake deposition has created the shale-sand layers and organics required for oil generation. For this reason the Taipan Block 2B part of the Anza Basin may be more prospective than Block 9 which has yielded gas discoveries at both Bogal and wet gas at Papai.
There is a risk that Badada will hit gas instead of oil but management believes that risk is mainly associated with the Cretaceous which is buried quite deep in Block 2B while the thick Tertiary section in Badada is thought to be mainly prospective for oil.
Country-risk: Kenya is new to the oil business and misinformation among communities in the Turkana region where Tullow and Africa Oil have made oil discoveries leads some to believe that those companies are already somehow producing oil. The misinformation can cause disquiet and disruption of exploration of drilling if not managed properly. Taipan has engaged the help of local Kenyan former national oil company executives and former British army security services also. Community relations will be key for Taipan going forward in advance of their drilling of their operated Block 2B. Max Birley has managed such community relations in the past in remote parts of Pakistan during his time as Premier Oil Plc in-country operations manager and Paul Logan, Taipan's exploration manager was involved in Heritage Oil's Ugandan drilling campaign so both men are experienced operators and they will be aware of the local engagement required for Badada.
Summary
I met an old capital markets friend recently and asked him what market capitalization a small cap with big partners should have on its first drill event in Kenya, with a reasonable equity stake. He thought for a moment and said about US$100 million. Then I told him that the company in question has two of those Kenyan drill events with a big partner on each and he doubled his estimate. With their private placement out of the way, and the chance of further possible farm outs on either block, Taipan knows the name of the game five months before their two drill events is promotion, and here lies the opportunity for a speculative gain in the run up to drilling. The fully diluted Risked Net Present Value (RNPV) is about 4.4 times the current share price and while the resource markets are down, they will always price in a strong element of RNPV once the Pre-Drill-Multi-Bagging conditions of funding and risk are mitigated by bringing in partners who believe in the prospects. Taipan has that belief in bundles from Afren, Premier Oil Plc, Sproule and now Tower Resources - and that's why I am long on Taipan.
Disclosure: I am long TAIPF. I wrote this article myself, and it expresses my own opinions. I am not receiving compensation for it (other than from Seeking Alpha). I have no business relationship with any company whose stock is mentioned in this article.
Editor's Note: This article covers one or more stocks trading at less than $1 per share and/or with less than a $100 million market cap. Please be aware of the risks associated with these stocks.