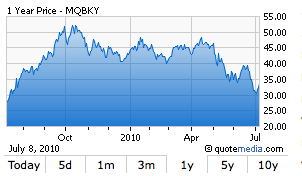 Macquarie Group ((OTCPK:MQBKY), $32)[ASX:MQG] is an often overlooked financial firm that deserves your attention. While analysts have been reducing Macquarie's short-term fortunes a bit with weak markets, the company is well positioned for a global recovery. The current share price has declined 30% since my post on April 26 and should be seen as a good value for investors with a 2 to 3 year horizon. The downside should be limited, while the upside could be quite rewarding.
Macquarie Group is a well managed, global financial services company headquartered in Australia. Since its founding in 1968, MQBKY has grown into a diversified firm of global size, with offices in the US, Canada, Asia, Europe, and Australia.
What has fundamentally changed to cause such a severe decline in market price? Not much. The overall stock markets have been weaker than expected, along with overly optimistic estimates of the strength of MQBKY's investment banking business. However, their business is still growing quite nicely.
Investment banking profits are dependent on a combination of factors: the regulatory environment, a global economic recovery, financial market stability and competition. The uncertainty of new regulations, of a possible slowdown of the global recovery, and the Euro crisis has added to overall market weakness and has exacerbated MQBKY's decline.
On the positive side, Macquarie's base fee income is growing. Australian banking and brokerage expansion into Asian markets continues to improve. Management has amassed about USD $2.3 bil in excess capital that can be deployed for higher yielding loans or for acquisitions. The exchange rate between the Aussie $ and US $ is relatively stable at 1 : 0.86.
On the unsettling side, merger and acquisition income is weak, along with trading income. This has caused the earnings estimates reductions over the past few weeks. However, looking at the numbers in relationship to the stock decline, the market price of MQBKY appears very attractive. Below is the current consensus EPS and divy estimates along with those as of last April:
| | | | |
| --- | --- | --- | --- |
| | FY 2011 | FY2012 | FY2013 |
| Consensus EPS | $3.37 | $3.99 | $4.47 |
| Previous EPS | $3.92 | $4.50 | na |
| | | | |
| Consensus Divy | $1.93 | $2.26 | $2.52 |
| Previous Divy | $2.17 | $2.50 | na |

While these consensus estimates are down from April, the current share price of $32 would equate to a FY2011 PE of 9.2, a FY2012 PE of 7.8 and FY2013 PE of 6.9. This compares to April's PE on higher earnings expectations of 11.8 for FY2011, and 10.2 for FY2012. In other words, the market has reduced share prices faster than the corresponding reduction in earnings estimates. Hence, the current price undervaluation and limited downside.
Macquarie is trading at 1.06 of current book value. These valuations are usually reserved for times of balance sheet and financial crises. ROE is expected to expand from its current 12.5% to over 15% by FY2013, and this will drive a 10% annual EPS and divy growth rate.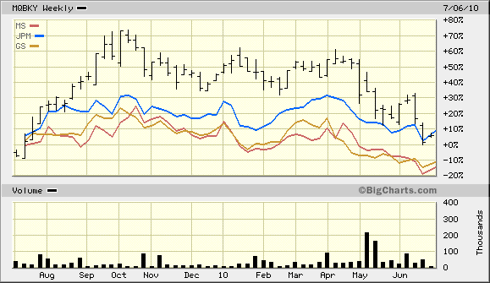 (Click to enlarge)
As the chart above describes, over the last 12 months Macquarie has outperformed its investment banking peers (Morgan Stanley (NYSE:MS), JP Morgan (NYSE:JPM), Goldman Sachs (NYSE:GS)). A reasonable price target should be in the high $40s to low $50s, based on a more conservative 10 to 12 PE on $4.50 earnings. Based on today's price of $32, that leaves plenty of upside.
As always, investors should conduct their own due diligence, should develop their own understanding of these potential opportunities, and should determine how it may fit their current financial situation.
Disclosure: Author long MQBKY.PK