The BP spill has thrust oil and offshore drilling into the spotlight. And in the shadow of the disaster, meaningful developments have occurred in another energy space: natural gas.
On June 25, Exxon Mobil's (NYSE:XOM) purchase of XTO Energy (XTO), a natural gas exploration and production company specializing in shale gas, was approved. The deal, with a price tag of $36 billion, made Exxon the world's largest player in natural gas. And seven out of Exxon's eight projects completed last year were developments in natural gas; two out of three projects planned for this year are also in gas, according to The Economist. And there's more: Shell (NYSE:RDS.A) (along with PetroChina (NYSE:PTR)) bought Australia's Arrow Energy for $3.2 billion in March. And then in May, Shell announced that it will purchase East Resources, a shale gas firm, for $4.7 billion.
There are, however, risks here. Drilling for shale gas involves a process known as hydraulic fracturing, or "fracking". Here's how it works: a combination of pressurized water, chemicals and sand is forced into shale rock about a mile or so underground, releasing the gas. And the problem: environmental advocates warn that both the gas and the chemicals used contaminate the water and end up in wells and homes.
This spring, the Environmental Protection Agency started an investigation into the impact of hydraulic fracturing (which will take a couple of years to complete). And last month, Congress introduced a bill that would give the EPA the authority to regulate the practice. But the reality: "Congress is unlikely to take action in the absence of hard evidence of an environmental hazard", according to FBR Capital Markets analyst Ben Salisbury (Forbes).
While there are environmental concerns, there are environmental benefits to natural gas. The obvious: gas is cleaner. It emits 45% less carbon than coal. And if Congress successfully passes a cap or a tax on carbon emissions, gas would look even more attractive. What's more: gas already provides 21% of our electricity in the U.S.
And it's available. According to a report by MIT released last month, we have a global supply of 16,200 trillion cubic feet of recoverable gas. That's more than 150 times our current global consumption, according to Forbes. And our demand is growing: Exxon Mobil expects that by 2030 our consumption will be 55% higher than in 2005 (The Economist).
The bottom line: Natural gas is cleaner and we have lots of it. Yes, there are dangers in extracting it, but that's true of other energy sources. And we could argue that the risks of oil exploration and drilling have greater consequences. We can be sure of one thing: gas has the potential to be a major energy source for the U.S. going forward.
And for investing opportunity:
Take a look at First Trust ISE-Revere Natural Gas (NYSEARCA:FCG): this ETF invests at least 90% of assets in equities of the ISE-REVERE Natural Gas Index.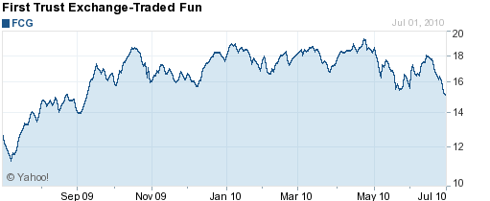 Click to enlarge
Source: Finance.Yahoo.com
Disclosure: Rezny Wealth Management doesn not hold investments in above mentioned securities; positions can change at any time.