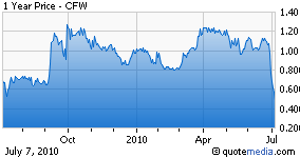 First, a quick mention about the merger.
It has now been a little more than a week since Resaca's announcement that it was postponing its equity raise in conjunction with the Cano (NYSEMKT:CFW) merger. Cano's stock has steadily drifted from its June 29, 2010 close of $0.98 per share to below $0.50 this week. However, it seems like Resaca still has some options in getting this deal done.
The hiccup occurred because of a provision in post-merger Resaca's $200 million senior revolving credit facility agreement. (See the most recent S-4/A filing for Resaca, Exhibit 10.222, Section 3.01(n).) Some of the proceeds from the equity raise were supposed to be used to pay off Cano's subordinated debt and Resaca's total debt. Cano's senior debt was to be paid off from proceeds belonging to the $200 million revolving credit facility. These concurrent transactions would have had the effect of fulfilling the merger agreement's Section 8.1(g) and (h). Notably, there is no provision in the credit agreement that indicates that all the proceeds to pay off Cano's subordinated debt and Resaca's total debt need to come specifically from a common equity raise. That means that a subordinated debt or preferred stock raise could close the financing gap (likely with the adoption of a new credit facility agreement with Union Bank).
This article isn't about the merger though. Instead, I'm writing this to discuss valuation. I had previously been using a (blended) $4/boe price to evaluate Cano's 49.1MMboe as a rule of thumb. As a reminder, I indicated that previous transactions near Cano's properties had gone for a range of $4/boe to $15/boe. We chose $4/boe to be as conservative as possible.
I decided to dig a little bit more. Some casual Google searching turned up the following transactions:
As a reference, I've compiled the following spreadsheet. If anyone knows of other sales in the Permian Basin and/or Panhandle region, please feel free to send them my way via rqk (at) georgetown (dot) edu.
The spreadsheet is a little bit confusing, so allow me to explain a little bit.
(Also, as a reminder -- all valuations here refer to asset base valuation. In order to get the enterprise valuation, you'll have to subtract these valuations by $124.46 million for total liabilities and preferred shareholders. Then, in order to get a per share price, you would divide by 45.57 million shares.)
From a very broad perspective, most of the transactions listed above only provide a few points of data. They have the (1) total transaction price, (2) total amount of proven reserves, and (3) amount or percentage of proved developed producing reserves (PDPs). Using this data, we can develop a range of prices for Cano based on (NYSE:A) valuing only the PDPs and no other reserves and (NYSE:B) valuing the PDPs and non-PDPs equally. My reasoning for (B) is that I know PDPs are more valuable than non-PDPs, but I'm not sure how much more. As a result, with (A) and (B), I have PDPs as infinitely more valuable than non-PDPs and PDPs as equally valuable with non-PDPs. That should cover our range pretty well.
If I use the above method with Parallel Petroelum's valuations, I get a PDP-only $/boe of $23.56/boe and same-PDP $/boe of $14.55/boe. When we apply these numbers to Cano's proven reserves of 7.1MMboe PDPs and 49.1MMboe total reserves, we get a range in valuation for Cano of $181.42 million (PDP-only) to $714.32 million (same-PDP). Obviously, Cano's actual valuation is way more likely to be closer to $181.42 million than $714.32 million.
Now, it turns out that we can drill down just a little bit more by considering the 16MMboe of reserves in the Permian Basin and 28.9MMboe of reserves in the Panhandle.
Permian Basin
Cano has 16MMboe of reserves in the Cato properties, of which 1.9MMboe are PDPs and 14.1MMboe are non-PDPs. Using the Sandridge Energy and Concho Resources metrics, we would get a blended $/boe of $9/boe and $14/boe, respectively. (They don't provide PDP breakdowns.) On those metrics, Cano's Cato property would be worth somewhere between $144 million and $225 million.
The Berry Petroleum transaction gives us a little bit more information. With Berry Petroleum, we can do the PDP-only and same-PDP valuations to get us a PDP-only $/boe of $48.91/boe (wow, that's high) and a same-PDP $/boe of $11.25/boe. That gives us a range of valuation for Cano's Cato property of $92.93 million (PDP-only) to $180 million (same-PDP). The Berry property has 35% more PDPs than Cano's property, and Cano's property has 63% more non-PDPs than Berry's property. Assuming the relative valuations for PDPs to non-PDPs is 10:1, we'd get a valuation for Cano's Cato property of around $121.29 million, which I'd note is a little lower than the $144 million and $225 million range above. If the relative valuation is closer to 5:1, we'd get a valuation for Cano's Cato property of $138.28 million.
Let's stick to $121.29 million for the Permian Basin to be a little safer.
Panhandle
Cano has 28.9MMboe of reserves in the Panhandle properties, of which 3.5MMboe are PDPs and 25.4MMboe are non-PDPs. Since the Legacy Reserves transaction concerned only PDPs, we have a PDP-only $/boe of $13.77/boe. On a PDP-only basis, the Panhandle properties are worth only $48.21 million. Of course, this is an artificially low number since the Panhandle has 7.25 times the amount of non-PDPs as PDPs.
One thing to note is that, while the average crude price in 2008 was on average $90-ish per barrel, there was a lot of volatility that year. In September 2008, when the Legacy Reserves deal was announced, the price per barrel was roughly $70 per barrel -- roughly the current price per barrel of oil. Also, even though the Linn Energy transaction was in 2006, the prices we're seeing now are roughly comparable to 2006 energy prices as well. (Our current prices are a little higher.)
If we use a relative valuation of 10:1 PDPs to non-PDPs for the Linn Energy transaction, we actually get fairly close to the $415 million transaction price for Linn Energy's Panhandle properties. (I would point out that the transaction says that over 50% of Linn Energy's transaction was based on proved developed reserves, which is both PDP and PDNP, but handicapping the calculation by saying that all of that 50% was PDP makes our calculation a little more conservative.) On a 10:1 basis, using PDP $/boe of $13.77 and non-PDP $/boe of $1.37, we get a valuation for Cano's Panhandle properties of $82.75 million. On a 5:1 basis, using PDP $/boe of 13.77 and non-PDP $/boe of $2.74, we get a valuation for Cano's Panhandle properties of $117.55 million.
Again, we'll stick to $82.75 million for the Panhandle to be safe.
What does it all mean?
If we take our calculation for the Permian Basin and Panhandle properties, we'd have an asset valuation of $204.04 million or roughly $1.74 per share (net total liabilities and preferred shares) -- and let's not forget that this only counts those two properties. We're currently ignoring the following:
4.2MMboe not in Permian Basin and Panhandle (half PDP, half non-PDP)

Desdemona could sell for about $5 million for the PDPs, maybe another $5 million for the PDNPs and PUDs based off the $6 million sale of 0.5MMboe of gas wells in January 2010

2.8MMboe left in Nowata and Davenport, both of which are completely developed (mostly PDP), so I'd put a sale price of $24 million on these

The facilities at Cockrell Ranch and Harvey, about $2 million

Value of hedges - $3.5 million (on the books, possibly worth more)

Accounts Receivable - $2.5 million

Inventory - $1.2 million
I think conservatively, we're looking at $20 to $40 million of value in the above. That's $0.44 per share to $0.88 per share of additional value in the stock. In other words, for $180.5 million, Resaca is getting a company whose assets are worth roughly $225 million to $245 million. That's quite a windfall for them -- IF they can get the deal done. (Incidentally, the immense asset value that Cano brings to the table is likely the reason that Union Bank was willing to retire Cano's $65 million of debt and extend $200 million in credit to the post-merger Resaca entity.)
*Note: In April 2010, Resaca's independent petroleum engineers also picked over Cano's reserves estimates, and they reclassified some assets in the Panhandle properties as probably reserves rather than proved reserves. I've provided the same analysis based on the revised reserve estimates on the other sheet in the spreadsheet. The value of the assets likely lies somewhere inbetween the two enterprise value estimates. (I kept the estimates of the non-Permian and non-Panhandle property values the same in both sheets since those did not change very much.)
Disclosure: Author long CFW