By David Urani
Jobless claims are one of my favorite economic indicators, as it seems to be reliable over time and also come to us in a very timely fashion making it a leading indicator. Today's reading is very encouraging. Weekly claims hit a level of 300k, the lowest since 2007. And beyond that, just take a look at jobless claims' historical data - we are approaching levels that haven't been lower since the 1970s. Of course, there were simply fewer people in the 1970s which makes today's reading all the more impressive. It also coincides with last week's Challenger, Gray & Christmas layoff report which showed the fewest amount of corporate layoff announcements for any Q1 in the last 19 years.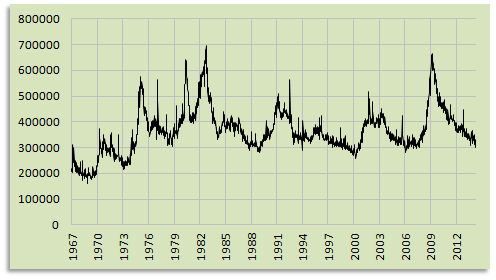 Jobless claims also have a surprisingly good correlation with the market. Below I've taken the above historical jobless claims data and inversed it to show how lower jobless claims coincide with a higher market (and vice versa). I matched that data with the S&P 500, and adjusted the Y-axis logarithmically to show past peaks and troughs better.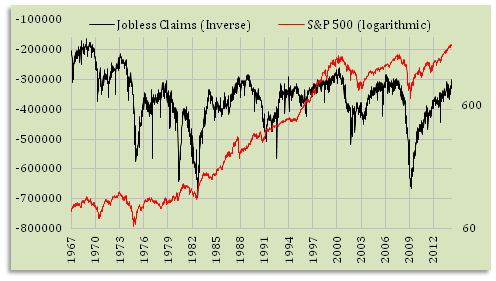 As you can see, the peaks and troughs of both the inverse claims and the S&P tend to match relatively well, especially in the last 20 years. And that's because jobless claims really do tend to track pulse of the economy with accuracy over time. Now we just need to see this level of claims hold, as there does tend to be some volatility week-by-week.