Wells Fargo & Co. (NYSE:WFC) is set to report FQ1 2014 earnings before the market opens on Friday, April 11th. Wells Fargo is one of the largest banks in the United States. In pre-earnings coverage for JPMorgan Chase, we mentioned how JPMorgan's earnings expectations have been taken down throughout the quarter, as the economy was sluggish. Wells Fargo is actually expected to increase its earnings, despite investor nerves over the Fed's taper and slower-than-predicted growth out of China and other emerging markets. This quarter, Wall Street is projecting Wells Fargo to increase earnings by 5.4% compared to FQ1 last year, although revenue is expected to be lower. Here's what investors expect from Wells Fargo Friday morning.
The information below is derived from data submitted to the Estimize.com platform by a set of Buy-Side and Independent analyst contributors.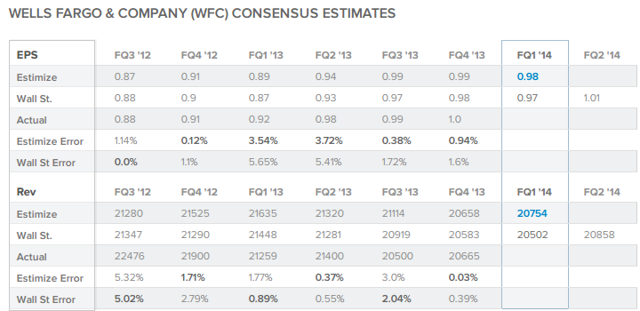 (Click Here to see Estimates and Interactive Features for Wells Fargo)
The current Wall Street consensus expectation is for Wells Fargo to report 97 cents EPS and $20.502B revenue, while the current Estimize.com consensus from 34 Buy-Side and Independent contributing analysts is 98 cents EPS and $20.754B in revenue. This quarter, the buy side, as represented by the Estimize.com community, is expecting Wells Fargo to beat the Wall Street consensus by 1 cent per share in earnings and $252 million in revenue.
Over the past six quarters, the consensus from Estimize.com has been more accurate than Wall Street in forecasting WFC's EPS and revenue 5 and 3 times, respectively. By tapping into a wider range of contributors, including hedge fund analysts, asset managers, independent research shops, students, and non-professional investors, Estimize has created a data set that is more accurate than Wall Street up to 69.5% of the time, but more importantly, it does a better job of representing the market's actual expectations.
The magnitude of the difference between the Wall Street and Estimize consensus numbers often identifies opportunities to take advantage of expectations that may not have been priced into the market. In this case, we are seeing an average differential between the two groups' expectations on earnings, but a wider delta on revenue.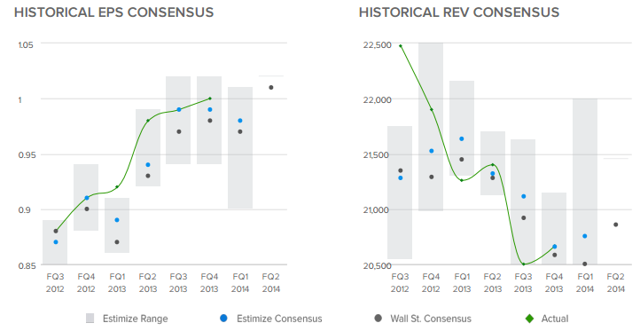 The distribution of estimates published by analysts on the Estimize.com platform range from 90 cents to $1.01 EPS, and from $20.495B to $22.000B in revenues. This quarter, we're seeing a wide distribution of estimates on Wells Fargo.
The size of the distribution of estimates relative to previous quarters often signals whether or not the market is confident that it has priced in the expected earnings already. A wider distribution of estimates signaling less agreement in the market could mean greater volatility post earnings.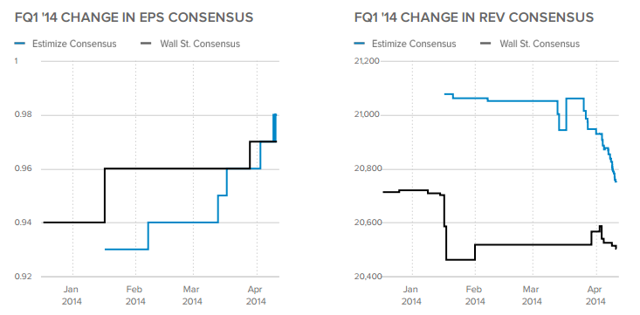 Over the past four months, the Wall Street EPS consensus rose from 94 cents to 97 cents, while the Estimize consensus increased from 93 cents to 98 cents. Meanwhile, the Wall Street revenue consensus declined from $20.713B to $20.502B, while the Estimize forecast sank from $21.092B to $20.754B. Timeliness is correlated with accuracy, and at the end of the quarter, we saw rising EPS estimates, but falling sentiment around revenue. The Estimize revenue consensus fell sharply at the end of the quarter, but still remains significantly higher than the Street's projection.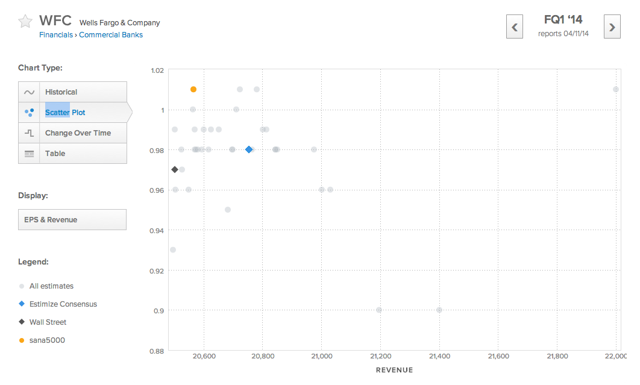 The analyst with the highest estimate confidence rating this quarter is sana5000 who projects $1.01 EPS and $20.564B in revenue. sana5000 is ranked 59th overall among over 4,000 contributing analysts. Over the past two years, sana5000 has been more accurate than Wall Street in forecasting EPS and revenue 58% and 44% of the time, respectively, throughout 161 estimates. Estimate confidence ratings are calculated through algorithms developed by deep quantitative research, which looks at correlations between analyst track records and tendencies as they relate to future accuracy. In this case, sana5000 is expecting Wells Fargo to beat the Estimize consensus on EPS, but come up short of the community's expectations on revenue.
While investors have been cautious and risk appetite has been low, generally unfavorable conditions for a bank, Wells Fargo is still expected to post 5.4% earnings growth compared to FQ1 last year. Contributing analysts on the Estimize.com platform are expecting Wells Fargo to inch past Wall Street expectations on profit, and beat the Street's sales projections by a considerable margin.
Disclosure: None.