Bank of Montreal (NYSE:BMO) recently reduced the popular 5-year fixed mortgage lending rate to a sub 3% level citing lower bond rates. Meridian, Ontario's largest Credit Union, followed suit and lowered its rates to 2.95%. It is very likely that other banks and financial institutions will follow BMO's lead and lower rates soon. And that begs the question, "If the housing market is robust, why should banks lower rates to attract borrowers?" Or, is it that buyers can only be lured by even lower mortgage rates and the ability to pay the monthly mortgage insurance premiums? While I don't want to single out any bank in Canada, I thought Royal Bank of Canada (NYSE:RY) being the top lender (with 54 YouTube videos on home ownership) deserves special mention for promoting home ownership.
Bank of Canada released a credit condition report that shows the growth rate in mortgage lending slowing considerably. In the graph below, it is clear that since 2008 the "growth" in residential mortgages has fallen from 12% to less than 4%.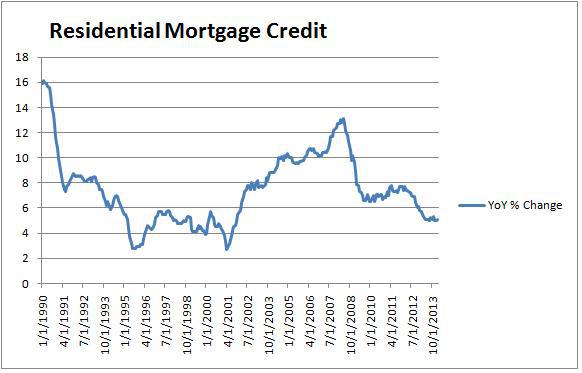 With over 70% home ownership, maybe the Canadians have had enough of mortgages. Targeting the remaining 30% may not be easy for Canadian Banks (with unemployment at 7% and some who may genuinely feel that they do not want to buy, there are fewer new buyers). The only weapon that the banks have is to lower mortgage rates and improve credit growth. From 1990 to 1998 when credit growth fell and stagnated, house prices rose about 8% in 8 years (total returns).
So why do banks want to increase credit growth in the mortgage segment? The Canada Mortgage and Housing Corporation (CMHC) and the Office of the Superintendent of Financial Institutions (OSFI) are partly to be blamed for this. The role of CMHC is to insure mortgages for the lenders just like Fannie Mae in the United States. And OSFI ensures that the Basel II/III norms are enforced in a way that is more suitable for the Canadian conditions. Whether their policies are influenced by banks and/or politics is speculation and is beyond the scope of this article.
The OSFI sets the "risk weights" for all the loans (assets) made by the banks. And the minimum capital requirements are calculated using the formula:
Tier 1 Capital/(Risk Weighted Assets_standardized+Risk Weighted Asset_IRB*1.06+12.5* Operational Risk +12.5* Market Risk)
The lower the risk weight, the higher the capital ratio, thereby reducing the burden on banks to raise additional capital to cover the credit risk on these assets.
Let us look at RWA-standardized to get a feel of what is happening. The other risk factors are judged by the banks themselves (based on certain guidelines).
RWA-Standardized:
For corporate, Banking Institutions need to apply 100% risk weight across all corporate bonds or give 20% for AAA and increase it with lower bond ratings to 150% for "Below B-."
Similar risk weights are applicable for sovereign bonds.
But for residential mortgages, the risk weight is only 35%. (This risk weight is lower than A+ to A- rated corporate bond that have a risk weight of 50%).
And CMHC insured residential mortgages have a risk weight of ZERO. This is better than AAA corporate bonds.
(Reference: here)
This gives banks and other institutions an incentive to lend to Canadian families who are willing and able to make payments towards mortgage insurance. And even without mortgage insurance, the housing loan is judged at a lower risk than A+ to A- corporate bonds?
So does the CMHC have adequate capital to pay the banks in case of a mortgage default? Answering this question is very difficult as the government can pump in money into CMHC to bail out the banks. But as of September 2013, CMHC has only $13.7 billion in equity to cover $560 billion total insurance in force. Roughly a 2.5% default rate will wipe out the equity in CMHC. So how will the CMHC pay the banks? And what about the risk weight on uninsured mortgages? A 5% default in uninsured mortgages will cause a significant dent in the bank's capital requirements. RY will feel the pinch the most since it assumes only $8.49 billion risk-weighted asset for its $183 billion mortgage portfolio.
(Reference: RY annual report 2013 here and CMHC quarterly report Q3 2013 here, available on respective websites.)
This makes all Canadian Banks very risky. But what about the Equitable Group (OTC:EQGPF) and Home Capital (OTC:HMCBF) and other such companies? The loan loss provisions for Home Capital is 0.09%. This is despite increases in uninsured lending. The uninsured lending now accounts for 57% of the total $20 billion loans. The loan loss provisions for the uninsured loans stand at 0.15% of total loans. With $1.17 billion equity how is Home Capital able to make these loans? Because the risk weighted loans (assets) stand at a little over 6 billion and the tier 1 capital supporting these loans appear very healthy at 16% (better than RY). The story is similar for Bank of Nova Scotia (NYSE:BNS), Canadian Imperial Bank of Commerce (NYSE:CM), BMO and Equitable group as well.
Ref: Home Capital 2013 Annual report - here)
So why are all the financial stocks going up? Is the market incorrect? Maybe the market has learned from the US. Maybe the market believes that there will be a rescue package should something happen and the banks will be protected.
Conclusion: The Structure of the Canadian mortgage market is similar to the US and so will be the consequences. With house prices creeping higher all the conventional ratios such as loan to value, asset to debt and tier 1 capital adequacy appear healthy. But a shock to the home prices, or even a change in the belief that house prices may not go up forever can change the dynamics rapidly. Caution is warranted. And shorting may be rewarded.
Disclosure: I have no positions in any stocks mentioned, but may initiate a short position in RY, CM, BMO, EQGPF, BNS, HMCBF over the next 72 hours. I wrote this article myself, and it expresses my own opinions. I am not receiving compensation for it (other than from Seeking Alpha). I have no business relationship with any company whose stock is mentioned in this article.