By Jharonne Martis, Director of Consumer Research, Thomson Reuters
The overall gain would be better than the 1.4% actual gain recorded in March 2013, but the ex-drug forecast would be considerably weaker than the actual 2.7% result recorded a year ago.
In the winter that seemed to never end, unusually cold weather and late snows in March 2014 kept shoppers from hitting the malls. Easter Sunday falls on April 20 this year, about three weeks later than last year, shifting Easter-related sales into April.
Therefore, retailers are relying on April sales to help boost numbers for Q1, which ends April 30 at many companies. Analysts expect pent-up demand to benefit retailers as consumers spend some of the money they saved during the past three months. Despite facing one of the most difficult year-ago SSS comparisons, Costco (NASDAQ:COST) is expected to post one of the strongest result, at 3.5% for March 2014.
On the flip side, teen apparel stores continue to hurt as teens trade down. The sector is expected to see a drop in March sales, on top of easy comparisons from a year ago. Accordingly, both Zumiez (NASDAQ:ZUMZ) and The Buckle (NYSE:BKE) are facing easy year-ago SSS comparisons, and are still expected to post weak results. Walgreens (WAG) already reported a 3.5% March SSS, and saw strength in its Pharmacy division.
March 2014 SSS estimates are below last month's SSS results.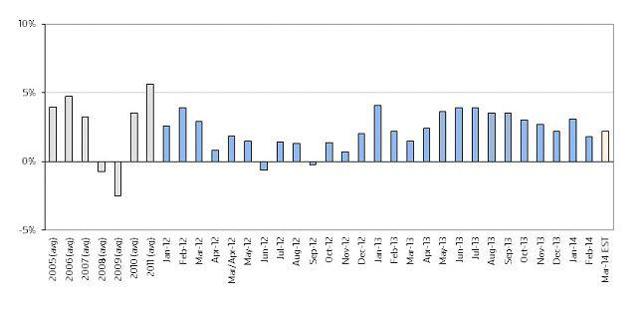 Source: Thomson Reuters I/B/E/S estimates
Note: Aggregate mean data is revenue-weighted.
Sector by Sector
The Discount sector has a 3.4% SSS estimate, below the 3.8% pace set in March 2013. Costco has the strongest comp estimate in the group, at 3.5%, below its 4.0% March 2013 result. Excluding the impact of gasoline sales, the Costco SSS figure increases to 5.3%. Meanwhile, Fred's (NASDAQ:FRED) has a -0.8% SSS estimate vs. the -3.0% comp posted in March 2013.
Apparel as a whole is expected to report a -3.0% comp in SSS, compared to the 0.1% advance recorded in March 2013. Excluding Gap (NYSE:GPS), one of the heaviest-weighted components in the sector, the Apparel group is set to post a -1.0% result, below the 1.3% gain posted in March 2013. Stein Mart (NASDAQ:SMRT) has the only positive estimate in this group, at 3.5% SSS estimate. Meanwhile, despite heavy discounting, Gap Inc. is expected to post the weakest result in the group. The retailer is facing a -1.0% sales comparison from 2013, with a -4.6% SSS estimate. Its Gap Global division is expected to post the weakest SSS loss, at -5.3% for March 2014.
Teen apparel stores appear likely to be March's weakest segments within the retail universe. Same-store sales are expected to post a 3.6% decrease for the sector. Zumiez is expected to post the weakest result among the teen stores, with a -4.4% SSS estimate, followed by The Buckle at -3.2%.
Disclosure: I have no positions in any stocks mentioned, and no plans to initiate any positions within the next 72 hours.
Business relationship disclosure: Alpha Now at Thomson Reuters is a team of expert analysts that are constantly looking at the financial landscape in order to keep you up to date on the latest movements. This article was written by Jharonne Martis, director of consumer research at Thomson Reuters. We did not receive compensation for this article, and we have no business relationship with any company whose stock is mentioned in this article.