Introduction
Brazil Fast Food Corp. (OTCPK:BOBS) captured my attention back in mid-January after appearing on one of my screens. After some analysis, I became attracted to various aspects of the Company; however, risks related to a weak Brazilian economy prevented me from continuing my research. I decided to postpone my research efforts until BOBS released its Q4 and FY13 financials, as I was curious to see how the Company navigated through a deteriorating economic environment. I kept BOBS in the back of my mind, anxiously awaiting for the yearly results. When they were finally released not long ago (click here to access) I resumed my investigation.
I will note right off the bat this article is intended for small individual investors. BOBS is a micro-cap stock (market cap = $145mm USD), with management ownership representing 74% of shares outstanding, making the available float miniscule (2.1m shares). The stock's 3-month average volume was barely over 1,000, making shares of BOBS highly illiquid and ineligible for most institutions and larger investors.
Overview
BOBS is a Brazilian food service holding company founded in 1952 by American tennis player Bob Falkemburg. The Company operates and franchises a portfolio of restaurant brands very well known by Brazilian natives including Bob's Burger, KFC, Pizza Hut, Yoggi, and Doggis. BOBS currently has 1,165 points of sales, with 85 (~7%) company owned and operated, and the remaining 1,080 (~93%) operated by a franchisee.
Bob's Burger is the second largest fast food provider in Brazil, trailing only behind McDonald's (NYSE:MCD). In 2012, the burger franchise celebrated its 60th birthday. Despite its age, the brand continues to experience success. Bob's Burger's FY13 franchise revenue and operating income increased 18.2% and 15.3% YoY, respectively, driven by an increase in franchise locations.
BOBS reached an agreement in 2007 with Yum! Brands (NYSE:YUM), owner of the KFC and Pizza Hut brand, to take over the management, development, and expansion of the KFC chain in Brazil. The following year, the Company acquired 60% of Internacional Restaurantes do Brasil, an operator of Pizza Hut restaurants as a Yum! Brands franchise. The Company owns and operates 27 Pizza Hut locations and 13 KFC locations. The brand advantages Yum! Brands offers are apparent in higher operating margins. For example, Pizza Hut's normalized operating margins are 200-300 basis points higher than Bob's Burger's.
The Company's two remaining brands are Doggis, a hot dog chain, and Yoggi, a frozen yogurt chain.
Despite a deteriorating Brazilian economy in 2013, consolidated FY13 revenue and EBITDA grew 16% and 19% YoY, respectively. Quarterly results were less pleasant on a consolidated basis. FY13 Q4 EBITDA fell 8.5% to R$ 10.7mm. Operating margins contracted 450 basis points from 16.6% in FY12 Q4 to 12.1% YoY.
Investment Thesis
The Company's micro-cap size and exposure to a problematic Brazilian economy make the stock inherently risky and unappealing to most investors. The risks also create an investment opportunity, as BOBS is mispriced for a variety of reasons:
A 2013 take-private proposal by management suggests the Company is undervalued. Although the proposal was met with animosity by minority shareholders, details presented in management's presentation indicate a long-term opportunity.
Despite a rally and a minor increase in investor awareness, the Company's market value has not aligned with its attractive fundamentals.
Since assuming operational control of BOBS in 2002, CEO Ricardo Bomeny strategy has turned a collapsing Bob's Burger into a sound franchise. Management will continue to conduct operations in a manner maximizing long-term value. Why are management's interests so aligned with shareholders? Remember, management owns approximately 74% of the Company!
Analysis of Proposed Deal
Anytime a company's management proposes a buy-out offer, odds are they believe their company is undervalued. On September 27, 2013, an investor group ("management") led by BOBS's CEO Ricardo Bomeny proposed a deal to minority shareholders to take the Company private. In the presentation, management listed four primary arguments explaining why going private would serve the best interests of both shareholders, as well as BOBS. The following slide is taken from BOBS's buyout presentation:
The deal offering $15.50/share was rejected by shareholders two months later. After further investigation into the matter, my intuition led me to draw the following conclusion: The investor presentation only addresses issues arising in the short to medium-term in an attempt to prompt minority shareholders to sell shares at a steep discount to intrinsic value. Excluding the first argument, all arguments presented by management showcase BOBS as an undervalued security with attractive long-term upside.
The second argument affirms my hunch as the argument explicitly states BOBS is improperly valued by equity markets as a result of its market cap size.
The third argument points out that investments in CAPEX and branding will depress the Company's earnings in the short-term. Under private control, management states they can better focus on decisions advantageous in the long term, without the burden of quarterly pressures levied on by shareholders. I interpreted the statement as follow: Management intends to sacrifice near-term earnings for long-term value. Management's track record of consistently earning returns above the Company's cost of capital signifies excellent capital allocation practices. With a 74% equity stake in the Company, it's safe to assume management is fully incentivized to allocate capital in value maximizing methods.
Fundamentally Sound Business
Following Robert Bomeny assuming the role of BOBS's CEO in 2003, the Company has shifted its strategic focus on growth via franchising. Franchise business models offer attractive economic attributes:
Multiple revenue streams: BOBS's franchise revenue comprises of 1) initial fees paid upon the signing of a new franchise or franchise contract renewal, 2) royalty fees based on a percentage of sales (usually 5%) reported by franchise restaurants and kiosks, and 3) performance bonus from trade partners' agreements, which also includes exclusivity agreements. The performance bonus paid by suppliers (~$12m USD in FY13) has its own line item on the Company's income statement. BOBS coordinates purchasing and distribution amongst its franchisees. Subsequently, capital is not required to service the inventory needs of franchised locations. The exclusivity agreements demonstrate bargaining power and scale, as it suggests suppliers are willing to pay a premium to ensure BOBS's business.
Margins: BOBS collects royalty and licensing revenue from franchisees based upon a fixed percentage of sales, while expenses related to restaurant operations are incurred by the franchisees. The low operating cost structure of franchising explains how BOBS's franchise business exhibited materially higher operating margins (72% EBIT margins YE13) relative to owned and operated business's (5% EBIT margins at YE13). To put it more into perspective, revenues from company-operated stores equated to 79.7% of BOBS's total revenue in 2013; however, franchising contributed to roughly 78.5% of the two segment's combined EBIT. In addition, franchise margins are also relatively more stable, as cost volatility on the supply-side has less impact on earnings. FY13 results quantify the notion. In 2013, higher operating expenses due to cost inflation led to a ~300 basis point decrease in EBIT margins for the owned-operated segment, while EBIT margins for the franchise business increased ~660 basis points YoY.
Scalability: Unlike traditional capital intensive restaurants, operating under a franchise business model does not require significant financial or operational commitment, providing BOBS the advantage of scaling rapidly without the repercussions of becoming over-leveraged and/or operationally overwhelmed.
BOBS's franchise business delivered strong results in Q4 FY13 and YE13. Franchised retail outlets increased to 1,080 at YE13, as compared to 956 at YE12. Q4 FY13 and YE13 franchising revenue increased 18.3%, and 16% YoY, respectively. Franchise operating profit (excluding SG&A) increased 27.7% YoY. The increase in franchise operating profit was driven by both the increase in revenue, as well as a 6.3% YoY decrease in franchise costs and expenses.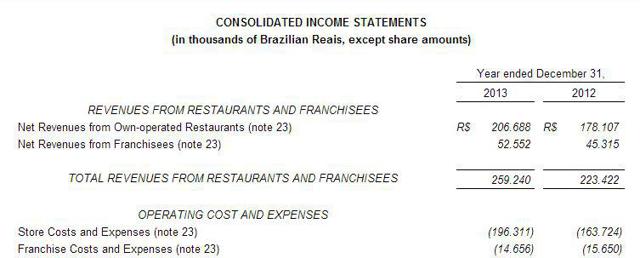 FY13 results reveal how scalable the franchise business model truly is, as the incremental margin exhibited by BOBS's franchise business equated to 114% in FY13.
(All values in millions.)

BOBS's owned-operated segment reported high single digit comps across multiple brands, as well as revenue growth at YE13. Positive comps were a result of increased investments in store face-lifts, promotions, and marketing campaigns. FY13 comps were up 9.3% for BOBS, 9.4% for KFC, and 5.5% for Pizza Hut. Overall, net revenues from owned-operated locations increased 16% YoY from $78.4mm to $90.9mm USD. While top-line growth was impressive, operating income and margins were severely impacted by the rise in the purchasing price of key products due to inflationary pressures and currency devaluation, as well as aggressive value campaigns at Pizza Hut and KFC. Management expects both expenses to persist in 2014, which will depress margins and may decrease operating income YoY.
While BOBS's owned-operated earnings and margins were hit sharply in 2013, the situation paints a picture slightly worse than reality. BOBS's KFC operations are still in the introduction phase and have not yet broken-even. In recent years, KFC's operating losses has concealed the Company's true earnings power. For example, by removing KFC from the 9-months ended Q3 FY13 results, owned-operated operating margins equated to 7.5% vs. 4.7% with KFC. The long-term outlook for KFC is promising. FY13 comps show marketing expenditures paying dividends for BOBS. KFC's brand value will provide BOBS with tremendous earnings power and profitability in the long run. KFC breaking even (I predict within the next two years at most) will serve as a major catalyst, augmenting margins and boosting earnings.
Management Analysis
When a company's management consistently creates shareholder value over time, a "management premium" is reflected in the company's valuation. This is not the case for BOBS. CEO Robert Bomeny's solid track record of value creation remains relatively unnoticed by the market. Under his strategic guidance and leadership, BOBS's fundamentals improved in several key areas:
Improved Competitive Position: In the mid-90s, the lack of competitive advantages over new entrants such as McDonalds contributed to a decade long period of unprofitability for BOBS. Once Bomeny took control of the Company in 2002, they returned to profitability by YE04, driven by Bomeny's efforts to strengthen both supply-side and demand-side advantages. In addition, Bomeny cleaned up BOBS's balance sheet quite a bit through divesting and refranchising underperforming owned-operated locations.
Operating margin growth: The divestitures of several underperforming and capital intensive owned-operated restaurants, along with points of sales expansion via franchising, led to substantial increases in the Company's operating margins. Operating margins have risen from 7.0% to 12.8% between YE04 to YE13, a 580 basis point improvement. (Note: 2004 is the first year the Company reported positive operating margins under Bomeny's leadership)
Revenue growth: Bomeny has successfully leveraged the scalability advantage of the franchise business model to grow BOBS consolidated revenue at an 11.75% CAGR from 2002-2013.
Generating high returns on invested capital: Under Bromeny, BOBS has consistently generated ROIC over cost of capital by a hefty margin. Attaining a high level of ROIC for a considerable amount of years suggests the likelihood of an economic "moat". (Note: The steep drop in 2013 ROIC likely resulted from a higher tax bracket and lower EBIT)
(Source: Bloomberg Terminal)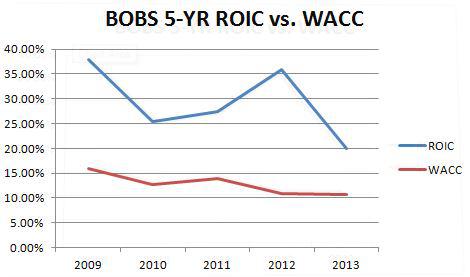 Addressing Macro Concerns
Brazil witnessed significant economic deterioration in 2013. While GDP grew at a modest 2.3%, the nation's currency depreciated 14.6% and reported inflation was at 5.9%. A recent article published by Reuters forecasted inflation at 6.1% in 2014 and 5.5% in 2015, ~1-2% above the Central Bank's goal of 4.5%. A Scotiabank report on foreign exchange projects the Brazilian Real, relative to the USD, will continue its trend of depreciation throughout 2014 and 2015.
On the other side of the debate, a presentation published earlier this year in February by prominent macro research firm Hedgeye offers an alternative viewpoint about Brazil's economy. Hedgeye lists three reasons to be bullish on the Real: 1) a widening interest rate spread, 2) a likely narrowing of the current account deficit, and 3) reform acting as a political catalyst. I won't dive into much detail, but if you would like them, please click the link provided above.
Regardless of the actual outcome in Brazil, BOBS is well-positioned to withstand an economic downturn.
BOBS operates in a favorable sector. According to an IBISWorld report published in Nov. of 2013, Brazil's consumer food service industry is projected to register a positive performance over a forecasted period ending 2017. The positive performance will be driven by city trends and developments in large cities, as well as industrialization in the north and northeastern parts of Brazil, which is expected to provide opportunities for outlet expansion.
Its robust balance sheet employs minimal amounts of leverage (0.278 Debt/Equity), and safeguards against liquidity concerns with a sizable cash position (R$ 50.1mm at YE13) and healthy current ratio of 1.8x.
Franchise earnings will help offset declines in owned-operated earnings in the near-term. This is a feasible expectation given 1) franchise earnings and margins are minimally affected by cost volatility, 2) continued franchise growth, and 3) high incremental margins. If BOBS grows franchise revenue in FY14 and FY15 by 15% at a 70% incremental margin, the franchise business will offset operating profits by $2.5m USD YoY at YE14 and $2.9m USD YoY at YE15.
Valuation
At 8.0x EV/EBITDA, BOBS trades at a multiple beneath restaurant companies employing a franchise business model.
(All values converted from BRL to USD using the exchange rate 4/9/14)
EV= $144mm market cap. + $10.62mm debt - $22.55mm cash = $132.1mm
Adjusted 2013 EBITDA = ~$16.6mm (EBITDA adjusted for asset sale)
EV/EBITDA = 8.0x
| | | | | | | |
| --- | --- | --- | --- | --- | --- | --- |
| Company: | BOBS | BKW | | | MCD | |
| EV/FY13 EBITDA | 8.0x | 19.71x | 11.43x | 11.54x | 10.46x | 11.47x |
| FY13 ROIC | 20.00% | 8.61% | 3.81% | 16.45% | 20.03% | 25.09% |
| 5-yr Revenue CAGR | 12.00% | -14.7% | -7.0% | -9.6% | 4.3% | 12% |
| Debt/Equity | 0.28 | 1.95 | 0.76 | 0.74 | 0.88 | 0.0 |
| EBITDA Margin | 15.1% | 51.3% | 14.9% | 16.3% | 36.8% | 17.5% |
The table above indicates franchise businesses typically trade around 10-12x EBITDA. Assigning BOBS the low-end of the spectrum yields a value of ~$22/share, a 24% upside. Is a multiple of at least 10x FY13 EBITDA warranted given the stronger competitive positions and scale established by the comparables, in addition to liquidity and economic related risks unique to BOBS? I affirm the stock commands at least a 10x EBITDA multiple given the following:
The market assigns a multiple between 10-12x EBITDA for mature franchise businesses, while those with high expected growth rates are valued closer to ~13/14x EBITDA. BOBS has grown revenue at a considerably more impressive rate than peers over the past five years. Franchise, KFC, and Pizza Hut growth will enable BOBS to continue revenue growth in the mid-teens going forward, surpassing the rate of inflation.
Growth is only valuable when ROIC exceeds the cost of capital. Seeing how BOBS's 5-year average ROIC of 29.3% vastly exceeds its 5-year average WACC of ~12.8%, we can conclude the manner in which BOBS grew revenue created shareholder value. The market normally assigns a higher multiple to companies who generate higher ROIC relative to peers, because it's reflective of excellent management and a competitive moat. This is not the case with BOBS as only two peers, MCD and PNRA, reported higher ROIC in FY13.
Highly levered companies exhibit low EV/EBITDA multiples. All but one company used in the comparison employ a higher level of debt in their capital structures relative to BOBS.
If BOBS's equity was scotch-free of liquidity and economic related risks, its fundamentals warrant a multiple of at least 13x EBITDA. However, given numerous risks do exist, a multiple of 10x EBITDA offers a wide margin of safety to properly account for them.
Catalysts
Improvement in the overall economy in Brazil, triggered by key events such as the 2016 Rio Olympics. An improved macroeconomic environment will normalize depressed margins and earnings.
Continued top-line growth, as well as gradual margin expansion, driven by franchise growth and KFC breaking even.
BOBS has historically returned capital to shareholders through repurchases and special dividends. During the economic downturn, if management can reinvest earnings at attractive rates of return, it's unlikely they will (or should) implement a repurchase or dividend policy. As BOBS matures in the long run, expect capital to be returned to shareholders.
Risk
BOBS is a risky security. The majority of risks are related to the Company's stock. Stock related risks include illiquidity and inherent risks associated with micro-cap equities, emerging markets, limited float etc.
Earnings may be volatile in the short-term. Management stated that a significant level of expenses will be made towards brand strengthening in 2014, potentially driving down earnings in the near term. The increase in marketing costs will be coupled with an increase in production expenses due to inflationary and currency pressures.
Macro Related Risks. The economic downturn is expected to prevail through 2014 and 2015, putting downward pressure on Brazilian equity markets and the Brazilian Real. If converted into USD, FY14 and FY15 revenue and earnings may be lower as the Real continues to depreciate, ambiguous of nominal growth.
Change in competitive landscape. Going forward BOBS expects to compete in a hostile environment with competitors who have greater scale and capital. Competitors Burger King and McDonald's are expected to rapidly increase their expansion efforts in Brazil in the next decade, which may create problems for BOBS.
Management has become less transparent. BOBS no longer reports with the SEC.
Conclusion
I recommend small individual investors go long on BOBS, with a proper hedge to minimize macro-related risks. At 8.0x EBITDA, an investor will receive a management who has done a stellar job of growing intrinsic value over the past decade, a fundamentally sound business, a strong brand portfolio, and exposure to a growing sector amidst a weak economy. The low multiple also provides a wide enough margin of safety to compensate investors for the inherent risks associated with the stock's.
Calculations
Return on invested capital (all values in millions and USD)
ROIC = NOPLAT/Average Invested Capital
NOPLAT = $14.65 Operating profit - 4.54 taxes = $10.1
2013 Invested Capital
$40.97 Current operating assets - 16.89 NIBCL + 20.78 PP&E + 5.77 Other = $50.64 IC without goodwill and intangibles
$50.64 + 6.42 goodwill and intangibles = $57.06 IC
2012 Invested Capital
$31.08 Current operating assets - 14.06 NIBCL + 17.34 PP&E + 6.01 Other = $40.37 IC without goodwill and intangibles
$40.37 + 4.14 goodwill and intangibles = $44.51 IC
Average Invested Capital without = ($50.64+40.37)/2 = $45.51
Average Invested Capital with = ($57.06+44.51)/2 = $50.79
YE13 ROIC without GW & Intangibles = $10.1/45.51 = 22.2%
YE13 ROIC with GW & Intangibles = $10.1/50.79 = 20.0%
Disclosure: I am long BOBS. I wrote this article myself, and it expresses my own opinions. I am not receiving compensation for it. I have no business relationship with any company whose stock is mentioned in this article.