Company Overview
Smith & Wesson (SWHC) has been manufacturing guns in the United States since 1852. Smith & Wesson's primary customer is the sportsman with consumer sales accounting for 88% of revenues. In the past fiscal year sales of handguns accounted for 55% of revenues while long guns accounted for 31% of revenues.
Over the past two years the share price of Smith & Wesson has doubled due to a boom in the firearms market. There have been two main catalysts for the sales increase. First, the election and subsequent reelection of Barack Obama has ignited fears of more stringent gun control. Secondly, gun control rhetoric also increased in the wake of the Colorado and Sandy Hook mass-shooting incidents.
(click to enlarge)

The above graph shows the relationship between web searches for "Smith & Wesson" (red) and "Gun Control" (NASDAQ:BLUE).
The company made a recent acquisition of a plastics molding supplier. Management stated that this should drive a $0.04-0.05 increase in annual EPS. As gun sales trend toward polymer frame pistols the purchase will have an even greater accretive effect. The company also announced a $30 million share repurchase program beginning in May.
Financial Overview
The past few years have been blockbuster years for the company. In terms of revenue growth, the numbers speak for themselves. Gross margins have been steadily hovering around 40% and should remain there as per management's assessment.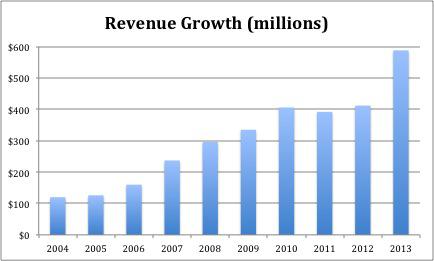 The company maintains a mildly leveraged balance sheet with $103 million in debt. $100 million of this debt was issued in June 2013 in order to execute an $135 million share buyback program at $11 per share. The company's strong cash flows should easily cover any debt obligation with funds to spare for capital return to shareholders.
Earnings Projections
We will use a bottom-up approach to construct earnings projections. Using management's projected earnings on the prior conference call, we can construct a base case. Earnings were projected to be $1.39-$1.43 per share for the current year.
In light of the recent press release regarding the plastics acquisition we can add in another $0.04-$0.05 per share due to synergies and vertical integration, bringing the revised EPS to $1.43-$1.48.
The original EPS projection was based on a share count of 61 million. Considering the recent announcement of a $30 million share repurchase authorization we can lower the diluted number of shares outstanding at year-end to 59 million, assuming shares are bought back sub-$15, or at a 5% premium to today's price. Accounting for the 3.5% reduction in share count, we should see another $0.05 added to EPS.
We are left with a total EPS range of $1.48-$1.53 for the current, meaning that shares are trading at 9.6 times earnings assuming no growth. I anticipate upwards revision on the next earnings call to incorporate the effects of the acquisition and share repurchase authorization. While analyst consensus is for a small amount of earnings growth in the next fiscal year, we will assume earnings are flat to add another layer of conservatism to our model.
Using peer analysis to value Smith & Wesson is tough considering its only publicly peer is Sturm, Ruger & Co. (NYSE:RGR). Ruger itself trades at a discount to the market at large with a P/E of 13.6 vs. 17 for the S&P. Using Ruger's P/E as a conservative multiple for Smith & Wesson, we obtain an implied share value of $20.30-$20.99, or a 43-48% premium to today's market price. Another added level of conservatism in this projection is the fact that Smith & Wesson is growing at a faster pace than Ruger.
Discounting Cash Flows
Management does not give revenue guidance, but we can construct estimates by working backwards from the earnings guidance. For the purposes of this model we will expense the recent acquisition and assume the midpoint of guidance, 23% as our operating margin. Using our net income figures we will assume annualized growth in CapEx in line with earnings growth (although some CapEx has been drawn forwards.)
Using a terminal growth rate of 1% we still arrive at a share value of $15.62, or a 10% premium to today's price.
Shorts Will Be Squeezed
Not only is SWHC relatively cheap compared to peers, it's cheap on an absolute basis. Using the most conservative reasonable metrics still yields a price >10% above today's market value. But what acts as a catalyst to push these shares higher?
One standout metric regarding Smith & Wesson is the number of shares sold short. Over 35% of the float has been shorted while the stock has climbed to a multi-year high. Common sense dictates that it's unwise to be short a profitable company with steadily growing cash flows. One positive earnings surprise (like we had last quarter) was enough to send shares up 20%. Guidance on the next earnings call should act as a catalyst as the street's numbers are unrealistically low. At some point in time the SWHC shorts are going to get massacred.
Due to debt covenants the company is unable to repurchase shares until May, but management has already announced another $30 million repurchase authorization. If I were short I would be trembling.
And the greatest catalysts? For the past year the company was unable to keep up with demand and was heavily backlogged. Investment in manufacturing capacity and flexibility has allowed the company to finally get adequate supply in the channel over the past quarter. Still, gun demand is dampened by one huge factor. Ammunition has been virtually impossible to find. A quick check at any online dealer reveals that virtually every popular caliber is on backorder and wait lists are months long. The strong demand for ammunition indicates that all the new gun owners are actively shooting. This implies a secular growth trend in sport shooting. Increased availability of ammunition should support gun sales.
Finally, NICS background checks, which are federal background checks required prior to gun purchases, correlate closely with gun sales as well.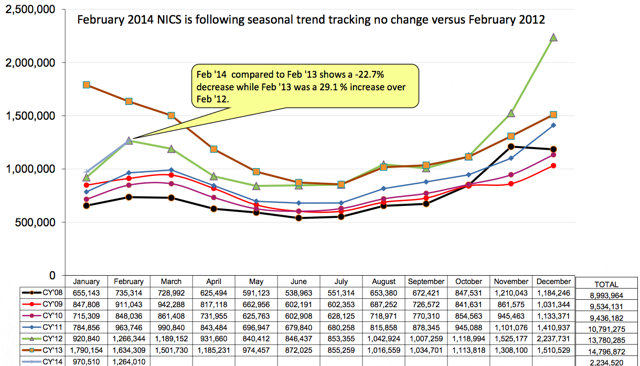 These checks indicate continued sales strength at 2012-13 levels.
The Bear Case
Wall Street is out of touch with the average gun purchase. While analysts assume that the market will quickly become saturated (the bear case), 90% of gun owners own more than one firearm with the average number of guns owned being 8.1. The same NSSF survey which reported the above statistic found that 20% of shooters in 2012 had started shooting within the past five years. Thirdly, 37% of new shooters are female compared with 22% of established shooters. The bottom line is that there remains room for growth even after the past few years of record sales.
Secondly, we must address legislative risk. There has never been meaningful federal gun control legislation with regards to handguns in the history of this country. Whether or not assault rifles are restricted, those guns account for a very small portion of the company's sales. Additionally, as the company sells all of its guns through legal channels, and being that the vast majority of purchasers are legal gun owners, more stringent background checks will not noticeably effect the company.
In conclusion, guns are here to stay for the meantime. Smith & Wesson is profitable and growing, and with shares undervalued and the heavy short interest, I would not be surprised to see a takeover attempt by a private equity shop if the share price doesn't keep up with valuations.
Disclosure: I am long SWHC. I wrote this article myself, and it expresses my own opinions. I am not receiving compensation for it (other than from Seeking Alpha). I have no business relationship with any company whose stock is mentioned in this article.