Micron (NASDAQ:MU) has sold off hard after beating earnings. As many of you reading this know, I predicted this would be the case. My initial reasoning behind the call was the fact I believe the earnings beat was telegraphed creating a sell-the-news event. Since that time, the Nasdaq has sold off wholesale. I posit this has shaken out most, if not all, of the weak hands in the stock. The company is fundamentally undervalued and making all the right moves for future growth. Nevertheless, I would wait for this signal prior to starting a position in the stock. In the following sections, I will lay out my strategy for starting a position in the stock.
Micron has sold off significantly since reporting an earnings beat
Micron reported second quarter EPS of $0.85, beating estimates by $0.09. Micron's revenues of $4.10 billion were up 97.1% year-over-year, beating estimates by $110 million.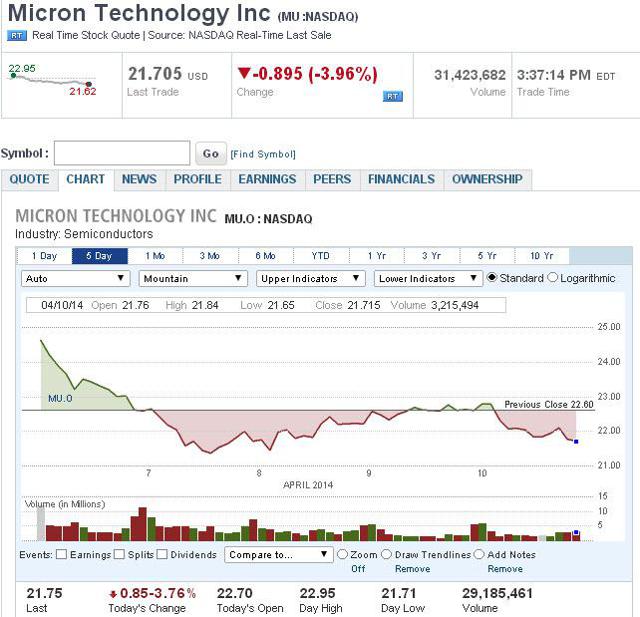 (Chart provided by CNBC.com)
The issue was everyone and their brother knew this was going to happen. I expected a 5% sell-off, based on my current model for the stock. Well, the stock is now down over 12% as of Thursday, April 10th. I posit the sell-off is overdone. My contrarian instincts are telling me this may have created a buying opportunity in the stock. John Templeton stated,
"The time to buy is at the point of maximum pessimism."
John Templeton is one of this past century's most famed contrarian investors. It was said that he always bought low and sold high. His investing style can be summed up as looking for value investments. Templeton called it "bargain hunting." Templeton's investing mantra was,
"Search for companies around the world that offered low prices and an excellent long-term outlook."
This statement properly reflects my position on Micron's stock currently. However, I am not positive we have reached the point of maximum pessimism just yet.
The Nasdaq is in a wholesale sell-off
The Nasdaq was down 3% on Thursday, dragging down all tech stocks, both good and bad. This is definitely a case of throwing the baby out with the bath water regarding Micron.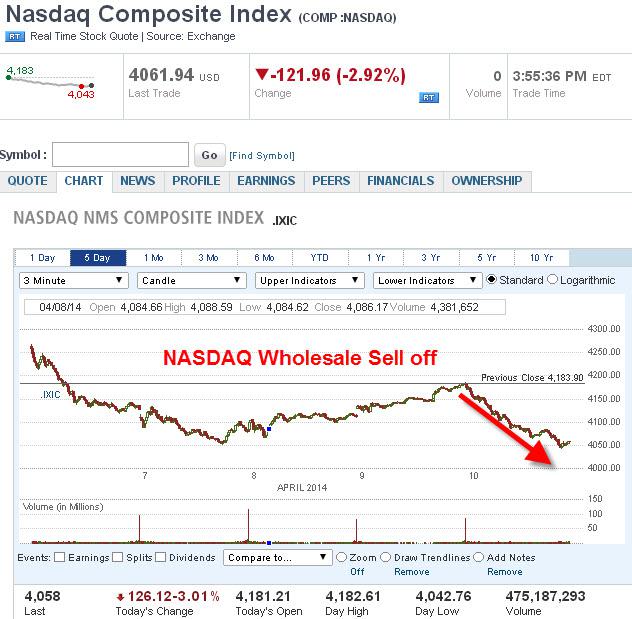 (Chart provided by CNBC.com)
The sell-off began with the high momentum names, and spread to the rest of the market. I posit the recent sell-off will be constructive for the market going forward. The US stock market has been on a tear over the last year, and needed to pause and refresh. Further, we are entering tax-loss selling season. This could be another factor contributing to the sell-off.
Micron's stock is fundamentally undervalued
Micron's stock is currently undervalued, based on several key statistics.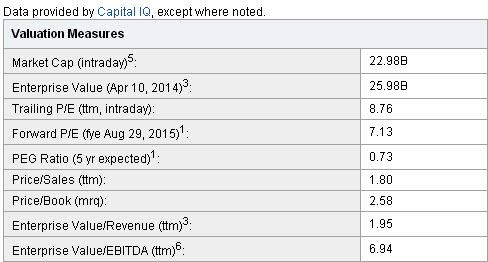 (Table provided by Yahoo.com)
The two key indicators I review first to determine if a stock is undervalued are the PEG and forward P/E ratios. Currently, Micron's are .73 and 7.13, respectively. The PEG ratio is a broadly-used indicator of a stock's prospective worth. It is preferred by numerous analysts over the price/earnings ratio, because it also accounts for growth. Similar to the P/E ratio, a lower PEG means that the stock is undervalued. Many financiers use 1 as the cut-off point for PEG ratios. A PEG of 1 or less is believed to be favorable. As Warren Buffett would say, "Price is what you pay, value is what you get." Even so, I would hold off on starting a position due to the fact we may not have found a bottom just yet.
The time to buy Micron is fast approaching
One key factor that determines your return on a stock is your entry point. Many people do not realize this is so important. For example, if a stock drops 50% from $20 to $10, it will take a 100% gain from $10 to $20 just to break-even. This is why it is always prudent to take your time building a full position in a stock.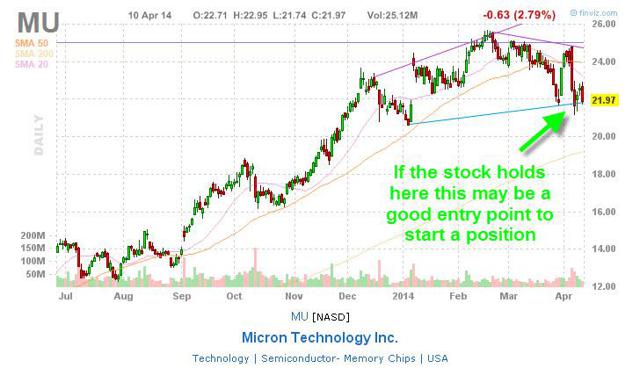 (Chart provided by Finviz.com)
I am bullish on Micron for the long term, and I'm waiting for the stock to find a bottom. Currently, the stock appears to be bottoming as we speak. If the stock bounces off support here, this will be the time to buy.
Downside Risks
Micron's downside risks are many. First, the competitive environment for the company is vicious. A relentless onslaught of new products and competitors attempt to disrupt the status quo on a daily basis. Furthermore, macroeconomic and geopolitical risks which are out of the company's control could take a turn for the worse at any time.
Conclusion
Micron is currently trading for a dirt-cheap valuation. Unwittingly or not, the Nasdaq sell-off has made Micron one of the most undervalued tech stocks on the market. The company is making all the right moves to enhance margins and increase organic growth. I thought Micron needed to take a breather, based on the stock's tremendous run over the last year. I suggest the overall market sell-off has hastened this process. Even so, never catch a falling knife. Wait for the stock to bounce prior to starting a position. Furthermore, I would layer in to the position over time as well.
Disclosure: I have no positions in any stocks mentioned, but may initiate a long position in MU over the next 72 hours. I wrote this article myself, and it expresses my own opinions. I am not receiving compensation for it (other than from Seeking Alpha). I have no business relationship with any company whose stock is mentioned in this article.