Putting a value on Cabela's (NYSE:CAB) stock in recent years has been difficult because of the weird business it's in and the significant transition the company is attempting to make to become a more disciplined and orderly growth retailer.
First the weirdness: Cabela's started out building enormous stores, some as large as 246,000 square feet, which are like a mini-Disneyland for the outdoorsmen and women of America. And gun sales have been huge, and represent an increased percentage of Cabela's overall sales, since Barack Obama was first elected President in 2008. The hunting equipment category, which includes guns (even if they're handguns, say, and clearly not for hunting) accounted for 48% of Cabela's sales in 2013, up from about 31% in 2006 before the 2008 election got underway.
Guns sales aren't consistent, but often move up and down in reaction to news events. So, after the Sandy Hook school shooting in December 2012, when calls for gun control were at their highest, gun and ammunition sales soared as many people apparently figured they'd better get guns while the getting was good. Since then, gun sales have softened some and Cabela's therefore is expecting a decline in first-quarter revenue that could be as big as 20%.
That's not the kind of smooth growth that investors look for.
The company also is highly reliant on a credit operation to spur sales. About 30% of sales come via its Cabela's CLUB Visa card, which allows cardholders to buy merchandise on credit and to earn points, like airline miles programs, to buy Cabela's stuff. Cabela's owns a bank that operates the credit card program, and loans outstanding at year-end 2013 were about $3.9 billion, dwarfing other items on the balance sheet like inventories, which stood at $645 million.
The card program has been well run from an investor point of view, suffering only modest loan losses and concentrating most of its lending risk on consumers with high credit scores. Some consumers might have a less favorable view of the credit card business, as Cabela's agreed to a consent order with banking regulators in 2011 after being accused of charging a variety of excessive fees and other costs. The company agreed to pay $10.1 million in restitution and to alter its practices.
Funding all those credit card loans requires steady access to institutional credit markets. As long as those markets are calm and Cabela's performance steady, no problem. But the bank does add some risk to the company's long-term outlook.
Despite this business profile, enthusiasm for the mega-outdoors sporting goods concept has been strong, among both consumers and investors, and Cabela's stock, which fell below $6 during the financial crisis, is up more than tenfold since then. The business has improved nicely but the stock has also benefited from strong expansion of its valuation, based on forward P/E ratio. At 19 times forward earnings, Cabela's trades at a modest premium to competitor Dick's Sporting Goods (NYSE:DKS).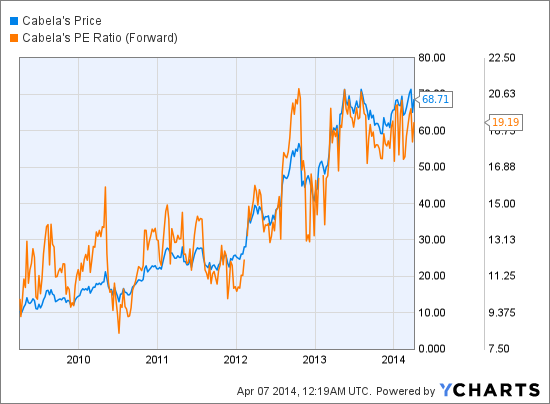 Now, Cabela's is altering its business in ways designed to appeal to investors. It is opening smaller stores that are expected to be more profitable - ranging from 40,000 square-foot "Outpost" stores to a Next Generation larger format clocking in at a modest 50,000-to-100,000 square feet. It recently laid off about 700 people, according to William Blair & Co. analyst Mark Miller, who said in a report last month that Cabela's is instituting "tighter management of store labor," which he expects to boost profits.
Even though the new stores are smaller, combined they represent annually plans to add 15% or so to square footage. And Miller opines that, on that basis, Cabela's ought to be compared to other retailers adding rapidly to store count and selling space. He offers up, among others, Lululemon (NASDAQ:LULU), Ulta (NASDAQ:ULTA) and Fresh Market (NASDAQ:TFM), all also adding 15%-to-18% to their square footage.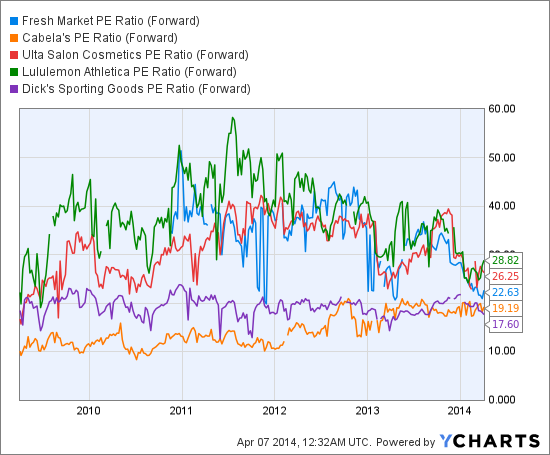 TFM P/E Ratio (Forward) data by YCharts
Guns and yoga pants - and makeup and organic arugula? It's an interesting comparison, and we've been impressed by Miller's previous work, particularly his analysis of retailer vulnerability to Amazon (NASDAQ:AMZN). Given Cabela's is an exurban and rural phenomenon, vs. urban and suburban for the comparison group, some may question its ultimate growth potential. There's the problem, too, of increasing competition. Bass Pro, Gander Mountain, Sportsman Warehouse and Dick's all operate similar store formats.
After the dreadful first quarter, the rough year-earlier comparisons go away and Cabela's should return to steady revenue growth. Miller sees 7% growth in 2014 and 16.6% in 2015, with widening profit margins.
Jeff Bailey, The Editor of YCharts, is a former reporter, editor and columnist at the Wall Street Journal and New York Times.
Disclosure: None