By Todd Shriber & Tom Lydon
Since the beginning of February, the iShares MSCI Emerging Markets ETF (NYSEARCA:EEM), the second-largest emerging markets ETF, is up 13.1%. That is nearly double the performance of the S&P 500 over the same period.
Not surprisingly, EEM's relative strength against the benchmark U.S. index is looking attractive, perhaps a sign that the recent surge in ETFs tracking developing economies is legitimate. According to Investopedia, Relative strength is:
A technical momentum indicator that compares the magnitude of recent gains to recent losses in an attempt to determine overbought and oversold conditions of an asset.
EEM has been helped in part by resurgent Brazilian equities. The iShares MSCI Brazil Capped ETF (NYSEARCA:EWZ) is up 24.3% since Feb. 3 and Brazil is EEM's fourth-largest country weight at 11.3%.
However, it is not just Brazil that has been contributing to EEM's out-performance of the S&P 500. EEM has benefited from strength in conservative emerging markets, such as South Korea and Taiwan. The iShares MSCI South Korea (NYSEARCA:EWY) is trading at its highest levels since December while the iShares MSCI Taiwan ETF (NYSEARCA:EWT) is up 10.5% since the start of February.
EEM has also gotten a major boost from some of its small, supposedly riskier country allocations. Over the last two months, the largest ETFs tracking Indonesia and Turkey, two members of the infamous Fragile Five countries, are up an average of 31.5% while the iShares MSCI Thailand Capped ETF (NYSEARCA:THD) is up 13.6%.
Indonesia, Thailand and Turkey combine for almost 6% of EEM's weight. According to Captain John Charts:
The iShares MSCI Emerging Markets ETF, continues to look very bullish on a relative basis vs. the S&P 500, as well as on an absolute basis. We think it makes sense to continue to make adjustments towards this asset class.
EEM vs. S&P 500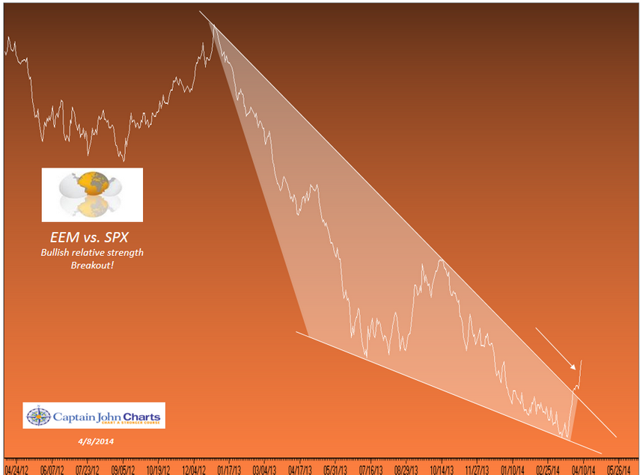 Click to enlarge
Chart Courtesy: Captain John Charts
Disclosure: I am long EEM. I wrote this article myself, and it expresses my own opinions. I am not receiving compensation for it. I have no business relationship with any company whose stock is mentioned in this article.