I'm admitting frustration, not defeat. I seriously am raising the Green Flag, not the White Flag of surrender. My agent strongly informed me she will sell all the 3D Systems (NYSE:DDD) put options today. Not next week, but today, April 11. I said Oui, Mademoiselle! Sell all those remaining $55 puts... but Non, don't sell the DDD shares I bought for $62.50 +++. Oui! Mademoiselle is way smarter than me. She agreed that selling DDD now is pointless. Panic selling is not good for my tiny portfolio's health.
She likes me a lot, and she tolerates my recalcitrant DDD gambling. I'll heed her recommendation to wait for DDD to bottom out before making another buy-in. No, I did not request her to buy $45 put options. I already have $53 puts. She might sell them too, today or next week. I gave her discretionary authority over options, because she understands them more than I do now.
Jazz musicians are smarter than me. Andrew Left is smarter than me. All the DDD shorts are smarter than me. Oui! I lost paper money on DDD. I made real money from my DDD's April 10 crash. Oui! My French is terrible. I cannot imitate Quoth the Raven or Michael Blair's style of writing too.
The April 4 bloodbath part deux happened yesterday. That's my explanation for DDD's fall on April 10. Overall anti-momo, anti-biotech, anti-tech bearish growls & noise, it wasn't piano music, that prevailed yesterday.

Source: Finviz
Several 3D Printing tickers got hit hard, it wasn't only DDD. The shorts won yesterday, it was a general rout of tech tickers. Every major additive manufacturer got whipped hard yesterday, VJET lost more than DDD. Americans call it a market pullback. It is not the fault of Reichental or Chuck Hull.

Source: Google Finance
Even market darlings TSLA and AMZN did not survive the Thursday Throwdown yesterday.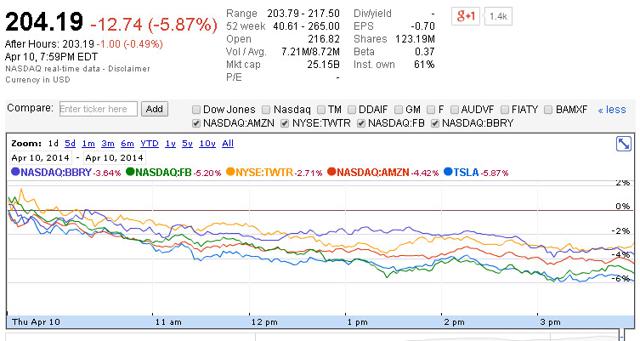 Source: Google Finance
Selling DDD Now Would Only Reduce My Real Money Winnings
Mademoiselle complimented me that my $55 put options more than made up for the paper losses I incurred from DDD. So, I would like to thank SA user Palma308 for the options lessons. I am not shy to own up to my misadventure - my bullish calls for 3D Systems got ripped by the bears. I did say in my previous articles that DDD will go down further. I just did not expect it to happen so quickly.
I dare not make another BUY call for DDD for the near term. The DDD investors who did not have some protective puts can hold unto them and bear the bearish mood. I assume most people who gamble on DDD have deep bankrolls and can endure paper losses.
The put options gains will be monetized today. I'll use some of the money to bet not on DDD - but on the Pacquiao vs. Bradley rematch this coming Sunday. I might use the gains too to buy a ASICs rig for Dogecoin mining. I'll survive the $26 DDD bears. I lost more real money when Marquez knocked out Pacquiao. I lost more real money much faster here in the Philippines betting on 10-second matches of gamefowl fighting.
The good thing about stock market dips is that paper losses can often times become real winnings. Patience, not defeatism, will reward DDD long-term investors.
Is DDD Selling Snake Oil?
Snake oil theorists are not to be believed. The DDD management is not selling snake oil, but real machines for additive manufacturing. 3D Systems has been in business since the 1980s. It did not survive for more than three decades selling "snake oil" products. Chuck Hull practically started the commercial 3D printing revolution. 3D Systems' direct metal printing additive manufacturing machines are currently overbooked.
I looked at 3D Systems' balance/income statements, and I accept that the company is not losing money. 3D Systems generates double-digit sales growth. It doesn't have any debt load.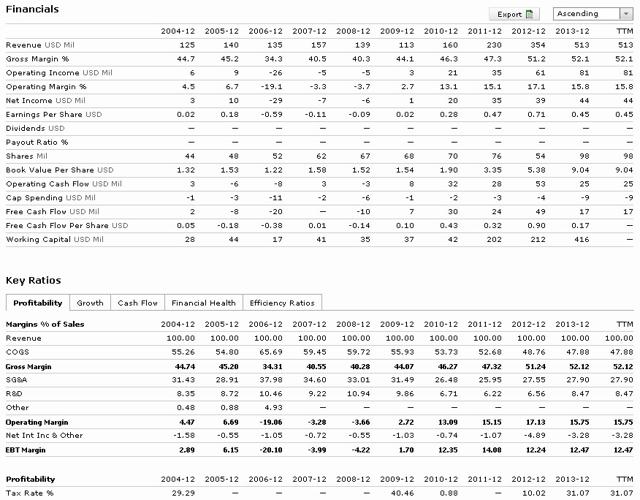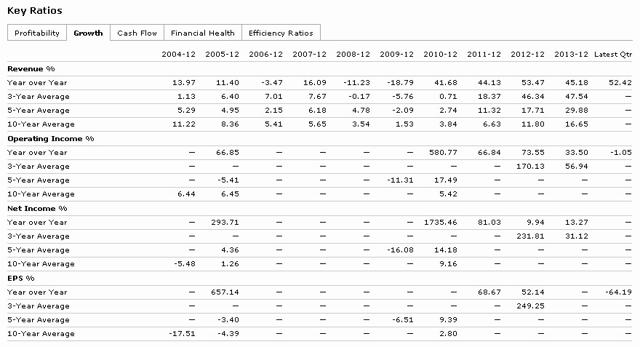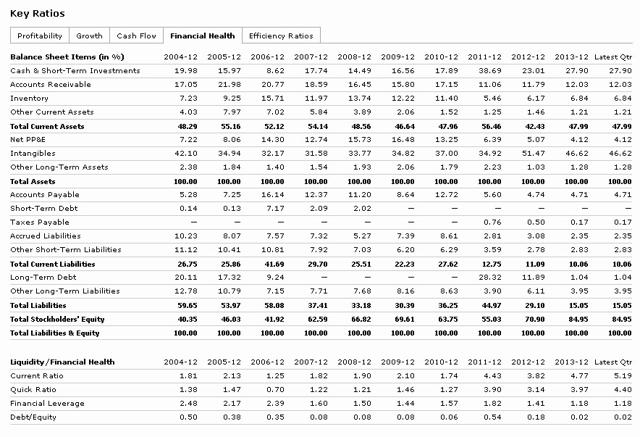 All charts from Morningstar.com
I also know that the U.S. aerospace and military industries are using DDD products. The U.S. war machine is not going to win the war on terrorism if they used snake oil products from 3D Systems. DDD products were responsible for some of the Lockheed F-35 components and other weapons systems.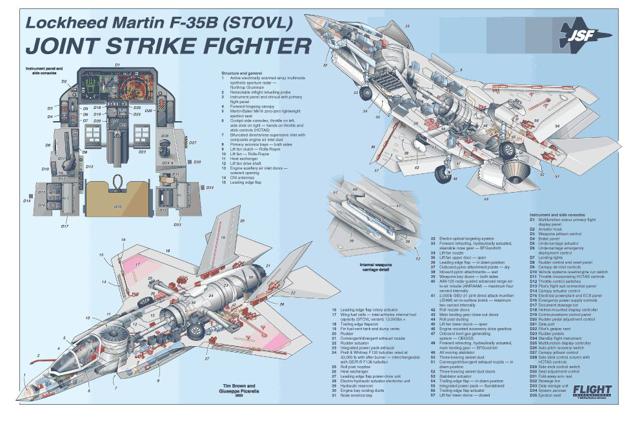 Source: Lockheed Martin
The high DDD price is not due to Abraham's master showman skills. Reichental does not play jazz piano, but he knows additive manufacturing. I'm tone deaf, but I understand the noise that forced 3D Systems' bubble-stock flight from November to January and subsequent crash wasn't the fault of the management.
I'm again writing this DDD article after a down day. The snake oil theorists and shorts are free to comment on my 3D Systems articles. I respect all opinions and disagreeing noise. I am not selling my DDD shares.
Conclusion:
I believe in 3D Systems. It is a calculated bet. I understood the risks, including engaging noisy $26 bears. I will make another buy-in if DDD has bottomed out. I read up and researched as much as I could about 3D Systems and additive manufacturing. I have consulted other people more knowledgeable than me.
The DDD drop yesterday was due to a market-wide fallback hitting tech sectors and momentum stocks. Here's a technical chart from Macroaxis for Seeking Alpha users to analyze. It doesn't take any musical ability to understand. Common sense will do.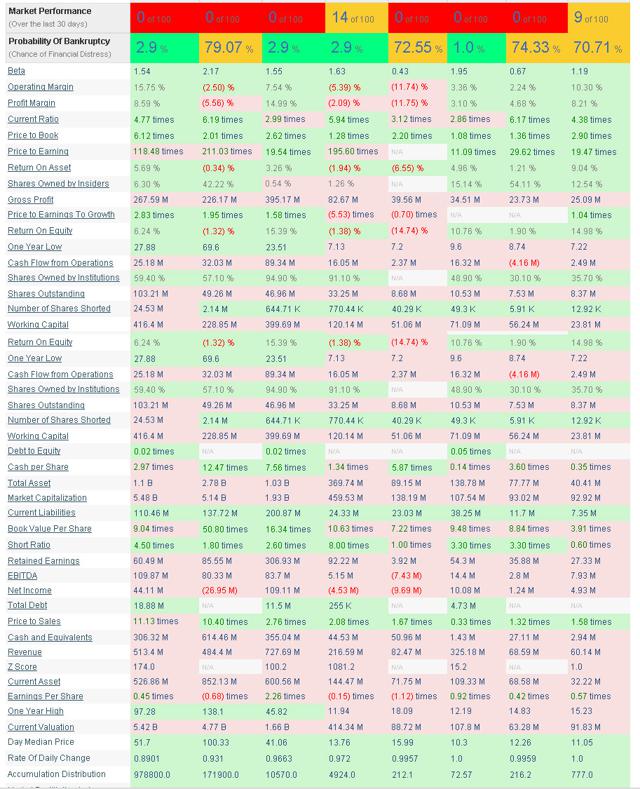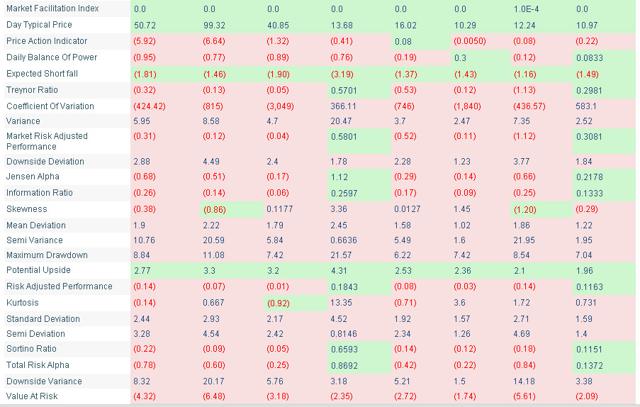 Disclosure: I am long DDD. I wrote this article myself, and it expresses my own opinions. I am not receiving compensation for it (other than from Seeking Alpha). I have no business relationship with any company whose stock is mentioned in this article.
Additional disclosure: I own put DDD options too.