For the last year, Advanced Micro Devices (NYSE:AMD) has demonstrated a volatile but overall flat trend. Unfortunately, the norm has been pretty much hope followed by chaos. Why? For three consecutive quarters, the chip maker has offered many reasons to show that there is hope for their turnaround, but the results have disappointed investors each time. AMD has proven that they are changing in an effort to secure their future and it's very visible. We have witnessed a new success in gaming consoles, consumer and professional graphics while seeing changes to their approach in the server, desktop, notebook and tablet market. This time, it's their fourth round at an attempt to impress and for this article I will discuss important points to consider ahead of earnings.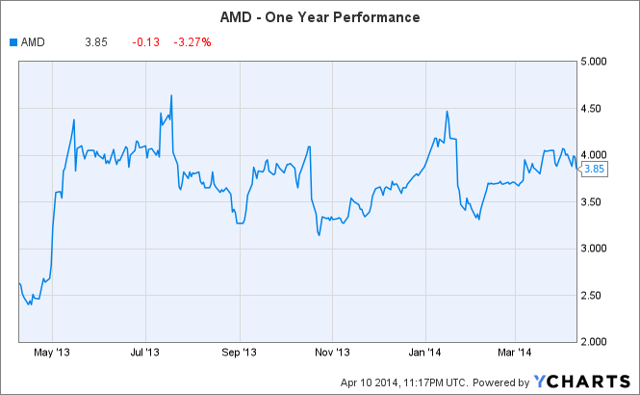 Projections vs. Results
First, I would like to discuss how AMD has performed against their own projections over the last year. Below, I created a chart that shows AMD's 2013 projections on the low and high end alongside their actual results in between. For the last four quarters, which includes the "disappointing quarters," AMD has consistently outperformed their base projections and have either exceeded, or met their outlook on the high end. Since AMD's latest products have been in high demand, I expect this trend to continue through the first quarter's results.
Taking it over to the analysts' side, the beats are very clear as seen on the chart below. For every quarter last year, AMD beat the average analyst expectation. Coming into the first quarter of this year, analysts are expecting results between $1.33B and $1.35 with an EPS between zero and a penny. With AMD's forecasted 16% decline in revenue, plus three percent, we are looking at a high outlook of around $1.38B as seen in my chart above. If AMD meets this outlook, as they have consistently done within the last year, we will see a solid beat over analysts' estimates.
A strong fourth quarter is possible
As I am not a professional, I do not wish to provide a specific number on where AMD will stand for the first quarter of 2014, but I do expect AMD to announce results that will exceed or outperform their high end revenue projection of around $1.38B. My reasoning for the potential beat is highly driven by the following:
Console sales showed extreme demand throughout Q1
Delivery of Apple's (NASDAQ:AAPL) Mac Pro have been consistently delayed, implying high demand
Consumer graphics card sales are still solid thanks to demand from gamers and miners
Recent data suggesting better than expected PC sales could help AMD
Although these were the primary factors of driving last quarter's sales, the extreme demand has been very visible through the first quarter and it will likely reflect very positively on their results and continued effort to remain profitable.
The Console Sales Update
By now, most people are aware that AMD's semi-custom Jaguar APU (accelerated processor unit) powers both the PS4 and Xbox One, so it's nice to keep track of these figures as they are the force that essentially returned AMD to profitability last year.
As the supplier of the war between Sony (NYSE:SNE) and Microsoft (NASDAQ:MSFT), the benefits shouldn't be overlooked. Thanks to the affordability of AMD's processors creating attractive launch prices, the consoles have been one of the greatest launches in history and more than 12 million consoles have been sold since mid-November. Without official numbers, Microsoft is estimated to have sold around 5 million consoles. Microsoft has definitely fallen behind Sony but thanks to their recent promotion, these numbers are likely to prevent any major tapering off. The console makers always tend to find ways to turn the table back in their favor and this is clearly an attempt to do so. Looking at Sony's side of the battle, they have recently revealed that there have been a whopping 7 million PS4 sales - coming in at more than 1.5 million consoles per month. Even now, the PS4 is still unavailable in many parts of the world. This of course includes the populous country of China.
Sales aside, people don't realize how big the console business is for AMD - because it's more than consoles. If you take a look at Justin Jaynes' recent article on AMD's "little chip," the Jaguar, you will find that developers may commit to coding for these Jaguar cores for the rest of the decade - positioning AMD to pick up market share as the favored one.
The Mac Pro and AMD's consumer graphics card lineup will continue to be driving factors
As mentioned in a Seeking Alpha article by Alcarez Research, AMD has greatly benefited from Apple's new powerhouse, the Mac Pro. Just to review, one Mac Pro features two of AMD's professional FirePro graphics cards, either the D300 or D500. Ever since its launch, the one-of-a-kind black cylinder has proven to be very popular, causing consistent delays in shipping, as a current delay of 4-6 weeks is present on their purchase page. This strong demand is expected to positively contribute to this quarter's earnings and into the future. Just to throw this out there, but according to an analyst from a Bloomberg article, Apple may ship as much as 1.1 million Mac Pros in 2014 alone.
Onto consumer graphics, AMD's new Hawaii Series graphics cards launched throughout the end of last year has been very successful. Not only did it bring additional features like Mantle and TrueAudio, but it also offered incredible value to gamers and LiteCoin miners opposed to AMD's rival, Nvidia (NASDAQ:NVDA). A great write-up on the LiteCoin demand by Justin Jaynes can be found here, but to simplify, the LiteCoin mining business was huge for AMD. Miners desired AMD's graphics cards so much that "mining rigs" came to be, costing thousands and featured multiple high-end AMD graphics cards. This high demand caused a massive price inflation by as much as 200% at one point even from online retailers like Newegg. Everything that was made was sold and although the waters have calmed slightly, AMD clearly benefited through the quarter. Mining aside, AMD's mantle API has also gained significant traction, and now with lower priced cards gamers are likely ready to clear up the rest of the inventory they missed out on for months, keeping sales solid.
Briefly, the PC
Unfortunately, AMD is currently in the process of releasing new PC chips, and having only released the desktop version of Kaveri in January, it's difficult to see how AMD's computing solutions performed last quarter. However, recent estimates by IDC suggest that PC sales may have only fallen 4.4% year-over-year, opposed to the originally forecasted 5.3%. Assuming AMD was able to benefit from this, it is possible that they may do better than the 9% decline in computing solutions revenues they posted last quarter. The PC is an important factor for AMD's future growth but that's currently not the focus here. By looking at the chart below you can see a huge change in the type of revenue that they are generating. Through the end of the year and 2015, it would be really great to see a rebound on AMD's computing solutions revenue as that would pretty much label their turnaround a success.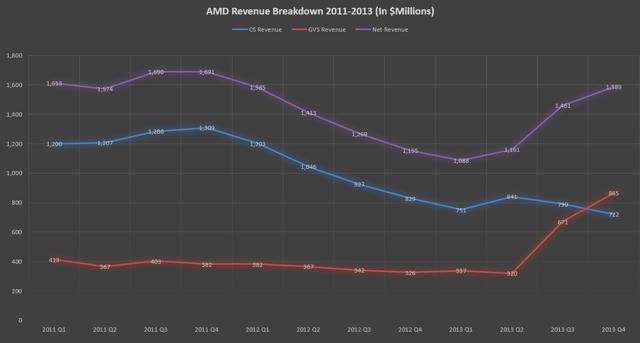 Conclusion
Based on the factors mentioned above, I have good reason to believe that AMD will meet or out-perform their high-end projections that were mentioned during their last earnings conference call; this would also mean a beat for analysts' expectations as well. For the last several quarters, AMD struggled to live up to the hype that people brought forth but as AMD continues to succeed through their turnaround, I expect that the explosive results people are waiting for is drawing in. As I previously wrote, the new AMD is coming and likely with a bigger price tag - Perhaps a surprise next Thursday?
Disclosure: I am long AMD. I wrote this article myself, and it expresses my own opinions. I am not receiving compensation for it (other than from Seeking Alpha). I have no business relationship with any company whose stock is mentioned in this article.