It's been an interesting winter for General Motors (NYSE:GM). First, the company stock gets pounded based off of poor domestic sales, even though the weather was a problem for all companies regardless of their sector. Then, international sales results that seemingly impressed were shrugged off and GM stock continued to wane. On the heels of announcing that they're going to move in the same direction as Ford (NYSE:F) with regard to adding aluminum in their vehicles, the stock did nothing.
As domestic sales started to show little signs of life heading out of the winter, the concern then turned to whether or not incentive selling was coming back akin to the way it was during the '07-'08 auto crisis.
With the stock being beaten and bruised, along comes the news of GM's monstrous recall that has CEO Mary Barra testifying in front of congress.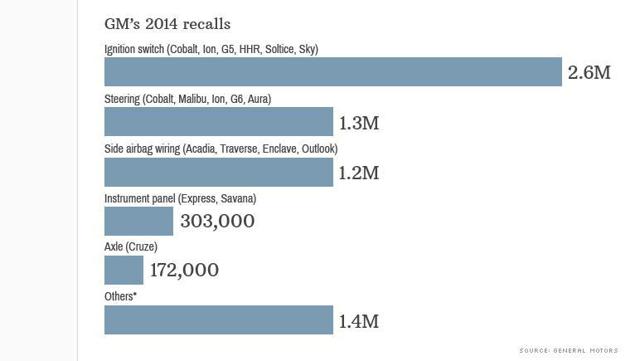 GM has literally just gotten out of bankruptcy and already appears to be spinning its wheels in a big way. The public's new found faith in the "new" GM is fading by the day.
In response to the recall issues, GM has placed two engineers on paid leave, and announced yesterday that it's forecasting a $1.3 billion charge to cover the costs of the recalls. Seeking Alpha reported yesterday:
General Motors ( +0.8%) tells the NHTSA it will add ignition lock cylinders to its safety recall of 2.2M vehicles in the U.S.
The automaker says it expects to take a charge of $1.3B in Q1 to cover recall costs and courtesy transportation expenses. The amount is inclusive of the $750M in charges that was announced last week.
Even after the $1.3B is lopped off, GM expects to report "solid" core operating performance in Q1.
The technicals are downright ugly to look at.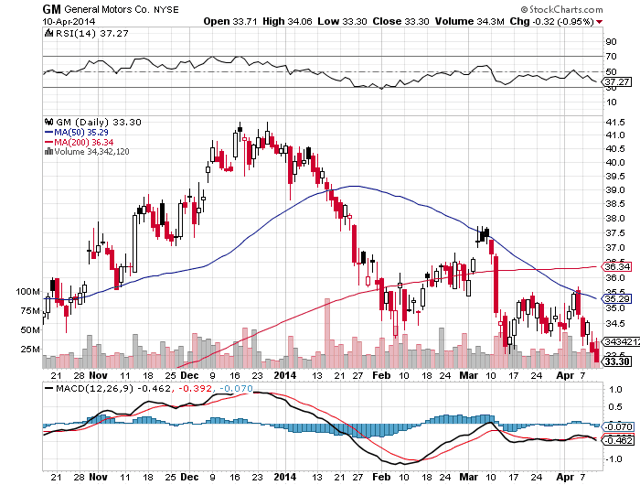 In this six month chart, we see basically every bearish sign they teach you in "Charting 101" - the death cross of the moving averages crossing, the stock plowing through both moving averages, which generally offer some support, and the RSI showing it's been healthy trading all along. GM is in a very bearish technical downtrend.
Investment Thesis
Don't get me wrong. The headlines from this recall have been absolutely horrible. It's probably one of the worst scenarios GM could be facing on the back end of its bankruptcy, as it tries to make a new name for itself. Unfortunately, a lot of people look past the performance and the sales, only to see these headlines and think to themselves, "same old GM as it once was".
The question one is going to have to ask themselves first and foremost is, "will GM make it through this issue as a company?" If the answer to that question for you is "maybe, or no", then you shouldn't be involved with GM, but for potentially buying vanilla puts or shorting the stock.
If you answered "yes", like I have, it then becomes a waiting game. If you think the stock is due for a technical drop, like I do, I'd be looking for opportunities to pick up GM and its "B" warrant class, the lower the stock gets. GM's coming quarter results for Q1 should give us an idea of how the company is faring in the midst of the recall - and whether it has an effect on ongoing sales or not. I'm a bit wary of those numbers, which is why I'm going to wait to re-enter GM. I bought in at $41, averaged down a couple times in the $30s and sold in mid-high $30s on my last go around because I thought things could get ugly with the recall. Now, I'm licking my chops, hoping things get worse for GM stock as progress is made in reality with the recall, so I have a spot to re-enter the stock.
Best of luck to all investors.
Disclosure: I have no positions in any stocks mentioned, and no plans to initiate any positions within the next 72 hours. I wrote this article myself, and it expresses my own opinions. I am not receiving compensation for it (other than from Seeking Alpha). I have no business relationship with any company whose stock is mentioned in this article.