Momentum stocks have been clipped hard over the last week, as part of a macro market sell-off that has hit the market a couple of days here and there - most notably, the Dow's porking yesterday, Thursday.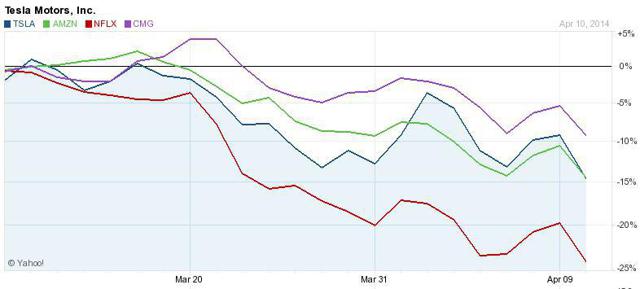 Stocks like Tesla (NASDAQ:TSLA), Netflix (NASDAQ:NFLX), Chipotle (NYSE:CMG), and Amazon (NASDAQ:AMZN) - the high fliers - are usually the first to be roped in when such a major market correction occurs, as it's only natural for people to move money out of high-multiple stocks and into safe heavens like 3M (NYSE:MMM) and Procter & Gamble (NYSE:PG).
While clearly Netflix has taken the brunt of the damage between the four, Tesla has also corrected to the tune of almost 15%, continuing to present a compelling entry point for those that believe Tesla is a long-term winner, like I do.
Caution has started to swoon once again around Tesla on reports of the company's Model S sales in March - which seem to suggest that sales are starting to level off for the company. A bearish point indeed, but Tesla is already moving onto the next project - the Model X and capturing the Chinese auto market.
Recent news from Tesla includes Goldman Sachs weighing in with a "neutral" rating on the stock:
Goldman Sachs maintains a Neutral rating on Tesla Motors after meeting with management.
The investment firm heard from Tesla execs that the Model S build out will step up in H2 and the Model X should be out before the end of the year.
Of note, Tesla management indicated the company's commercial relationship with Panasonic hasn't changed. The statement could be taken as a denial that Panasonic has pulled out in any way from the Gigafactory project.
Additionally, Tesla is set to begin its sales in China this month, which could prove be a catalyst in the positive category for the company. Tesla's vehicles are coveted in China, and the company should see a significant impact from its sales overseas. The market has the potential to be the biggest for the company, and recently, U.S. automakers Ford (NYSE:F) and General Motors (NYSE:GM) have both found success in the Chinese auto market. Seeking Alpha reported:
Tesla Motors intends to begin selling its electric cars in China this month, with spokesman Simon Sproule saying that CEO Elon Musk will "personally" do customer deliveries.
Sproule added that Tesla is preparing right-hand drive versions of the Model S for countries such as the U.K. and Hong Kong.
Musk reckons that China can be Tesla's largest market, although Barclays analyst Brian Johnson retains some skepticism. "While we expect strong initial interest from early adopters in China... we see challenges to broader luxury market adoption," Johnson wrote this week. In the U.S., demand for the Model S may have "plateaued," he wrote.
The technical picture for Tesla shows the company's stock dipping below its 50-DMA, but with support around this $204 level that it's shown over the last couple of weeks. The RSI indicates that it's been a healthy sell-off in Tesla since coming down from the $250+ levels. If you're waiting for the dip to $200 to buy, this might be as close as you get for the time being.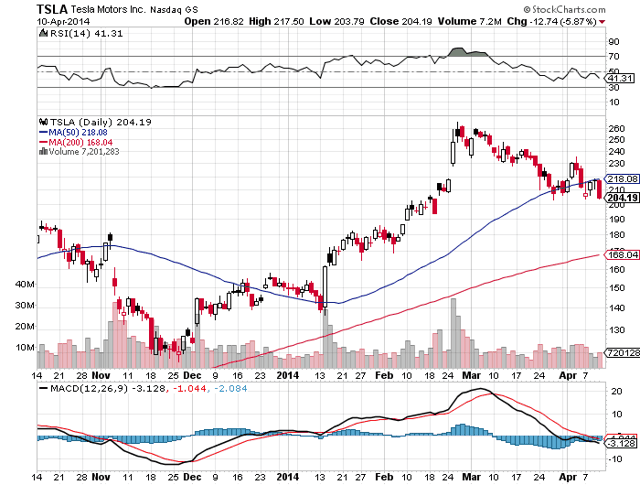 Additionally, the short interest for the company seems to be on the decline over the last few months, as investors take these pullbacks as chances to cover.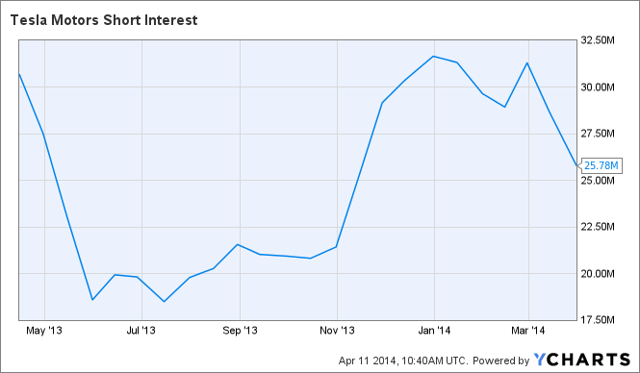 TSLA Short Interest data by YCharts
An upcoming catalyst for Tesla is going to be earnings. Tesla has yet to fail to impress me with the numbers and data it's reported as a company. As I've often said, Musk has delivered on every promise he's made since Tesla has been a company - so why doubt him now?
I continue to contend that Tesla is a good vehicle for a long-term investment and that savvy investors might take the momentum sell-off to add to or open a position in the company. With earnings coming up, entry into the Chinese market pending, and the Model X sure to be the next hit coming down the line, Tesla continues to look strong and aggressive, despite its massive multiple.
Best of luck to all investors.
Disclosure: I have no positions in any stocks mentioned, and no plans to initiate any positions within the next 72 hours. I wrote this article myself, and it expresses my own opinions. I am not receiving compensation for it (other than from Seeking Alpha). I have no business relationship with any company whose stock is mentioned in this article.