With a reported seven million-plus Americans signing up for health insurance coverage through the Affordable Care Act (ACT) in its first enrollment season, the conversation has shifted from "will it fail to launch?" to, "we've got ourselves a viable launch."
In a smart interview with the Independent Adviser for Vanguard Investors, Don Kilbride, manager of the standout $20 billion Vanguard Dividend Growth fund, fingered UnitedHealth Group (NYSE:UNH) as a long-term beneficiary of the new federal health coverage mandate. He told the investment newsletter, "nobody will be better positioned" than UnitedHealth to manage the back-office requirements of the ACA, "and for what I think healthcare is going to look like over the next 25 years."
Kilbride's fund has a 2.4% position in UnitedHealth. He first bought the stock in early 2011, but was still adding to the stake in the fourth quarter of 2013 (the most recent portfolio data available for the mutual fund). Some other impressive funds, including T. Rowe Price (NASDAQ:TROW) Capital Appreciation and two funds from the Dodge & Cox team were also adding to UnitedHealth positions in the fourth quarter of last year.
Despite a very strong 41% gain last year and another 9% tacked on so far in 2014, UnitedHealth is still trading at some not-hard-to-swallow valuations: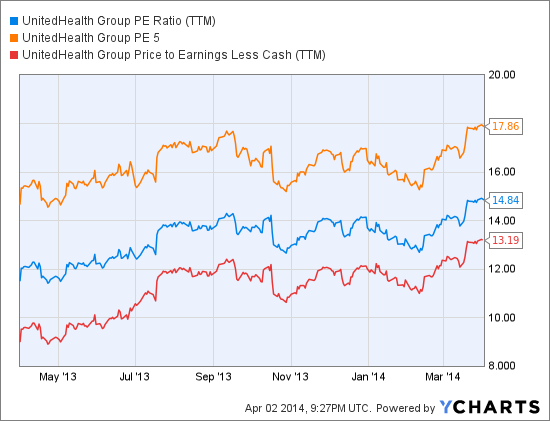 UNH PE Ratio (TTM) data by YCharts
UnitedHealth's 14 forward PE ratio is well below the 17.3 estimated 2014 PE for the health stocks within the S&P 500, according to S&P Capital IQ.
Profit and cost caps imposed by ACA are a headwind for every healthcare plan provider. UnitedHealth management recently pegged the cost of ACA and Medicare Advantage rate cuts for 2014 at an estimated $1.50 to $1.60 a share. But management expects it can deliver in the vicinity of 2013's $5.50 EPS through a combination of cost control and market share growth. UnitedHealth's dominant market position -- it covers more than 35 million enrollees through individual, group and Medicare/Medicaid plans -- also gives it the ability to leverage the expected increase of insured Americans. It expects net new enrollees through the Exchanges and expanded Medicaid to grow the ranks of the insured nationwide by 25 million.
UnitedHealth is also expecting to sell its infotech back-office services and expertise to third-parties grappling with meeting ACA data requirements. That's what Vanguard's Kilbride was referring to as one of the reasons he likes UnitedHealth's business model. The firm realigned its market segments at the end of last year to break out the back office piece from the main health plan segment. Starting with its Q1 filing this year, that growth segment will be reported under its OptumInsights group, and we'll get some historical data on how big that piece of the pie is.
For investors, UnitedHealth leads the six healthcare plan companies with market capitalizations of at least $5 billion -- Aetna (NYSE:AET), Cigna (NYSE:CI), Express Scripts (NASDAQ:ESRX), Humana (NYSE:HUM) and WellPoint (WLP) -- on Return on Equity: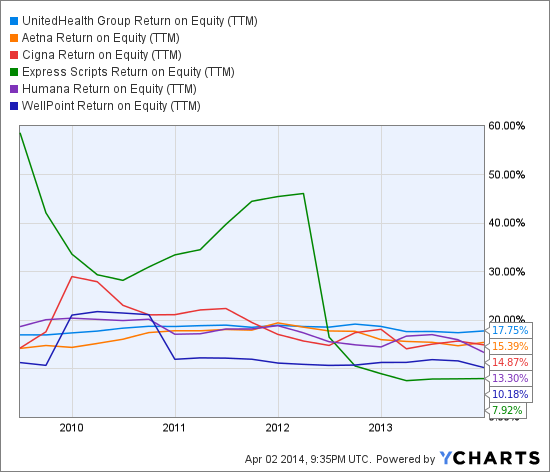 UNH Return on Equity (TTM) data by YCharts
And Return on Invested Capital: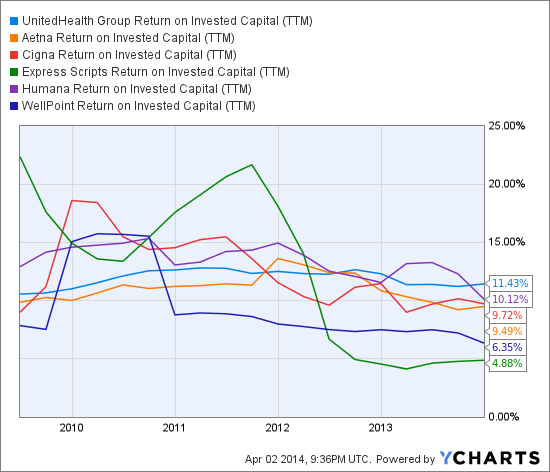 UNH Return on Invested Capital (TTM) data by YCharts
For income investors, UnitedHealth's 1.4% dividend yield isn't going to impress, but for long-term investors who appreciate the role dividend growth plays in total return, UnitedHealth delivers a compelling story. As recently as 2009, the per-share annual dividend was three cents. We're now at $1.12 per share for the trailing 12 months. and the next increase should arrive in the second quarter. With both the earnings and cash payout ratios sublimely below 20%, there will be no problem doling out another large increase.
And in terms of total shareholder payouts, a combination of buybacks and some debt reduction pushes total shareholder yield above 4%: