This article discusses the Main Street Capital (NYSE:MAIN) offering of 4 million shares that is closing today and what it means to investors. This offering was needed for growth capital and is accretive to shareholders. As discussed in "Potential BDC Offerings For Q2 2014" BDCs that are trading at healthy premiums to net asset values ("NAV") should be actively raising capital before stock prices fall much further. The current offering is for 4 million shares plus the underwriters option to purchase up to 600,000 additional shares of common stock at the public offering price, less the underwriting discount. Net proceeds after deducting the underwriting discount and estimated offering expenses would be around $140 million if the underwriter's option to purchase additional shares is exercised in full. This equates to net proceeds of $30.35 per share compared to its NAV of $19.89. The end results will be an increase in equity capital of 18% while only increasing the amount of shares by 12% and NAV per share growth of 5% to shareholders.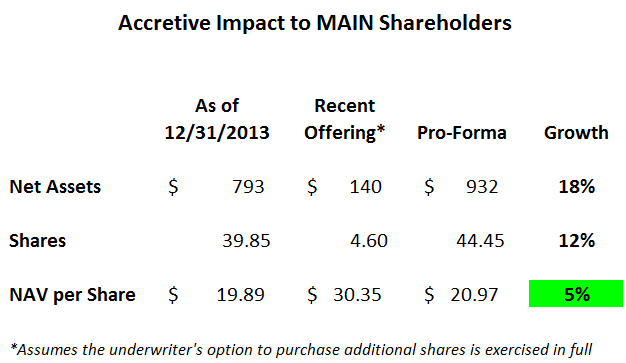 The 25 BDCs that I cover have now fallen an average of 8% since S&P announced on February 24, 2014 that it would remove BDCs from its indices and was followed by Russell on March 3, 2014. These declines have limited the amount of growth capital that is available to some BDCs that are trading at or below NAV such as Fifth Street Finance (NYSE:FSC) that has stated on the last earnings call "We've recently nailed our 2014 proxy to our shareholders which once again, did not include a request for authorization to issue stock at prices below NAV per share. Fifth Street is only one of a handful of BDCs that do not ask for authorization to issue stock below NAV per share." Prospect Capital (NASDAQ:PSEC) has committed not to use its at-the-market ("ATM") program to issue shares below NAV. However many of these BDCs still have the ability to borrow and increase leverage as a source of capital. I have updated the portfolio growth potential table from my "Potential BDC Offerings For Q2 2014" article to include the latest offerings by MAIN and New Mountain Finance (NYSE:NMFC) this week.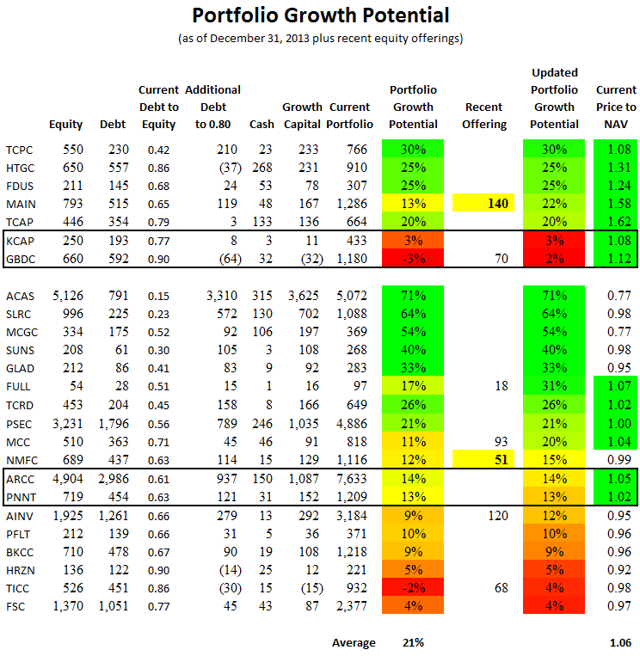 As you can see the offerings by MAIN and NMFC were needed. Other BDCs that are trading above NAV and could potentially have offerings as stocks decline prior to the Russell rebalance/reconstitution are KCAP Financial (NASDAQ:KCAP), Golub Capital BDC (NASDAQ:GBDC), Ares Capital (NASDAQ:ARCC) and PennantPark Investment (NASDAQ:PNNT).
Clearly this offering has benefited shareholders in many ways and BDCs that are still trading at a premium to NAV will continue to have a competitive advantage over the others. I currently have a 'Buy' recommendation for MAIN that is included in three of my suggested BDC portfolios and I will be updating my "Main Street Capital Report" with this offering for projected dividend coverage and potential for growth. Investors should only use this information as a starting point for due diligence. See the following for more information:
Disclosure: I am long MAIN, HTGC, TCPC, FSC, ARCC, FDUS, TCRD, PSEC, NMFC. I wrote this article myself, and it expresses my own opinions. I am not receiving compensation for it (other than from Seeking Alpha). I have no business relationship with any company whose stock is mentioned in this article.