Canadian based gold producer, Minefinders Corp (MFN), released the results of an independently prepared pre-feasibility study (PFS) for its La Bolsa gold and silver project in Sonora, Mexico.
The study contemplated conventional open pit mining methods at La Bolsa with low cost heap leach processing, considering two economic projections with both a 'base case' (effectively underestimating prices of gold and silver) and a 'current spot' case (as name suggests, considers gold and silver price at current spot level). Both of these cases came out with very buoyant results for the project, and accordingly the company expressed their pleasure at the results, indicating it is a significant step in bringing the deposit into production. Going forward, Minefinders are going to consider their options over the next few months to best realize value from the project.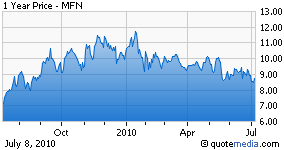 Minefinders has a market capitalization of C$600 million (US$575 million), with around US$26.8 million available in cash and cash equivalents, and around US$59.9 million in working capital. In addition to the La Bolsa exploration project, the company currently has three other exploration projects underway (La Virginia, Planchas De Plata and Real Viejo) as well as a flagship, in production mining project (Dolores), all located in Mexico.
As mentioned, La Bolsa is a gold and silver project located Sonora, Mexico, around 27 kilometres northwest of the city of Nogales, near the Sonora/Arizona border. The shallow dip of the majority of mineralization in close proximity to the surface and favourable metallurgical characteristics at the project, suggests a mine plan that will incorporate low cost open pit mining in combination with simple heap leach recovery of gold and silver. This was the assumed extraction methodology in the pre-feasibility study.
A previously conducted NI 43-101 compliant resource estimate, updated earlier this year to take account of additional infill drilling, assuming a cut of point at 0.25 grams per tonne (g/t) of gold, showed La Bolsa having 9.7 million tonnes of measured resource, grading 0.751g/t gold and 10.8g/t silver. This comes to a measured resource of 234,464 ounces of gold and 3.38 million ounces of silver. In addition, the report also showed indicated resources of 9 million tonnes, grading 0.596g/t of gold and 8.6g/t silver, for an indicated resource of 172,866 and 2.48 million ounces of gold and silver respectively.
Last month, proven and probable reserves were estimated for the project, in accordance with definitions adopted by the Canadian Institute of Mining, Metallurgy and Petroleum. These showed the project had proven resources of 9.46 million tonnes, grading 0.667g/t gold and 10.1g/t silver, and probable resources of 6.17 million tonnes, grading 0.57g/t gold and 7.2g/t silver. Combined, these give total contained gold of 316,135 ounces (203,045 proven, 113,090 probable) and total contained silver of approximately 4.5 million ounces (3.08 million proven, 1.42 million probable).
The pre-feasibility study released today contemplates conventional open pit mining methods at La Bolsa with low cost heap leach processing extraction method. This involves crushing ore into small pieces and irrigating with a solution that dissolves the precious metals, which are then collected and reformed.
Throughput is projected at 8,500 tonnes of ore per day with two-stage crushing and gold and silver recovery achieved through a carbon absorption recovery system (a method of collection the precious metal solution mentioned previously).
The mineable reserve, using prices of $825 per ounce of gold and $14 per ounce of silver contains 316,135 ounces of gold and 4.5 million ounces of silver. The study assumes average recoveries of 72% for gold and 7% for silver, giving the total production from La Bolsa at an estimated 227,600 ounces of gold and 315,100 ounces of silver, expected over a six year mine life. The life of mine reserve strip ratio is estimated at 1.9 to 1 waste to ore and the operating strip ratio is estimated at 1.5 to 1 waste to ore, net of capitalized pre-stripping.
Mark Bailey, President and CEO of Minefinders said of the study "The La Bolsa project has several favourable characteristics, including a low waste to ore ratio, amenability to heap leach processing, and close proximity to infrastructure", also noting "We consider the results of the pre-feasibility study a positive step toward advancing the La Bolsa gold deposit to a production decision. Over the next several months we will consider our options to realize value from La Bolsa".
The pre-feasibility study compared two economic scenarios, one a base case, using conservative price assumptions for gold and silver, and one so called spot case, using an approximation of the current spot price for the two metals. Both cases assumed the initial capital cost was US$31.4 million, which includes US$7.0 million of initial working capital, with life of mine sustaining capital costs of US$12.5 million. This considers the assumption that over the life of the mine, it will produce 227,600 ounces of gold and 315,100 ounces of silver.
The base case, which assumed prices of $825 per ounce of gold and $14 per ounce of silver, showed gross revenues over the mines life at US$197.9 million, with total cash cost of US$516 per gold equivalent ounce. With these assumptions, the pre-tax net present value (NPV) of the project is estimated at US$42.3 million (or assuming 5% discount; US$28.2 million). This translates to a pre-tax internal rate of return (IRR) of 34%.
The more optimistic scenario considering current spot price values (assumed gold price at $1,200/oz and silver at $18/ox) improves on these numbers significantly. Estimated gross revenue jumps to US$278.8 million, with cash costs falling slightly to US$510/oz. The net present value almost triples to US$123.2 million (or assuming 5% discount comes to US$91.3 million), and accordingly the internal rate of return sky rockets to 95%. Both the base case and the spot case, therefore, show the project is likely to add significant value to the company. Given the majority of analysts are still optimistic that gold and silver prices will remain relatively high, possibly even appreciating further over the next year or so, one would not be unjustified in considering the actual value of the project, if it were to go ahead, may even fall higher than the above projection.
Given these analysts consider the project of the mine life over six years however (in which time prices are most likely to have seen troughs as well as peaks), one could consider the true NPV of the project to fall somewhere in between these study models.
This latest study builds on an already firm outlook for the company, which moved into profitability last year in thanks to production form its flagship Dolores mine. The company is expecting to continue its ramp up of production at that mine, and benefiting from the economies of scale in the costs brought about by this increase (cash costs expected to fall from $550 to around $450 per gold equivalent ounce), revenues and profits increasing steadily during the year.
Looking at La Bolsa, one can certainly see the potential for this to become another significant in-production asset on Minefinders' books. This pre-feasibility study gives some indication of exactly what that may translate to, and certainly gives investors food for thought as Minefinders move along the road to production at La Bolsa.
Disclosure: No position