A glance at the chart below of the FTSE 100 highlights an improvement in sentiment this week, as fear over a double-dip recession retreat.
The global economy continues to appear to be expanding at an encouraging pace, after what has been described as the worst recession for over 100 years, thanks largely to robust growth in Emerging Markets.
Recent results from the British Chambers of Commerce's (BCC) latest economic survey suggest the UK economy saw further growth in the second quarter of 2010, building on the improvement in the first three months of the year, although the outlook looks less favourable.
However, data from the UK's service sector showed it slowed sharper than expected in June, as concerns about government spending cuts and tax hikes weighed on sentiment.
click to enlarge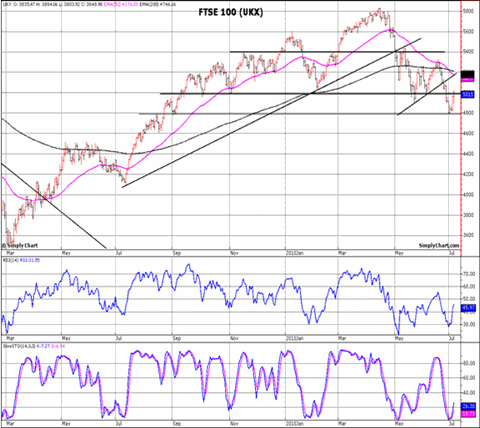 Similar data from the US was the latest in a succession of disappointing economic releases. The Institute for Supply Management's (ISM) index fell to a four month low of 53.8 last month from 55.4 in May, but still remained comfortably above the 50 level that indicates expansion.
Technical analysis shows the index bounced off minor support at 4800, which now provides a relatively important level for the market. The oscillators look encouraging, with the significant divergence on the relative strength index (RSI) indicating there is little momentum behind the recent selling. The stochastic also appears to have bottomed out, with the faster line intersecting the slower line to the upside.
Resistance is seen at 5000 and 5200, although investors should be mindful that a break of 4800 could trigger further falls towards 4450.
In summary, a "V"- shaped recovery is regarded as unlikely and after an initial recovery period of undemanding like-for-like comparisons, it is natural for the pace of recovery in economic data to slow. This doesn't necessarily mean that we are now heading for a double-dip recession, but we are seeing a transition phase from a period of sharp recovery into a new low-growth environment, which could last several years.
Tesco has been in the news this week, as it is rumoured to be interested in the assets of French hypermarket Carrefour in Singapore, Thailand and Malaysia.
Following the announcement last month that the well respected CEO Sir Terry Leahy was due to step down, Tesco's shares have fallen over 5%, although he leaves a strong legacy in what he describes as "safe hands".
Replacement, Philip Clarke has been on the board for the past 12 years and has reached the top 36 years after doing his first shelf-stacking shift for the supermarket as a school boy.
As head of international expansion and IT, Philip has been a key man in delivering Leahy's strategy and is the ideal candidate to continue the group's rapid expansion into overseas markets. Tesco is the undisputed leader in UK food retail, with 30% market share and the strength of its domestic business underpinning its ability to exploit new markets.
South Korea is Tesco's largest international market, with annual profits of £300 million on sales of £4.5 billion and the outgoing CEO expects this to quadruple in years to come.
Recent economic data suggests that Asia remains the engine for future growth and Philip Clarke has driven expansion in the continent through astute acquisitions and joint ventures, similar to those rumoured this week. Dedicated managers have now been introduced into each country to unlock the regions huge potential.
Tesco's non-food division also diversifies the business and provides a further weapon to its arsenal. Clothing alone delivers £1 billion a year, which is not considerably less than high street retailer Next and its online division, Tesco Direct, is gaining market share from Argos.
Tesco Bank is overcoming the regulatory hurdles and building its own infrastructure to become a retail bank by 2011, with many branches planned to rival the UK's big high street banks.
At current levels, Tesco's is trading at a discount to peers on 11.8x earnings and offers a progressive dividend of 3.7%. Profitability is improving and I believe the recent weakness offers an attractive opportunity to buy into this global growth story.
At the time of writing the share price is 392.15p and near term targets are seen at 409.5p, 419.75p and 431p, with a stop loss marginally below the recent low at 367.5p (all prices in British pound).
Disclosure: No position