This is part 18 in a continuing series of articles discussing building a portfolio of dividend income equities. The strategy seeks to use value investing principles and apply them to stable companies offering reliable dividends. Further safety is sought by diversifying through a wide range of industry segments and often using multiple tickers in each of those segments.
Series parts 1, 2, and 3 lay out the philosophy, strategy, and methods of the Tortoise Strategy and Use of Covered Option Writing to boost performance. I recommend readers review each of these first 3 initial parts. Beginning with part 4, each subsequent installment reviews and analyzes one of the 16 tickers identified in the preliminary screen (listed in part 4). A full index of links to the complete series, including future installments as they occur, is available here.
Blackstone Group L.P.
| | | | |
| --- | --- | --- | --- |
| Blackstone Group L.P. (NYSE:BX) | $ 31.17 | $ 3.52 | 7.44% |

Blackstone Group L.P. is a publicly traded private equity partnership. It manages investments, including wholly-owned, partial interest, and client-owned assets, and as a consultant on unowned assets. Additional activities include development, launching, and management of private equity funds, hedge funds, credit-debt instruments (the newest evolution of CDOs), and various other financial activities, including investing in private equity, public equity, fixed income, and alternative investment markets. The firm, based in New York, was founded in 1985.
BX units, trading at a low of $3.90 in February 2009, advanced to a recent peak at $35.39 on March 11, 2014. They have been in retreat since then, currently at $31.17. The rise has been particularly steady since the August 27, 2013 intraday low of $21.30.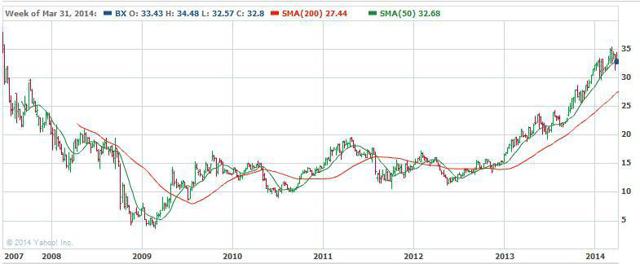 (Source: Yahoo.com)
This strong performance reflects the growing book value per share for BX unitholders. With a diverse menu of products and services, and a focus on value-added investing in housing and issuance of securitized debt, BX is riding the expanding global economic train, one that has plenty of room for continuing growth.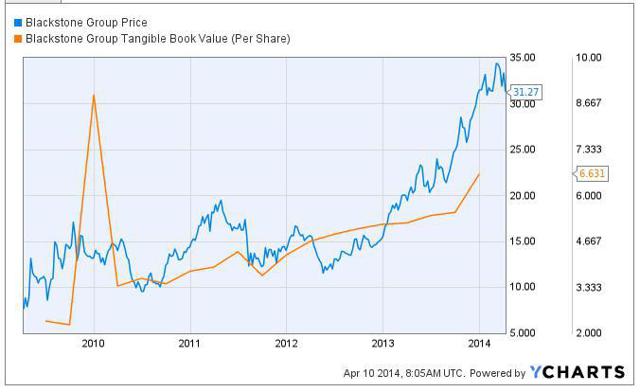 The YDP chart of Blackstone shows an extremely constant yield rate focused on 4.5% since 2011, a result of strong correlation between investor pricing of the shares and dividend distribution size. This indicates investors value BX units highly as a dividend income equity investment.
Investors bid price up and down in reciprocal response to dividend distribution growth, so as to yield a result of relatively stable trends of effective yield rate. The correlation of these 3 variables is defined by the mathematical Y = D/P (Y is yield, D is dividend distribution, and P is share price). This is characteristic of dividend income equities, and indicative that yield rate can be a measure of value. For those not familiar yet with YDP charts, I refer you to my introductory article on YDP chart analysis and its precursor article with several YDP chart interpretation examples.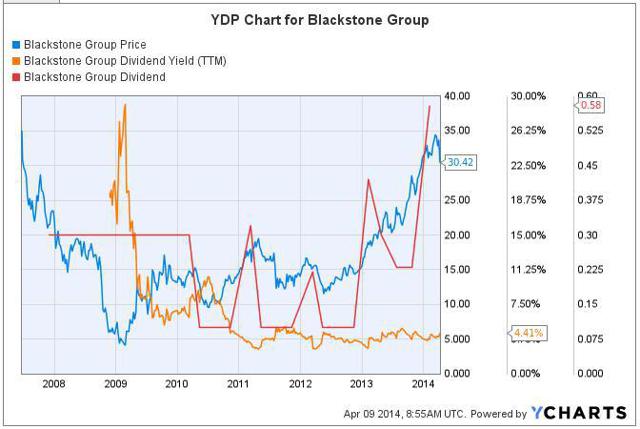 The payout ratio has been extremely consistent and safe also. This helps place a premium on the value of the dividend income stream.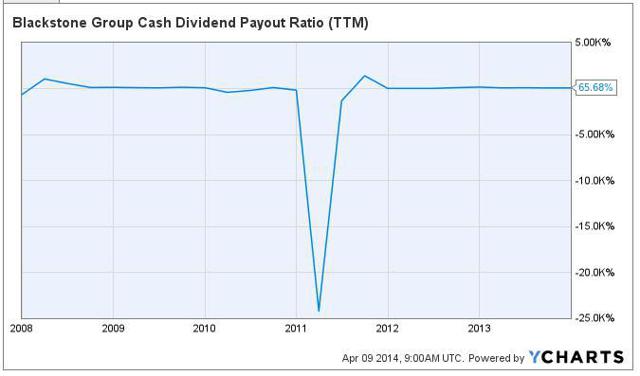 The big surprise is that P/E is dropping, making these units more of a bargain every passing month. Blackstone's P/E of 15.78 is a near match to Berkshire-B (NYSE:BRK.B) units at 14.95, and modestly above Icahn Enterprises (NYSE:IEP) of 11.14.
The agile Blackstone, with a leading position in the private equity capital formation and management markets, combined with its position as a leading investor/manager of residential rental units suggests that it has better prospects for faster, longer, and higher growth than either Berkshire or Icahn. Given the Blackstone performance metrics, positioning, and consistency of results, a P/E of 20 to 25 would be reasonable at this time. Shares would price in the $39.50 to $49.38 range to reflect this value.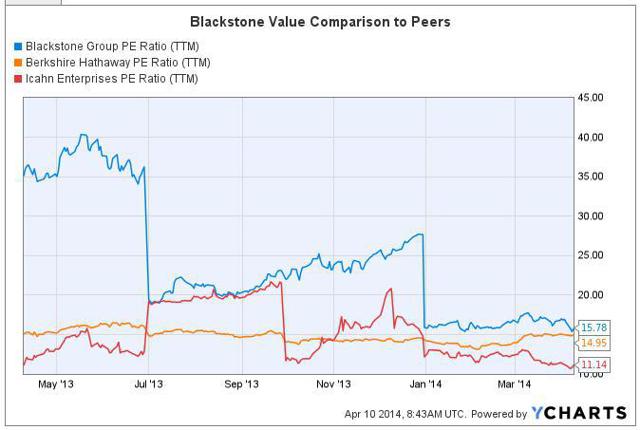 Traditional value metrics again demonstrate the strength and consistency of Blackstone's performance, perhaps because it is in the business of maximizing investor value. Superior margins, currently at 41.53%, are slowly rising at a steady pace. Return on assets and return on equity are solid and steady also. Book value per share exhibits a slow but steady rise.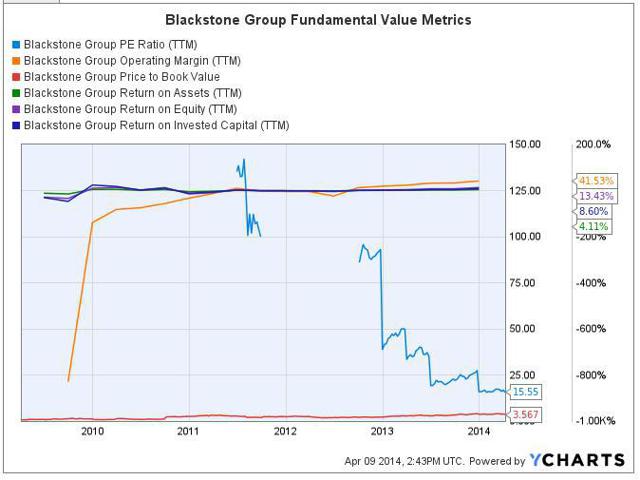 When we view a group of metrics highlighting management effectiveness, all the trends are up and show an accelerating rate of rise. I must concede a personal bias against financial sector companies, even though the sector tends to outperform all others in the market. Blackstone's numbers and trends impress me, and may even make me a convert.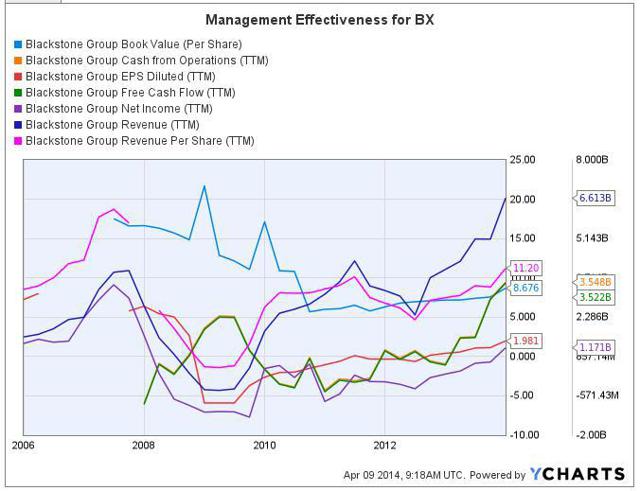 All of the above factors align to suggest Blackstone units are highly prized for income, for growth, for superior performance, and for superior forward prospects. The skittish global economy and its cloud of reticence hanging over the financial sector since the 2008 financial crisis are the only potential headwinds that might slow or divert Blackstone performance in the near future. Given all the positive factors, an examination of technical trends may help determine optimized points.
Units traded in a rising channel with well-defined upper and lower limits from late August 2013 until a high on March 11, 2014 of $35.39. The lower limit shows strong conformance to the 50-day moving average support levels. After reaching the March 11th highs at the upper channel resistance limit, the shares reversed, and have been in a declining trend since. They tested the lower rising channel support boundary on March 26th at the 50-day moving average level, and fell briefly below support for 2 days, rebounding weakly back up to $34.48 intra-day highs on April 4th, before falling back to close at the 50-day MA of $32.80 that day. The following Monday open saw units plunge to $30.86, sharply below the 50-day MA support. The plunge continued on the 8th, down to $29.76, a drop of almost 10% in 2 days as the breakdown proceeded. April 9th, the shares rebounded 2.79% to a $31.27 close, still well below the former support level.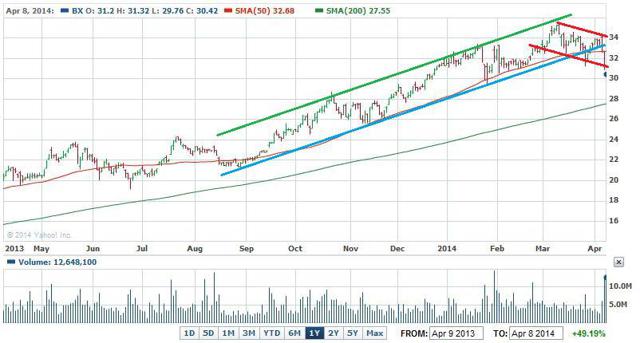 (Source: Yahoo.com, modified by the author)
The newly established down-trending channel is probably a period of consolidation following the long-steady price run-up since last August. This is healthy and needed. Currently, support is about $31.00, with shares sitting near that point. Resistance is initially at the $31.80 50-day MA, and at the upper channel limit, currently at $34.20. Lower and upper channel limits are descending about $1.00 per month. Weak support further down is available at $30.00, and a stronger level shows up at $28.00. $25.50 defines the strong support established in the most recent prior consolidation of November 2013. The sharp down moves in recent days appear to relate to technical trading, with no news significant enough to explain the breakdown.
In summary;
Blackstone Group is valued both as a dividend income equity and for growth.
The current P/E is a bargain compared to its historical rates and when comparing to its peers of Berkshire Hathaway and Icahn Enterprises. Value based on this metric is $39.50 to $49.58.
Valuation based on income distribution yield rates suggests a share price in the $31 to $32 range is appropriate at this time.
The positive growth macro environment and strong, consistent, superior results of the company favor a premium above the pure income valuation figures. A $35.00 to $40.00 near-term target within the next 6 months is reasonable.
Now, in the current breakdown and consolidation phase, is the time to enter a position in the units. Downward drift in consolidation is possible to continue briefly, but the potential for upside breakout and trend reversal back to advance provides asymmetrical upside opportunity at this time.
Premium return rates should be examined and considered, along with the balance between the investor's income and growth focus to determine which, if any, covered option strategy may best help optimize entry price right now.
Covered Options to boost performance:
Covered Calls (left side of chart)
Having determined the shares are worth owning right now at market price (approximately $31.30), and taking into account the down-drifting consolidation status and support levels, I am looking at the 9/20/14 $36 Calls with $0.85 premium and the shorter 6/30/14 $36 Calls with $0.36 premium. The shorter-term June contract would generally be more attractive to me, since it provides almost as great an annualized yield boost as the September one, and greater flexibility and less call away risk.
6/30/2014 $36 Call with $0.36 premium - 5.90% annualized yield and $1.82 annualized dividend ($0.36 absolute) boost for 72-day contract. Adjusted basis of $30.94 (31.30 minus .36 premium)
9/20/2014 $36 Call with $0.85 premium - 6.23% annualized yield and $1.90 annualized dividend ($0.85 absolute) boost for 163-day contract.
1/12/2015 Calls - no $36 contract available. Max strike offered is $35.00.
Because of the uncertain support levels and recent onset of the downward consolidation channel, I prefer the longer contract with larger premium to adjust by basis cost price to hedge downside risk. Investors can attempt to manage any renewed upside breakouts by buying to cover, or allowing call away followed by a new entry and covered call pairing, or chasing the shares at that point writing covered puts (or moving off to other tickers). This seems the most flexible and protective strategy for now, and balances the call away and downside risks. Another choice would be to do a blend of some June and some September contracts. Each investor will need to decide which works best for their comfort levels.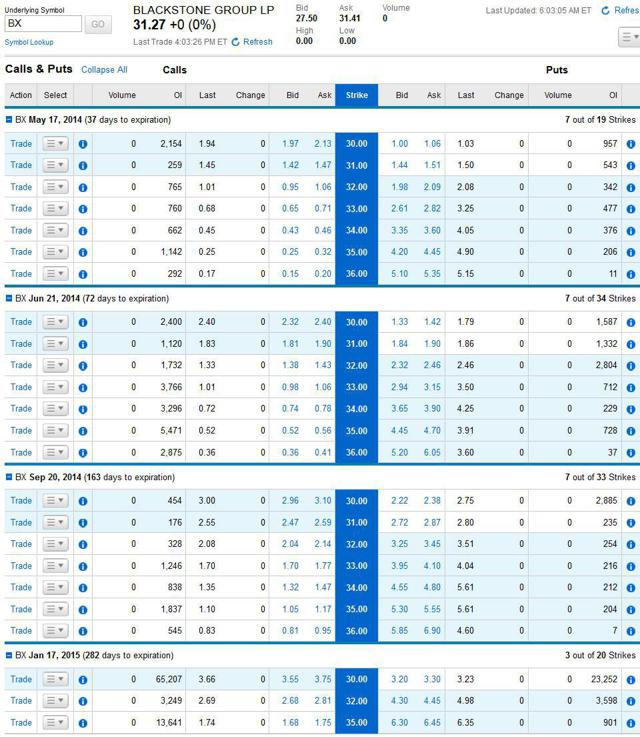 (Source: Schwab.com)
Cash Covered Puts (right side of chart)
Those preferring to take cash now and not establish a position so soon after the breakdown and trend reversals may consider cash-covered puts. The 5/17/2014 $31.00 Put with $1.50 premium provides $150/contract cash in pocket now, a potential $29.50 adjusted basis entry price, and an annualized yield rate on net covering cash of 50.16%. This is a rare and extremely high yield rate due to the high volatility currently present in recent share price history. It does create a good option for those focused on income and not particularly swayed by the growth prospects of Blackstone units.
Conclusions & Recommendations:
Shares of Blackstone Group should be of interest to investors targeting dividend income, aggressive growth, or a blend of both.
Current price looks attractive for growth and blended income/growth focus.
Pure income investors will find the shares at fair value right with moderate asymmetric upside potential in the outlook, dampened by currently weak support levels.
Most investors should buy the shares at market now (approximately $31.30), and sell the 9/20/14 $36 covered Calls with $0.85 premium to generate income, boost yields, and hedge downside risk by $0.85, while minimizing call away risk.
Pure income investors may find the 4/17/2014 $31.00 Strike Cash-Covered Put attractive, with a $1.50 premium, hedged reduced basis of $29.50 if shares are presented, and 50.16% annualized yield rate on net covering cash.
Always be aware of ex-dividend dates and the potential for call, dividend capture, and Strike Price adjustments by the option clearing house when writing contracts across dividend months.
In part 19, I will discuss Potash Corporation of Saskatchewan (NYSE:POT). Each subsequent part of the series will discuss and evaluate one more of the original 16 tickers identified in the preliminary screen for building your Tortoise on Steroids portfolio.
I hope you will join me as I detail the use of covered option writing on quality dividend income equities to develop a model portfolio for the Super Tortoise. Simply click on the bold link labeled FOLLOW above the title at the top of this article to get an email notice of my new articles when they are published.
Disclaimer: I am not a licensed securities dealer or advisor. The views here are solely my own and should not be considered or used for investment advice. As always, individuals should determine the suitability for their own situation and perform their own due diligence before making any investment.
Disclosure: I have no positions in any stocks mentioned, and no plans to initiate any positions within the next 72 hours. I wrote this article myself, and it expresses my own opinions. I am not receiving compensation for it (other than from Seeking Alpha). I have no business relationship with any company whose stock is mentioned in this article.