It was like something out of a George Lucas episode of Star Wars. The Empire had summoned a quorum to discuss the future of mankind. The directives of that meeting were released near evening the day before it was to take place. The tone was dark and foreboding.
When morning broke, council members acted the part of the rebel alliance. As the empire steered panel members in one direction, mankind responded by tugging in yet another. In the end, however, rebel panelists affirmed the state of mankind in a resounding vote of confidence that no one in attendance, nor watching from afar could possibly misinterpret.
To take this myth from allegory into the real world, FDA Advisory Committee members, on April Fool's Day, voted 27-1 to approve MannKind's (MNKD) Afrezza application, setting off a tumultuous celebration that lasted through the night.
Investors awoke to find that MannKind's stock was up over 90% in pre-market trading. An author late to the party, but eager to take part in the joy of victory, wrote of a short seller "massacre", and instructed shareholders to wait until late in the day to sell for greater profit. Of course, like most illusions that "genocide" failed to appear, just as I'd wished his poorly chosen hyperbolic descriptor hadn't either.
Then, a stream of four articles over five days reveled in the unassailable victory that pointed toward sure regulatory approval on April 15th. Yet still, the stock dwindled each and every day thereafter.
I personally was left to wonder if indeed, higher ups in the agency hadn't orchestrated a pundit prank of sorts. You see, I'm of the belief that all bloggers both well known (Adam Feuerstein) and hardly known (Michael Webb) aren't all a source of great amusement for corporate executives, financial firms, and yes, even the FDA.
I was also stung by my first setback in the realm of binary event prognostication. That however, was not a fault of my model, but rather, of not following its implications far enough. Thoughtful commentators tried their best to bring this error to my attention. I, however, refused to listen. This was an instuctive mistake I'll learn from.
Then came April 7th.
The FDA's agenda is not always reflected in, nor affirmed by an advisory committee ruling.
Investors know this. MannKind won the battle of its previous adcom meeting, but then lost the war in a startling turn of events. We're not far removed from that misfortune by time, nor circumstance.
Short sellers recognize this and were in no way inclined to close their positions on April 2nd, nor any day thereafter. As a result, there had been a palpable edginess on the part of both long and short position holders. Then, it happened.
Of course, when postponement came, everyone said they knew it was coming. So why then were three more articles fast tracked to publication extolling the virtues of MannKind's chances of regulatory approval on that very day?
The answer is simple. Bloggers, whose job it is to persuade you to adopt their opinion, didn't want you to enter into a state of doubt. In the midst of uncertainty, you might be inclined to sell your shares. And so they reassured you that they weren't selling theirs. They again spoke of a 91% approval rate - this time with the facts on their side, and gave reasonable explanations as to why the FDA would put off consent - labeling issues being the most commonly held.
Message boards were alive with calls for MannKind management to address this delay by offering their own impressions as to why it occurred. Yet none has been given. However, if we look to the recent past, MannKind has already shared its thoughts on the matter.
According to management, it probably wasn't labeling issues as some have suggested.
President and CEO, Hakan Edstrom received this question from, Corey Kasimov of J.P. Morgan at the Q4 2013 Earnings Conference, held on February 18th.
If you were to have a clean panel on April 1st, how much additional label negotiation do you think you would have to still work through to get a decision done within two weeks?
Here's Hakan.
Well, I hate to speculate, I know that we initially had planned, that really during the course of a week you can accomplish that.
Did MannKind see postponement coming?
Hardly! Listen to the level of resolve, articulated by Hakan Edstrom at the same official gathering.
The PUDUFA date of April 15th still stands, and no indication has been received from the FDA that would alter that target date for approval.
Seen, or unseen, this event has further eroded the fleeting confidence gained on April 1st. So, why might that be?
MannKind will run low on money prior to the new PDUFA date of July 15, 2014.
Here's, CFO Mathew Pfeffer, explaining just how far current funding will take them.
Some of our more astute investors and analysts, have done the math and questioned how, given the above, as well as our continuing cash burn, how we could possibly have sufficient cash to last through the upcoming PDUFA date.

Therefore, I'm pleased to announce, that we have already solved this problem, having raised roughly $49mm in net proceeds from the use of our ATM facility during the month of December.

So, that worry is now behind us.
But that was for the April 15th PDUFA date, not the July 15th PDUFA date. So, that worry is now in front of us. Especially, given his next statement.
We expect to maintain and to potentially accelerate some of the spending in 2014 as we prepare for commercialization of Afrezza.
Thankfully, MannKind has more money to borrow should adding to their considerable debt load be required to keep the lights on. That however, isn't the most responsible thing to do at this point in time. Will MannKind, therefore pass on the opportunity to initialize an equity raise at today's comparatively lofty share price? Not likely.
The need for a one thousand person sales force is complicated by a commercial partnership that can't be arrived at prior to knowing just what parameters the FDA will set on the marketing of Afrezza.
Yes, it will likely be approved, but will the FDA see fit to sanction both type 1 and type 2 as the panel recommended? Will restrictions be applied to children in type 1, bearing in mind that it was a pediatrician who lodged the sole vote of dissent in that classification? Will the FDA require lung scans every six months to assess possible unseen complications in those who smoke, or will that be the case for other users as well? And in the age of socialized medicine, who will pay for them?
A tentative commercial partnership agreement with a mutual opt-out clause is a viable option for MannKind.
Waiting in eager anticipation for the announcement of an equity raise isn't something shorts should be all that excited about. Such an event might be seen favorably by the investment community. Not only does MannKind have the upper hand in a political landscape that favors regulatory approval on or before July 15th, but against that backdrop, the company could, for instance, announce a tentative commercial partnership agreement that would vault the stock price to as high as 9, or even 10 dollars a share. In a week or two thereafter, they could then do a large equity raise that would accomplish two simultaneous objectives.
If the FDA gave MannKind a clear commercial path, the partnership agreement could be consummated allowing MannKind to use the proceeds to further reduce its debt load and advance other corporate agendas.
If on the other hand, the FDA constricted MannKind's commercial aspirations, the partner would be allowed to decline the agreement and MannKind could use the funds gained through the public offering to launch on their own. This would have the added benefit of allowing the company to entertain buyout offers unencumbered by a peripheral obligation.
Recognizing that the inaugural launch of Afrezza has likely been postponed until January of 2015, I'd like to look back at two recent product launches by companies entering blockbuster markets to see how they fared by comparison. It should be noted that each of these companies had shareholders with great expectations of first year sales, lucrative partnership agreements and buyouts that were many multiples in excess of their current market caps at the time their launches took place.
Amarin's (NASDAQ:AMRN) Vascepa and Arena's (NASDAQ:ARNA) Belviq
I know that by doing this, I'm going to raise the ire of those who see Afrezza as a completely different product, entering into a market of real medical need, whose chances of commercial adoption and success are far greater than Vascepa or Belviq. And, in some important ways, I would agree with you.
Still, product launches have certain common denominators that must not be overlooked. The most important of these is the lag time between approval and introduction to market. As you can see in the graphic below, investors became complacent, then restless, the result of which was a slow bleed in the stock price over time.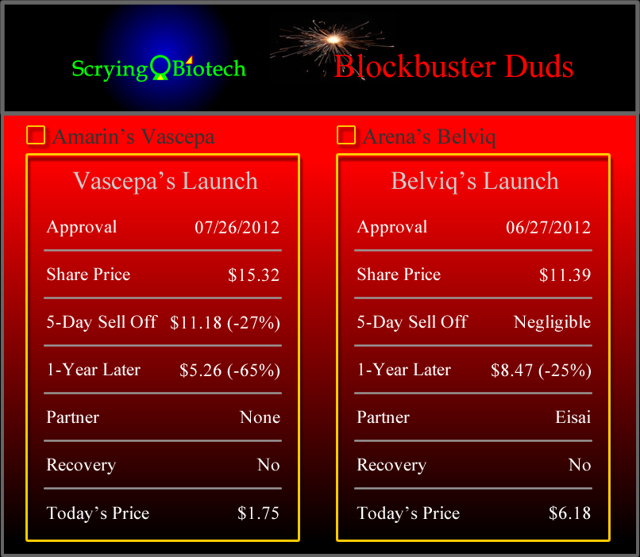 In closing.
If the FDA can break the sanctity of its own binding agreement in the form of a Special Protocol Assessment, in order to place a roadblock in the way of Amarin's commercial success, then it is free to work its will in any approval circumstance.
If in an age of overwhelming concern for the wellbeing of individuals that might become addicted to, and die from prescription narcotics, the agency can then overturn a near unanimous advisory committee vote, in order to approve the single most dangerous opiate to have ever been manufactured by human hands, then anything remains possible where MannKind is concerned.
Of course, if I told you late last September, that traffic jams on the George Washington Bridge were caused by a governor's displeasure with an unhelpful mayor during his run for reelection, you'd have all thought me to be mad. Your reasonable explanations regarding peak hour traffic flows and construction, would be embraced by every other reasonable person you spoke to. The phrase, "time for some traffic problems in Fort Lee" would not likely have been thought to have had any merit in the discussion.
The truth however, is that human beings don't operate by reason alone. And often times, access to markets are a reflection of this.
A popular talk show host in Seattle, instructs his listeners daily to "follow the money" in pursuit of the truth. And like it, or not, that's the jam we find ourselves in at this juncture of our development as a species.
Always be well.
Michael Webb
Disclosure: I have no positions in any stocks mentioned, and no plans to initiate any positions within the next 72 hours. I wrote this article myself, and it expresses my own opinions. I am not receiving compensation for it (other than from Seeking Alpha). I have no business relationship with any company whose stock is mentioned in this article.
Additional disclosure: Any information or opinion expressed herein may not be true, accurate or correct and it does not constitute any suggestion to buy, sell, hold or adopt any investment strategy for this stock or any stock that may be mentioned. Reliance upon information in this article is at the sole discretion of the reader. The sole purpose of my article is to entertain by providing information, the accuracy of which is as good as the public sources it was derived from. Do not act on anything I have written. Rather, do your own due diligence and consult an investment professional before making any investment decision. Acting on what any one writer, including me has imparted to you is foolish at best. I have no better access to resources or gift of opinion formulation than you do. I sometimes make mistakes. There are a myriad of things, which can happen in lieu of any forward-looking statement I have made. Any stock featured or mentioned in an article I compose is subject to all manner of influences, which can change its value in dramatic fashion upwards or downwards. These events can be of a wide variety not limited to news-related occurrences, managerial decisions, trial failures, stock manipulations and so on. I make every effort to declare positions I have in stocks I cover or mention in an article but reserve the right to move in and out of said investments at my own discretion based upon the wisdom of doing so. I implore you to do your own due diligence, invest at your own considerable risk attaining the just reward your efforts have wrought.