By Craig Bowles
Overview
Citigroup (NYSE:C) is scheduled to report 1Q 2014 earnings before the opening bell on Monday, April 14th. The results are expected to come through at approximately 8:00 a.m. EST with a conference call webcast at Citigroup Investor Relations to follow at 11:00 a.m. Citigroup has the potential to impact the broader market indices, including the S&P Index Futures and corresponding ETFs. The earnings also come after Friday's negative release from JP Morgan Chase (NYSE:JPM) & stronger than expected report from Wells Fargo (NYSE:WFC).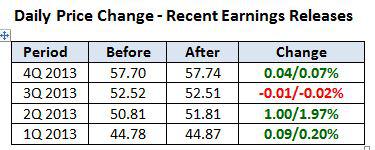 Outliers & Strategy
Key measures:
Earnings Per Share Excluding Items: The current Street estimate is $1.14 (range $1.02 to $1.20), so it dropped another 2c in the last week after being at $1.42 three months ago (Source: Yahoo! Finance). Citigroup typically provides two separate figures for Earnings Per Share - Earnings Per Share Excluding Items and Net Earnings Per Share . Earnings Per Share Excluding Items is typically the figure that compares with consensus estimates.
Revenues: Analysts expect a decline of 5.5% y/y to $19.37 bln (range $18.13 bln to $19.76 bln).
Citigroup shares have a price/book of 0.70% similar to the 5-year average and below the industry average of 1.1%. The stock trades at 10.9x trailing earnings, above the 5-year average of 8.9x and compares to an industry average of 12.5x.
Citigroup proposed a $6.4 bln buyback that was rejected by the Fed following stress tests but the bank did receive approval to continue its $1.2 bln buyback. Citigroup has failed the federal stress test two times in the last three years.
Citigroup shares have a 1-day average price change on earnings of 2.62%. Options are pricing in an implied move of 2.63% off earnings.
Recent News
04/08: Citigroup may sell its retail-banking and credit-card business in Spain to Banco Popular Espanol SA (OTCPK:BPESF). Banco Popular revealed that talks are underway in a regulatory filing, according to a post on Benzinga.com.
04/08: U.S.'s eight largest banks -- including Citigroup -- must add up to $68B in extra capital to comply with a new rule intended to help the firms weather losses during periods of market stress, according to a post on FinancialTimes.com.
04/08: Citigroup will close one third of Korea branches as costs, competition rise, according to a post by Reuters.
04/07: Citigroup reported it has entered into a legal settlement to pay $1.125 billion to resolve claims stemming from the sale of mortgage-backed securities prior to the financial crisis.
04/07: Citigroup is hiding great returns due to $53 bln in deferred tax assets which drag down current returns but can benefit the bank in the future, according to a post by TheMotleyFool.com.
Technical Review
Trading below $47.50 is below a balance area that Citi has maintained since last summer. The mid-point of the balance is close to $50, so traders are going to favor the short-side below that level. $50 acted as a resistance level in 2009, 2010 and 2011, as well. The stock tested current levels in early February but has traded mostly below the 200-day moving average since. Short-term moving averages have crossed under longer-term and show an inversion. A positive earnings report could see the stock bounce back up to its 200-day MA at $50.16. Conversely, anything negative that pushes the stock below $46 has limited support and increases speculation of a decline back closer to $25 where the stock has found support over the last few years. (Chart courtesy of StockCharts.com)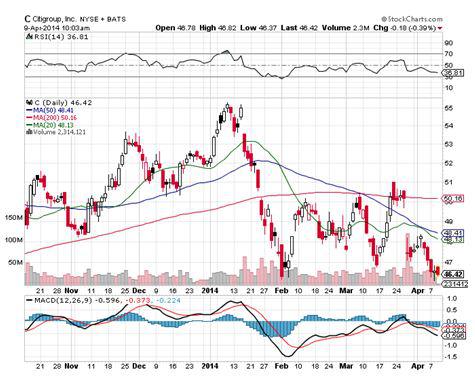 Summary
Citigroup shares have come under pressure amid legal settlements, overseas branch sales, and another stress test failure. The bank still has $53 bln in deferred tax assets which can enhance future earnings, however. Mixed results on Friday from JP Morgan Chase and Wells Fargo creates more interest in Citigroup's release. Previous quarters show the earnings release having mixed effect on the stock price despite some large beats and misses. Given the precarious technical picture, the stock could get a nice relief bounce if earnings come in at the $1.30 high end of analysts' expectations.
DISCLAIMER: By using this report, you acknowledge that Selerity, Inc. is in no way liable for losses or gains arising out of commentary, analysis, and or data in this report. Your investment decisions and recommendations are made entirely at your discretion. Selerity does not own securities in companies that they write about, is not an investment adviser, and the content contained herein is not an endorsement to buy or sell any securities. No content published as part of this report constitutes a recommendation that any particular investment, security, portfolio of securities, transaction or investment strategy is suitable for any specific person.
Disclosure: I have no positions in any stocks mentioned, and no plans to initiate any positions within the next 72 hours. I wrote this article myself, and it expresses my own opinions. I am not receiving compensation for it (other than from Seeking Alpha). I have no business relationship with any company whose stock is mentioned in this article.