There are a few things we have learned in our nearly two decades of investing; first bull markets never turn bearish on a dime and second the best buying opportunities during these bull markets are during the periods when confidence suddenly disappears for seemingly no reason overnight. Looking at the recent events of the past week or two, it sure seems to us that we are seeing the beginning of a buying opportunity. When traders look for a reason, and any reason at all, to sell and walk away we view that as a possible opportunity so long as fundamentals have not changed.
With that said we are seriously contemplating opening up some biotech positions over the next week in the blue chip names and possibly even allocating some funds in our retirement portfolios towards biotechs via the ETFs.
Chart of the Day:
Although we could see another 10% downside in the general market for biotechs we think the bleeding will stop at the top first and then stabilize throughout the sector before a new uptrend is formed. Be sure to know which ETFs and mutual funds you are buying because we think that those which hold the largest names will see the first recovery. The iShares Nasdaq Biotechnology Index (NASDAQ:IBB) is a good place to start, but there are other securities out there with less risk.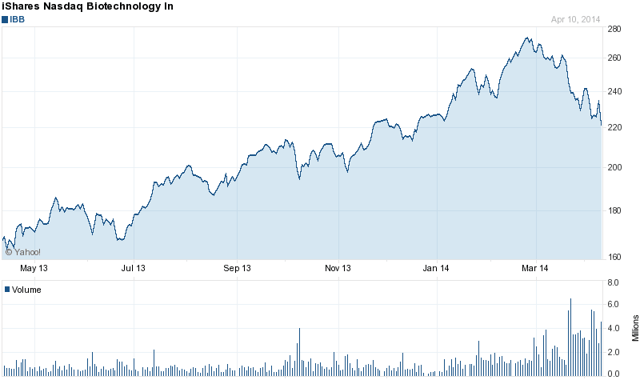 Click to enlarge
Source: Yahoo Finance
We have economic news today, and it is as follows:
PPI (8:30 a.m. EST): Est: 0.1% Act: 0.5%
Core PPI (8:30 a.m. EST): Est: 0.1% Act: 0.6%
Michigan Sentiment (9:55 a.m. EST): Est: 81.0 Act: 82.6
Asian markets finished lower today:
All Ordinaries -- down 0.95%
Shanghai Composite -- down 0.18%
Nikkei 225 -- down 2.38%
NZSE 50 -- down 0.47%
Seoul Composite -- down 0.56%
In Europe, markets are trading lower this morning:
CAC 40 -- down 1.46%
DAX -- down 1.83%
FTSE 100 -- down 1.26%
OSE -- down 1.54%
Bloodbath In Biotech
Yesterday was a terrible day to be long biotech stocks. The biotech ETFs and indices all got pounded and even the large cap blue chip biotech names were taken out to the slaughterhouse. It is not often that you see companies in the same industry with fairly priced stocks and large market caps get crushed by 4-7% all on the same day without big regulatory or legal issues having arisen.
It does appear that the momentum stocks are at least correcting, anything more at this time would be speculation. With momentum names correcting it seems to us that the entire market could finally see a 10% correction as the leaders have already been taken out and supply of stock in hot industries continues to hit the markets these days via IPOs.
Long-term investors have a lot more room for error with their entry point here and could do well buying either the SPDR S&P Biotech ETF (NYSEARCA:XBI) or the iShares Nasdaq Biotechnology which is a bit riskier. Traders have to be careful with entry points right now and would probably be best served exploring call options.
Big Cap Biotech Hit Hard
The big biotech names which have been the backbone of this market saw big pullbacks yesterday. The outlier is Gilead Sciences (NASDAQ:GILD) which saw its shares decline over 7% after a rival drug in development cured 98% of Hepatitis C cases in its trial. This got analysts talking about the potential for Gilead to lose market share if the drug continues through phase trials successfully.
If the $65/share level does not hold for Gilead then investors need to start looking at the $60/share level for a buying opportunity.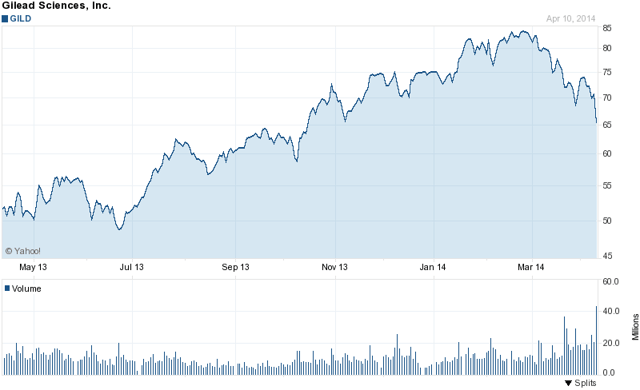 Click to enlarge
Source: Yahoo Finance
Outside of Gilead the moves were not a result of bad company specific news but just the sell-off. The two names that we like in the industry the most right now and have previously discussed as a possible portfolio combination were not spared yesterday either. Celgene (NASDAQ:CELG) saw its shares fall around 5% to close the session below the psychologically important $140/share level and Amgen (NASDAQ:AMGN), a company we view as one of the safer plays in the industry, saw its shares fall nearly as much.
Disclosure: I have no positions in any stocks mentioned, and no plans to initiate any positions within the next 72 hours. I wrote this article myself, and it expresses my own opinions. I am not receiving compensation for it (other than from Seeking Alpha). I have no business relationship with any company whose stock is mentioned in this article. No plans for the next 72 hours but possibly within the next week.