On Wednesday, Fannie Mae (OTCQB:FNMA) and Freddie Mac (OTCQB:FMCC) shareholders joined Tim Pagliara in a meeting with staffers from Bob Corker and Mark Warner's office. The staffers were tight-lipped and danced around the issues important to shareholders. Included at the meeting was Michael Bright, the ex-Countrywide executive and now advisor to Bob Corker. He has been a key figure in writing the Johnson-Crapo and Corker Warner legislation.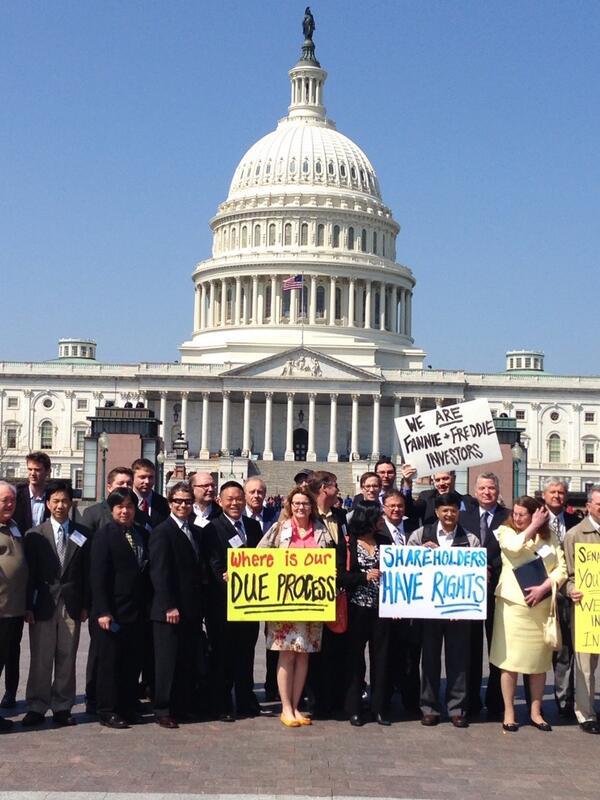 After a period of time when each shareholder introduced themselves and everyone was acquainted, shareholders were asked to voice their concerns. One by one, each of these very different individuals spoke out against either the net worth sweep, the suspension of dividends to the privately-held shares, or the apparent lack of representation in the current legislation.
The stoic group of staffers quietly sat across the table, took notes, and did their best to appear respectful, without saying a word.
At one point, Daniel Hutcheson, an ex-marine and small business owner, asked the question, "Is it okay for the government to lie to their citizens and then take their property?"
The response from the gentleman across the table was "Well, when you put it that way, no."
Jay Vicory, an Engineer, turned to the staff person next to him, told her that his business had bought the preferred stocks to keep consistent and stable cash flows coming into operations. Suspending dividends was a crippling move. Then, later he said, "Can you just answer this one question? Do you think shareholders exist?"
The reply was "I'm not sure what you mean."
The question was rephrased, "Do shareholders continue to exist?"
There was a long pause and the response "Yes. Of course."
The staffers did make a point to say that shareholders will have their day in court and we should be hopeful that our case has a fair outcome. This did little to reassure shareholders, who questioned why Congress would leave this to the courts when it is within their power to simply acknowledge shareholder rights.
Ralph Nader, who was reportedly sick, sent a letter to Senator Johnson. In part, it read,
In fact, many - if not almost all - of the reforms contained in the Johnson-Crapo housing finance reform legislative draft could be enacted within the framework of the current system and applied to the GSEs' structure. It seems to unnecessarily complicate the reform by eliminating the GSEs completely and hoping a new entity in their place would purport to serve a similar purpose - all in order to advance a form of housing finance reform that could instead be applied simply to the otherwise functioning and experienced GSEs.
Nader's letter went on to list may problems with the bill, including the fact that the bill calls for a wind-down of the entities, of which shareholders still have legal ownership.
In another meeting later in the day, members of Senator Pat Toomey's office appeared more receptive to shareholders and offered a few glimmers of hope. They gave the advice that if shareholders want a positive reception, they should speak to Senators and Congressmen outside of the banking and finance committees. After all, the shareholders' fight is one about private property rights, the rule of law, and administrative overreach.
Shareholders should also note of reports this week that Harry Reid is lukewarm about dismantling Fannie and Freddie. Perhaps the Senate Majority leader is a little more pragmatic than the ex-Countrywide execs looking to redesign our mortgage market. Why is there a need to dismantle and destroy, when you can overhaul? Any legislation that reforms the housing market must be sent to the floor for a vote by Reid.
In related news, the Ally Financial (NYSE:ALLY) IPO hit markets today, marking the largest IPO of 2014. $2.38 billion was raised, with the stock priced to open at $25. There was also an early upgrade by an analyst putting the target at $31 per share.
It should be noted that Fannie and Freddie, or their replacement, would need at least $250 billion of capital, on assets of $5 trillion under Maxine Waters' GSE reform bill. This is 5% first loss position. Under the Johnson-Crapo GSE reform bill, the entities, or a replacement would need $500 billion in capital, or 10% for a first loss position. The GSEs have sent $203 billion in cash payments to Treasury under the Preferred Stock Purchase Agreement and today sit with minimal equity to cushion losses.
Disclosure: I am long FNMA, FMCC. I wrote this article myself, and it expresses my own opinions. I am not receiving compensation for it (other than from Seeking Alpha). I have no business relationship with any company whose stock is mentioned in this article.