Is Now a Good Time to Own US Steel?
Since the beginning of 2000, US Steel's (NYSE:X) share price performance has taken investors on a roller coaster ride. The stock's value declined from 2000 to 2003 but appreciated tremendously thereafter until its sell-off in 2008. US Steel's share price has languished since the financial crisis and has struggled to keep up with the S&P 500's performance.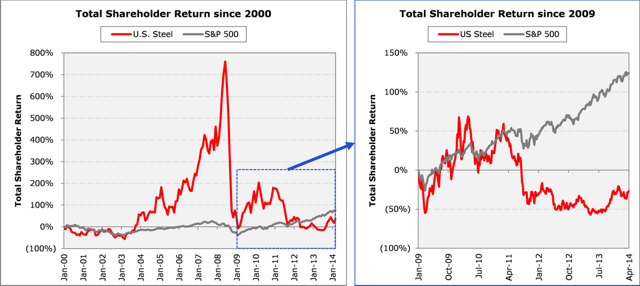 The question investors need to answer is, have the good times past or does this present a good opportunity own US Steel? To help answer that we will first need to understand a bit more about how the Company currently matches up with its peers as well as look at its historical financial performance. We can then bring it together in a discounted cash flow analysis to look at what investors need to believe about future performance based on US Steel's current share price.
Valuation Multiples: US Steel Appears to be Trading Within its Historical Norms

At first glance US Steel appears to be undervalued versus most of its peers based on valuation multiples but there may be other drivers for this. US Steel currently trades at an Enterprise Value ("EV") to NTM EBITDA multiple of 5.5x versus its peer median of 7.4x. It is notable that US Steel has had a lower Return on Capital than its close peers over the last twelve months. ArcelorMittal (NYSE:MT) has the most similar Return on Capital to US Steel and trades at a similarly low multiple.
If we look back over the last year we see that US Steel's share price rallied tremendously exceeded only by AK Steel (NYSE:AKS). During this period, US Steel's EV/NTM EBITDA valuation multiple experienced an expansion producing a median valuation multiple of 7.2x versus its current level of 5.5x. Since the start of 2014 however, US Steel's share price has stalled and its valuation multiple has compressed as consensus forecast EBITDA increased.
Do investors believe that US Steel's EBITDA is less valuable than its peers? If we look at US Steel's 3-year median EV / NTM EBITDA multiple it is ~5.5x, near the level the Company currently trades at. Its peers have historically traded near their current trading levels as well, so US Steel may be continuously "discounted" versus peers on this metric. It appears that investors may have anticipated an increase in EBITDA performance last year and drove the appreciation of the share price but they now await a new driver before pushing value up further.
Return on Capital: US Steel's Returns Appear to be at a Cyclical Low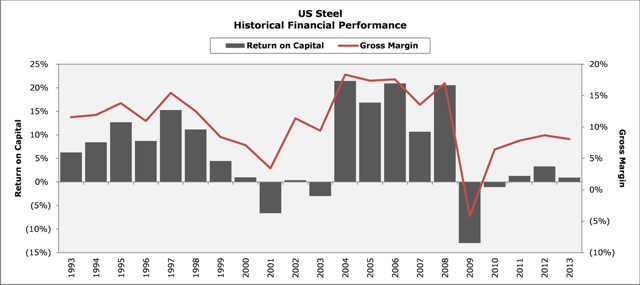 US Steel's Return on Capital appears to follow a cyclical pattern over time. The returns since 2009 appear to be at the cyclical low but the question investors will need to answer is will returns recover to historical levels and if so how long will it take to get there? US Steel's Gross Margin (defined as total revenue less cost of goods sold), tracks fairly well to the Company's overall Return on Capital over time. We see that while its Gross Margin has recovered from the extreme lows of 2009, it is still well below levels of its peak years in the 1990s and 2000s. US Steel will need some combination of increases in steel prices and lower input costs to drive its Gross Margin and Return on Capital higher in the future.
Discounted Cash Flow Analysis: What is Priced into the Stock?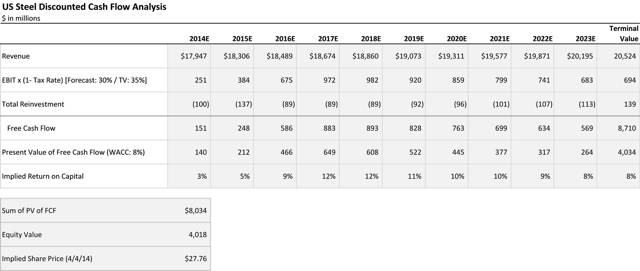 A discounted cash flow analysis provides the opportunity to look past the next year or two and develop longer term insights on company returns. We can use a DCF to back into what future returns for a company would need to be to justify its current share price. There are infinite combinations of annual cash flows that can arrive at US Steel's current price levels; this analysis provides one example, yours may differ. The difference between (1) what you believe the future of US Steel holds and (2) the performance that is embedded in the stock price can help you determine if there is a value opportunity present.
Surprisingly it seems US Steel is priced for a recovery in returns in the future. Based on the Company's low EV/EBITDA multiple versus peers, one might believe the stock is priced for either continuing low returns or a decline. However, an increase in returns would be needed over the next few years to achieve today's share price. Investors do not appear to be pricing in returns reaching the peak levels of the 2000s.
Companies try to balance Growth versus Return to drive value creation in their business. For companies with returns near or below their Cost of Capital, improvements in returns will drive much greater value than merely increasing revenue. Based on US Steel's low current Return on Capital I'm assuming that it is able to improve returns over the next few years to increase cash flows versus rapidly expanding its revenue base.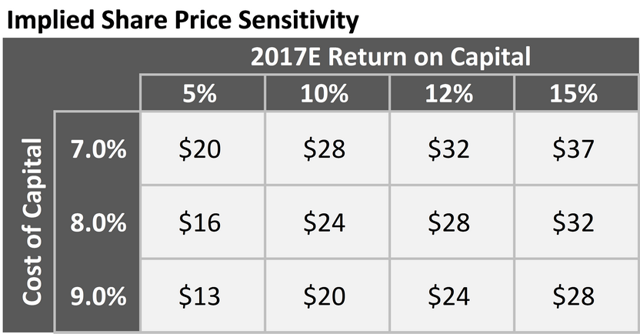 This sensitivity table provides a range of share prices based on changes in the peak Return on Capital of the forecast and the overall Cost of Capital. Return on Capital as modeled peaks in 2017E and 2018E before declining toward its respective Cost of Capital in the terminal year. Therefore if you believed that US Steel would only achieve a 10% Return on Capital by 2017E a share price of $24 may be justified. However, if you also believed that the Cost of Capital of 8% was too high then a $28 share price would be justified at a 7% Cost of Capital.
Conclusion
At its current share price US Steel does not appear to be trading at a particularly depressed valuation but it is not overly stretched either based on historical returns. We see that while the Company is currently trading at a valuation multiple lower than its peers, US Steel has also traded at lower multiples historically. The Company's returns appear to be at a cyclical low but investors are already pricing some improvements to Returns on Capital into the share price.
The questions investors should take time to analyze are: What will the eventual recovery in returns look like for US Steel? How high will returns get during the next peak of the cycle and when will they occur? How much growth should be expected? And how will reinvestment need to change to support that growth? My hope is this article has provided you with additional tools to better answer these questions.
Disclosure: I am long XLB. I wrote this article myself, and it expresses my own opinions. I am not receiving compensation for it. I have no business relationship with any company whose stock is mentioned in this article.