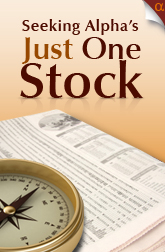 Several times a week, Seeking Alpha's Jason Aycock asks money managers about their single highest-conviction position - what they would own (or short) if they could choose just one stock or ETF.
---
Al Polit, CFA, is chief investment officer and portfolio manager at Dean Chase Global Value LLC, a San Diego-based investment management firm that utilizes a fundamental, bottom-up, and absolute-value approach to investing in the public equity markets and offers an International Equity Value and Global Equity Value strategy for high-net-worth individuals and institutional investors.
If you could only hold one stock position in your portfolio (long or short), what would it be?
If we could own only one stock in our portfolio, it would be Deutsche Telekom (OTCQX:DTEGY).
Tell us more about the company behind the stock.
Deutsche Telekom (OTCQX:DTEGY) is the incumbent telecommunications operator in Germany, but also has fixed and wireless businesses outside of its domestic market in countries including the United States, Poland, the Netherlands, Czech Republic, United Kingdom, and Greece, to name a few. OTCQX:DTEGY is one of the largest telecommunications companies in Europe based on group revenues and has a market capitalization over $52 billion. The German market currently makes up 37% of OTCQX:DTEGY's €65 billion in group revenue while the United States makes up 26% (primarily T-Mobile USA).
Market share and profitability are highly correlated in the fixed-line and wireless industries, and being the incumbent and leading mobile operator in Germany, OTCQX:DTEGY is able to command higher margins at home relative to competitors. Privatized by the government in 1996 after having been a former state-owned monopoly, OTCQX:DTEGY is 32% owned directly and indirectly by the German government. The company is a large domestic employer with a domestic workforce over 81,000, of which approximately 90% are currently involved in its German fixed-line operations.
How does your choice reflect your (or your fund's) investment approach?
To start, DCGV is an investment management firm that employs a fundamental, bottom-up, and absolute-value approach to the public equity markets by only investing in businesses well understood, industries within its circle of competence, and companies believed to be undervalued. Benjamin Graham, considered by many to be the forefather of value investing, felt that stock prices are more volatile than the true worth of a business. According to Graham, stocks should be viewed as small pieces of a business that are up for sale, just like any rational business owner would view them, and that the temporary disparity that exists between the true worth of a business and the price of a stock will close over time creating a profit for the investor. The key to investment success is to buy stocks of businesses having determinable value, which may be unpopular or overlooked at the moment.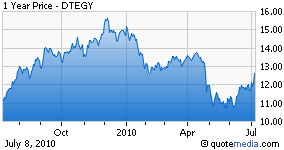 As such, DCGV's objective is to buy undervalued stocks. The main foundations of the DCGV investment process are margin of safety and intrinsic value. Very simply, margin of safety protects long-term investors from substantial, permanent wealth erosion. Stocks are purchased at a discount, or margin of safety, to their fair value. This fair value, also known as intrinsic value, can be defined as the price a rational buyer would pay for a business. Buying stocks at a margin of safety from intrinsic value can provide capital protection, especially during volatile markets. DCGV strives to deliver favorable results for long-term investors by utilizing the same philosophy pioneered by Benjamin Graham.
In DCGV's opinion and based on the price today, OTCQX:DTEGY does offer a substantial margin of safety from its estimated intrinsic value. There is significant capital appreciation potential using free cash flow estimates, especially factoring in the hidden value from margin enhancement opportunities via cost cutting and in-market wireless consolidation. As an example, OTCQX:DTEGY employs a whopping 73,000 workers in its domestic fixed-line business stemming from its former state-owned monopoly status. This affords OTCQX:DTEGY the potential to cut payroll expenses and enhance shareowner returns.
On the mobile side, historically, evidence suggests that market share and profitability are highly correlated which has prompted some industry participants to consolidate in-market to gain scale advantages and pricing power. OTCQX:DTEGY took advantage of this in the U.K. with France Telecom's wireless operation, and DCGV expects further in-market opportunities on the horizon. In addition, as mobile data traffic continues to grow in Europe, operators such as OTCQX:DTEGY with quality networks will be able to grow service revenues sharply while, at the same time, weakening smaller-scale players.
Stated unadjusted financial results do not show the impressive free cash flow of Deutsche Telekom, as noncash accounting amortization costs from prior acquisitions cloud true profitability, and unrealized margin enhancement opportunities represent hidden value. At today's price, OTCQX:DTEGY trades at 6.9x estimated 2010 free cash flow. And the shares currently offer a 7.2% dividend yield.
Can you talk about the sector? How much is your selection based on the company's industry, as opposed to a pure bottom-up pick?
As a business evaluator, DCGV strictly focuses on the fundamentals of a business to determine its estimated intrinsic value. In order to assess that value, DCGV believes it is critical to use conservatism and to have a thorough understanding of industry dynamics.
The profitability of participants in the wireless telecommunications industry is one that is largely dependent on market share positioning, as bigger companies are able to spread their costs across a higher subscriber base. Larger companies also have the advantage of more easily partnering with popular handset manufacturers, and of cutting prices to weaken their smaller rivals. In addition, subscriber strength enables companies to have some leverage over their suppliers, thus lowering input costs. Evidence suggests that the top two players within a mobile market generally earn higher margins relative to the remaining participants.
Former state-owned fixed-line monopolies are generally cash-cow businesses which are experiencing substitution to alternative service providers, such as cable or wireless, yet have potential for efficiency enhancements. The threat from cable and/or mobile varies by market. The larger incumbents have largely fought back cable with innovative bundled packages and improved product offerings.
How is Deutsche Telekom positioned with regard to competitors?
On the fixed side, OTCQX:DTEGY is the domestic incumbent provider but is being subjected to alternative telecommunication services products, including cable and mobile. The mobile threat is less of an issue as OTCQX:DTEGY is also the largest mobile provider in Germany and able to redirect some of its revenue loss from fixed to mobile. As for the cable threat, OTCQX:DTEGY is competing offensively by offering bundled packages that include TV, and also entering markets currently only served by cable, thus minimizing cable's scale advantages.
It is important to note that OTCQX:DTEGY can offer bundled packages. It is a possibility that a price war between cable and OTCQX:DTEGY may erupt, but it is DCGV's opinion that cable companies will opt to grow by grabbing market share from weaker domestic providers rather than eroding their own profitability through lower prices.
Deutsche Telekom is also addressing strengthening its international mobile operations as evidenced by the recent in-market consolidation of its U.K. T-Mobile unit with that of France Telecom, thereby improving industry dynamics. Management is focusing on a more long-term strategy for T-Mobile USA, which is the fourth-largest wireless carrier in the country (and its lower margins reflect that to be the case). Its HSPA+ platform is expected to offer a competitive cost advantage over rivals, given its GSM global platform. OTCQX:DTEGY has indicated they will remain capital disciplined at T-Mobile USA.
How does Deutsche Telekom's valuation compare to its competitors?
Based on unadjusted stated results and relative to other select telecommunication service providers worldwide, OTCQX:DTEGY may not appear cheap on the surface. But, on adjusted results and on a free cash flow basis, OTCQX:DTEGY is certainly one of the cheapest telecommunication companies today. Even using OTCQX:DTEGY's conservative free cash flow guidance for 2010 of €6.2 billion, OTCQX:DTEGY trades at 6.9x free cash flow. On Enterprise Value/Sales, one stated valuation metric that is less susceptible to accounting flaws, OTCQX:DTEGY appears relatively cheap at 142%.

Circling back to the U.S. mobile market: The top two, AT&T (NYSE:T) and Verizon Wireless (VZ, VOD), have the higher margins as you note, and T-Mobile USA is No. 4. T-Mobile USA may be capital disciplined, but its U.S. mobile growth has reversed or fizzled (especially in prepaid). Is it just the cash flow that makes it viable? Or are odds good they can catch up in smartphones?
T-Mobile USA has certainly had its share of problems in the U.S. market. Not only have margins come down, but its churn rate has increased. T-Mobile USA also lags its peers in data revenues. Interestingly, the company has a very high-quality network that should gain from its 3G HSPA+ platform, and financial misses could be partly the result of a misguided marketing and branding strategy.
That being said, new management has come in and is expected to address the issues as Deutsche Telekom corporate is committed to addressing its problem assets like they did in the U.K. One option could be to spin off the unit, while another may be to invest directly in the business in areas such as advertising and subscriber acquisition.
However, business acquisitions do not appear to be the solution - and management seems to be in agreement, providing further comfort that they will remain disciplined in their use of capital. DCGV believes it is reasonable to expect margin improvement over the long run, which would only make the free cash flow investment case for DTEGY even stronger.
Does your view differ from the consensus sentiment on Deutsche Telekom?
DCGV's view of OTCQX:DTEGY does differ from consensus. OTCQX:DTEGY is certainly unloved by the Street, which is the case with most of DCGV's portfolio holdings. For one, OTCQX:DTEGY owns 30% of Hellenic Telecommunications (OTE), a Greek telecommunications company, and the markets expect Greek austerity measures to put a damper on short-term growth. Second, the markets do not appreciate the strong market positioning and cost-cutting potential of OTCQX:DTEGY's domestic business, its high-quality network for future data growth, and its offensive strategy against cable. Third, corporate incentives are now more aligned with that of shareowners, which should aid in capital discipline going forward. Lastly, OTCQX:DTEGY is buying back its shares cheaply.
Does the company's management play a role in your selection? If so, how?
At DCGV, little to no emphasis is placed on management. DCGV believes that CEOs are considered to be the best salespeople in the world - with some capable of selling ice to Eskimos - and while DCGV would not object to meeting with management from time to time, DCGV finds it more useful to spend its time focusing on industry dynamics and quantifiable data. DCGV tends to be a contrarian investor.
What catalysts, near-term or long-term, could move OTCQX:DTEGY significantly?
Events that may re-rate OTCQX:DTEGY upward among market participants are better-than-expected results from its Greek operations, greater net subscriber additions or a spin-off of T-Mobile USA, headcount reductions at its domestic fixed-line business, in-market mobile consolidation in markets OTCQX:DTEGY has a presence in, or evidence of earnings accretion from its recent integration with France Telecom's Orange division in the U.K.
What could go wrong?
DCGV takes a long-term time horizon, and any short-term market disruptions including that from domestic regulatory challenges, price wars from German cable companies, or a higher cost of debt given its approximately €43 billion in net debt may be viewed as unfavorable by the markets and pressure the stock. But, unless the fundamentals have changed, DCGV will average down and continue buying the shares.
Thanks very much, Al, for sharing your thesis with us.
Disclosure: Dean Chase Global Value is long OTCQX:DTEGY in its own portfolios and client portfolios.
Read more Just One Stock articles »
If you are a fund manager and interested in doing an interview with us on just one stock or ETF position you'd hold, please email Rebecca Barnett.