Corning (NYSE:GLW) is the manufacturer of the famous Gorilla Glass used in smartphones. Currently, over 75% of smartphones worldwide use Gorilla Glass. All of the following mentioned as well as many smaller smartphone manufacturers use Corning:
Samsung (OTC:SSNLF) also has a 7.4% share in Corning, so the largest smartphone producer is clearly committed and invested in using and improving Gorilla Glass.
The Gorilla Glass, which comprises the "Specialty Material" category, makes up a good chunk of Corning's annual revenue: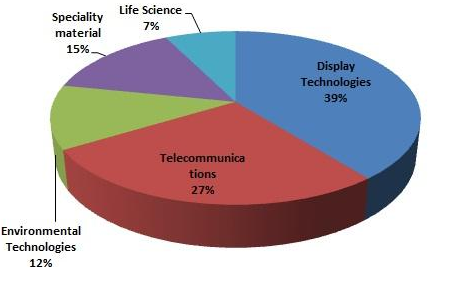 Basically, the company's success is contingent on its smartphone screen sales--a category that they dominate.
Sterne Agee supply checks estimates that the smartphone industry translated into 9 billion square inches of material in 2012, compared to the "mere" 150 million square inches used by the LED industry over the same time. And size definitely does make a difference to sales:
The increase in volume was driven by higher sales of larger-sized LCD televisions, which increased by nearly 100% in 2013, and higher sales in mobile computing products, including tablets and smart phones."

-2013 Corning annual report
More glass used per phone translates to more glass being sold. And ever since the first iPhone (NASDAQ:AAPL)was introduced in 2007, they have been growing and growing: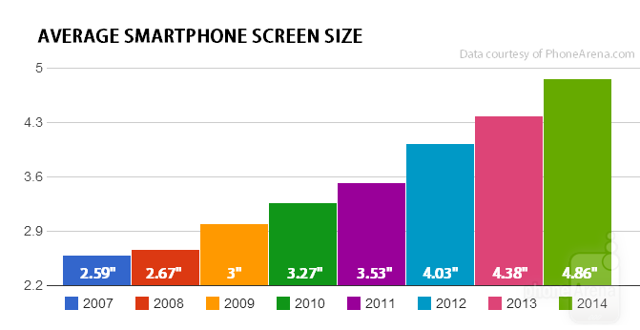 And for Corning, the impact was immediate. In the months following the late 2012 release of the iPhone 5 (which had a screen 20% larger than its predecessor), the stock rose about 17%:

The "Specialty Material" sector (ruled by Gorilla Glass) also brought in an additional $100 million than the year before:

Samsung has recently released its 5.1" Galaxy s5 and 5.7" Note, HTC came out with its mammoth 5.9" One Max, and Apple is rumored to up its area from 4" for the iPhone 6--all of which currently use Gorilla Glass. That's A LOT of big.
Risk
The main risk for Corning is the possibility of sapphire screens. Although sapphire is by far the better candidate for phone screens due to its scratch-resistant and strength properties, the price for it is far from ideal. Eric Virey, an analyst for the market research firm Yole Développement, says that "a Gorilla Glass display costs less than $3, while a sapphire display would cost about $30." At that price, the danger of sapphire is most likely not too imminent. In reference to sapphire, Corning executive Tony Tripeny said via Seeking Alpha:
When we look at it, we see a lot of disadvantages of Sapphire versus Gorilla Glass...our testing says that Gorilla Glass...can take than Sapphire on. We think from an overall industry and trend that is not attractive in consumer electronics."
The only potential candidate to use sapphire screens would currently be Apple. Worst comes to worse, Corning is still guaranteed that the world's largest smartphone producer, Samsung, will remain a client due to its investment in the company.
Disclosure: I have no positions in any stocks mentioned, and no plans to initiate any positions within the next 72 hours. I wrote this article myself, and it expresses my own opinions. I am not receiving compensation for it (other than from Seeking Alpha). I have no business relationship with any company whose stock is mentioned in this article.