Agriculture retailer Tractor Supply (NASDAQ:TSCO) lifted guidance for fiscal 2010 following better than expected second quarter performance. While the company will not officially report Q2 results until July 21st, they expect net income of $75.6 million to $76.7 million, which equates to $2.03 to $2.05 per share. This is far better performance than a year ago where the company earned $54.8 million, or $1.50 per share. Furthermore, consensus analysts' estimates called for only $1.71. The improved performance was thanks to favorable weather, better inventory management, as well as increased sales of pet food and animal feed.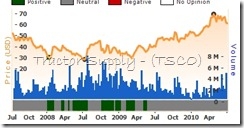 Interestingly, the stock started the day strongly and even crossed over $68 per share, but Tractor Supply only finished the day at $65.41 a gain of $1.65 or 2.6%. TSCO trailed off throughout the day (on strong volume); meanwhile the broad market indexes soared late in the day. Perhaps there are some valuation concerns for the stock which has advanced more than 23% thus far this year compared to a decline of nearly 4% for the S&P 500. Furthermore, the updated sales guidance was not as impressive as the earnings guidance. For fiscal 2010, the company upped sales forecasts to $3.49 to $3.53 billion, yet analysts were already expecting $3.52 billion.
At Ockham, we are encouraged by the positive earnings trends at Tractor Supply, and despite the recent outperformance we are content to reiterate our Fairly Valued stance. According to our methodology, the stock has appreciated in line with what we would expect given the solid and growing fundamentals. For example, the stock trades comfortably within the historically normal ranges of price-to-cash earnings and price-to-sales. While we do think there are far more attractively priced securities out there, if Tractor Supply is able to deliver on its heightened guidance (EPS of $4.00 to $4.10), we think the stock could reasonably trade in the mid-$70's.