The differential in pricing in WTI Crude and Brent Crude continues to shrink, performing in quite the opposite manner we anticipated this week. Our call is for the differentials to expand once again and get closer to the $10/barrel they have traded at in recent months. Any issue with Russia and Ukraine could easily cause this move, but that is not at all what the call was based off of.
Although we are seeing a change in how commodity investors are looking at the market as a whole, there are still plenty of opportunities out there for stock pickers who are looking for diamonds in the rough.
Chart of the Day:
Platinum continues its march higher, but we are now wondering whether the momentum will be strong enough to carry it through the approaching resistance level and later through the $1,500/ounce level. The field seems set for this, with the Fed and economy as they are, but are bulls prepared to use some of their firepower?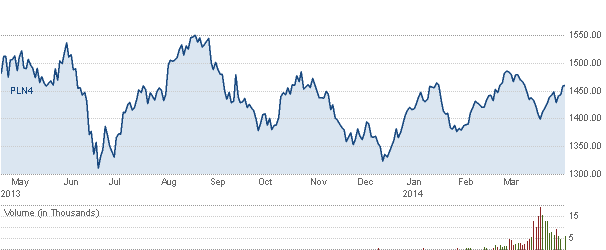 Source: CNBC
Commodity prices this morning are as follows:
Gold: $1,317.10/ounce, down by $3.40/ounce
Silver: $19.99/ounce, down by $0.101/ounce
Oil: $104.11/barrel, up by $0.70/barrel
RBOB Gas: $3.0319/gallon, up by $0.024/gallon
Natural Gas: $4.62/MMbtu, down by $0.035/MMbtu
Copper: $3.0375/pound, down by $0.0075/pound
Platinum: $1,461.00/ounce, up by $0.90/ounce
Mt. Milligan Paying Off
One of the hottest junior miner stocks in the last week has been Thompson Creek Metals (TC) which has strung together an impressive winning streak over the last few trading sessions after issuing operating results. The company saw strong growth from its Mt. Milligan mine with production continuing to increase and molybdenum prices rising which could signal a future tailwind for operating results.
Could we see the $3/share level retested based on the most recent operating results? It would not surprise us, especially with where prices are for key resource production.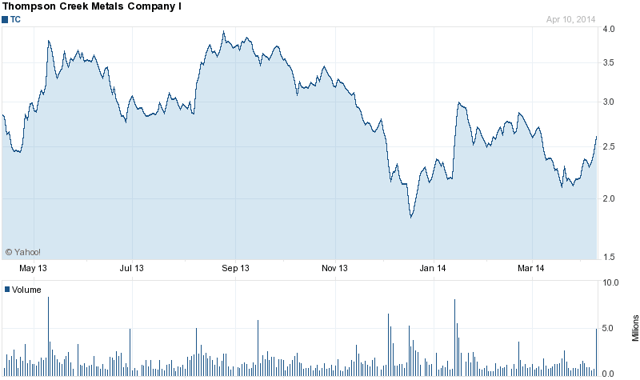 Click to enlarge
Source: Yahoo Finance
If the economic data continues to come in as it has and fears of a correction in China calm down, copper prices might perk up and that would be big news for Thompson Creek. This could end up being a very intriguing play as a dovish US Federal Reserve could create a situation where nearly everything the company produces sees renewed pricing power.
An Oil Play Ready To Breakout?
Over the past few months Goodrich Petroleum (GDP) has seen its stock price decline sharply off of its highs for the year as investors have taken profits from a big run up earlier in the year. As the company is still working on ramping up in the TMS play it has worked in investors' favor to move their capital out of Goodrich and into other names which are just now seeing the results from their large ramp ups.
We are watching for a breakout through $18/share in the next few sessions. If this happens and the stock can hold its gains, then we think this latest move higher has legs.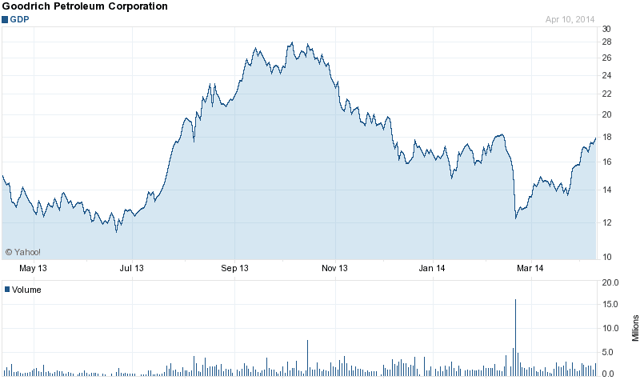 Click to enlarge
Source: Yahoo Finance
While we were looking at names on our E&P list which interest us, Goodrich Petroleum caught our eye as its stock price has perked up. This $18-20/share area is quite important and with the current pricing of oil and natural gas it is our belief that if the stock can break above $18/share and hold it then the move to $20/share should quickly follow. Readers should continue to watch this name over the next few sessions.
No Winners In This Case
We missed this news when it occurred but we thought readers might be able to appreciate the outcome as it does show how silly the American court system can be. There has been a case between Devon Energy (NYSE:DVN) and Mosaic (NYSE:MOS) regarding Devon's drill program in New Mexico which inadvertently drilled in an area which was off limits because it would have affected Mosaic's potash mining operation. Obviously Devon was at fault, but the case went to court and although the jury sided with Mosaic due to Devon drilling in an area they were already ordered not to the awarded damages amounted to a total of $0.01! The only true winners in this case were the lawyers and to an extent Devon. The losers? Mosaic. This is a perfect example of when winning is losing.
Utility Stocks
With the latest dovish comments from the Fed we have seen markets take a step back and reevaluate the way certain securities have been priced in this market. The 10-year, which we highlighted yesterday, has seen its yield settle into a nice little range and investors are now once again on the hunt for yield. We have seen a number of high yielding plays rise strongly in recent weeks, but the most surprising to us was Southern Company (NYSE:SO) which has seen its yield decrease as buyers have emerged to buy up its stock. Other utilities are seeing the same thing and this does give us hope for a quick turnaround.
Disclosure: I have no positions in any stocks mentioned, and no plans to initiate any positions within the next 72 hours. I wrote this article myself, and it expresses my own opinions. I am not receiving compensation for it (other than from Seeking Alpha). I have no business relationship with any company whose stock is mentioned in this article.
Additional disclosure: SO has previously been recommended.