We all know about the VIX and how it gauges the fear in our market place. What you may not have heard about is the "CHIX," or Chinese Volatility Index, and how the volatility in the European and American markets isn't necessarily reflected in China's markets and related ETFs.
According to Chris Sullivan of AlphaShares, the June performance data for the CHIX shows that market fear in China is 20% lower than that of developed markets as represented by the VIX in the U.S. and the EURO Stoxx 50 in Europe.

The CHIX settled at 27.61 at the finish of the second quarter from 24.22 at the beginning of the year while the VIX ended at 34.54 and the Euro Stoxx 50 closed at 34.32. The U.S. and Europe's market volatility indexes started the year at 21.68 and 24.06, respectively.
Jonathan Masse, senior portfolio manager at AlphaShares, stated that "global volatility remained elevated due to lingering concerns about European deb woes, the stagnating U.S. recovery, and China's ability to navigate a soft landing." Additionally, China has tightened lending and land sales to combat a potential bubble. Growth in China has come under question "after the Conference board revised its index of leading economic indicators."

Still, conservative estimates still put China's GDP growth at 8%. The IMF projects a 10% expansion. Furthermore, "China's Central Bank ended a two-year currency peg to the U.S. dollar," adds Masse, which should "increase Beijing's monetary flexibility," and "boost China's consumer buying power."
China's ETFs have been struggling this year. The strongest fund in the last six months has been the Global X China Consumer (NYSEARCA:CHIQ), which is down 2.1%.
click to enlarge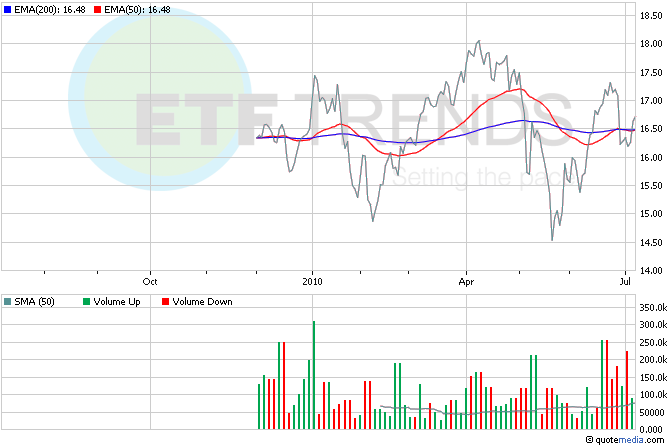 Max Chen contributed to this article.
Disclosure: None