After paying billions in fines to the aggressive Obama Administration watchdogs, the J.P.Morgan (NYSE:JPM) board granted CEO Jamie Dimon millions in compensation.
Specific forms of compensation include:
· An additional $18.5 million in stock on top of his $1.5 million base salary.
· $125,973 for the personal use of the company's jet aircraft.
· $31,041 for the personal use of cars.
· $134,728 for residential and security expenses.
Dimon's stock bonus could disappear if he leaves the company; in addition, the CEO could lose his entire bonus if he leaves it in less than two years, half if he leaves in less than three. The likelihood of Dimon leaving is slim, however; he hopes to stay for at least five more years and continue to collect these huge compensation packages.
$20 Billion Of Embarrassing Losses
In 2013, JPM faced over a dozen civil or criminal investigations touching almost every aspect of its business, including the following high-profile incidents:
• Questionable hiring practices in Hong Kong that may have violated the Foreign Corrupt Practices Act. Department of Justice looked into whether the bank was hiring the progeny of influential China officials to secure plum business contracts.
• Possible Energy market manipulation. The Southern District of New York pursued a criminal probe to see if the bank was manipulating electricity prices in California and the Midwest. In another incident, the Federal Energy Regulatory Commission in July had fined the bank $410 million.
• A possible bank fraud in Milan.
• It's role in the London Whale debacle.
• Suspicious mortgage-bond sales. The Department of Justice looked into toxic mortgage security sales before the financial crisis.
• Unacceptable foreclosure practices.
• Possible Rigging interest rates.
• Aledged Power market manipulation
So Why All The Goodies?
According to board members, Dimon did a good job protecting the earning power of the bank in the face of some very public legal settlements in 2013.
The board was pleased with the steps Dimon took to handle the barrage of litigation, as well as the $8.6 billion in after-tax legal expenses, related to mortgage issues. Dimon decided to settle the bank's issues at a high price all at once. He also added as many as 13,000 employees to support compliance measures, with 8,000 of them deployed to handle anti-money laundering measures.
Unfortunately, Dimon's steps to mitigate the negative impacts of the 2013 scandals-however swift and decisive-are not as impressive as avoiding them.
Conflicting Methodologies
According to the methodology used by the Securities and Exchange Commission, during 2013, JPM awarded its 58 year-old chief executive $11.8 million in total compensation-technically 37 percent less than the previous year, when he received $18.7 million. SEC methodology only counts the compensation an executive is given during the year, regardless of when it is actually received.
JPM's methodology of granting compensation is different. Under the bank's own system, Dimon actually received $20 million in 2013 and 11.5 million in 2012, which was half of what he had received during 2011 because of regulatory challenges.
Conflicting Messages For Shareholders
The conflicting signals that losses, both performance-related and legal, coupled with generous executive compensation, send to shareholders is that JPM's priorities are misaligned--favoring its prized CEO above the integrity and financial strength of the institution, and those shareholders who've backed JPM and expect better.
A Clear Message For Investors
JPM shareholders should take this recent paradox of the institution's losses and lavish gifts as a clear message that JPM does not have their best interests in mind--and should take some profits now.
It seems many already have.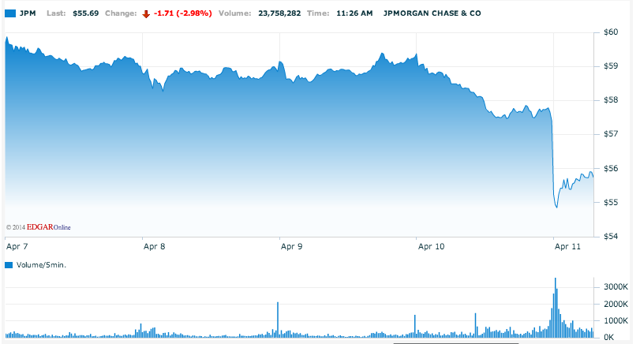 Click to enlarge
(Nasdaq.com)
Disclosure: I have no positions in any stocks mentioned, and no plans to initiate any positions within the next 72 hours. I wrote this article myself, and it expresses my own opinions. I am not receiving compensation for it (other than from Seeking Alpha). I have no business relationship with any company whose stock is mentioned in this article.