It is certainly an interesting time to be an investor in Arena Pharmaceuticals (NASDAQ:ARNA). The company is about 10 months into its launch of the anti-obesity drug Belviq and the equity has taken several lumps along the way. The biggest challenges that Belviq faces are insurance coverage, physician awareness, consumer awareness, and a strong sentiment among people that weight loss products do not work. The biggest challenges of the equity have been unrealistic expectations, slow approval process, and how to value a company based on sales and potential.
It is widely accepted that television ads will commence this month. This could help brand awareness as well as give a small bolster to the equity. One major issue I see is that, once again, some investors are are setting the expectation bar too high. Advertising takes time to see an impact. It is simply the way things work. Further, as investors, we do not know the size, pace, or scope of the television ad roll-out.
The good news is that Arena's marketing partner Eisai (OTCPK:ESALY) has developed a pretty consistent plan that should (in theory) allow Belviq sales to pass the 11,000 weekly prescription hurdle that has been more of an insurmountable obstetrical for competitor Vivus (NASDAQ:VVUS) with its anti-obesity drug Qsymia. Eisai started the launch in June of 2013 with 200 sales reps. The company began print and Internet advertising in October of 2013 and added 200 additional sales reps in December. Television ads will start in April, and by July another 200 sales reps are slated to join bringing the sales force up to 600 reps. Investors can debate the size and scope of advertising and sales reps, but there is no debate as to the the fact that progressive growth in the marketing effort is happening.
Over the past few months we have seen the street revise expectations. This week, analysts at Needham lowered expectations on Q1 sales, full year 2014 sales, and sales in 2015. The firm did maintain a hold rating on the stock. Currently Needham expects Q1 Belviq net sales to be $11 million and full year net sales to be $91.5 million. For 2015 the firm sees net sales at just shy of $200 million. Needham is expecting Q1 revenue of $3.5 million. In contrast, my current estimates for Q1 are net sales of about $9.2 million and revenue from those sales at about $2.9 million. For perspective, the current sales pace represents gross sales between $125 million and $150 million and net sales of between $80 million and $90 million. Thus, the current Needham model would tend to point to gross sales in 2014 of about $150 million.
In its last report to shareholders Arena outlined some "guidance" regarding sales and stated that it expected most of its revenue to come from its share of Belviq sales. The company outlined other revenue of about $17 million, so with a little number crunching you can arrive at a gross sales "guidance" of about $100 million at a minimum. Current pacing is above that "guidance".
This week, industry tracker IMS Health showed weekly sales of Belviq moving up about 2%. My adjusted sales figure for the week stands at 8,010. The charts below track prescription sales since launch, estimated revenues, quarter over quarter comparisons, and projections relating to current "guidance" and pace. These are tools that investors can use to assess actual performance vs. past performance and expected performance. Since launch, sales of Belviq have been progressively getting better with a lull during the 2013 holiday period. The sales have flattened out slightly, which will make television advertising and a bigger sales a welcomed event that can keep the trajectory at a steeper pace.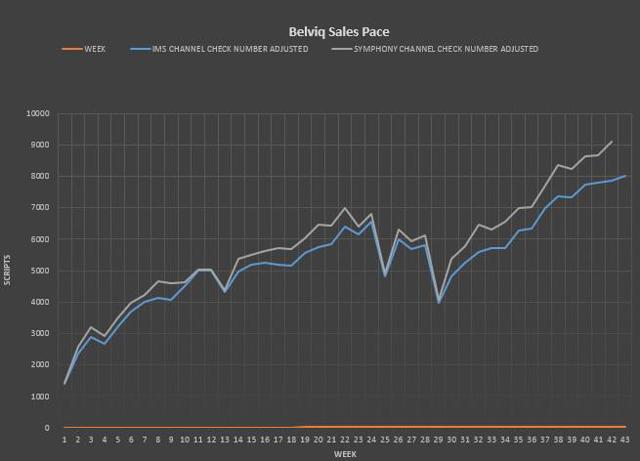 Chart Source - Spencer Osborne
On a cumulative basis I have sales since launch pacing at a bit over $45.5 million. With ten weeks left in the first full year, we should see the twelve month total in the neighborhood of $60 million.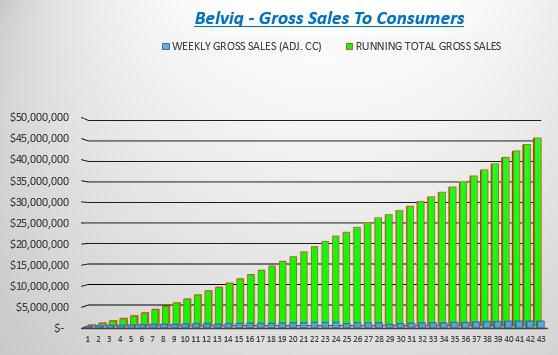 Chart Source - Spencer Osborne
Investors should now be keying in on Q1 2014 script numbers and sales results. For Q1 my gross sales estimate is about $17 million with net sales at about $9.3 million and the Arena share at about $2.9 million. Investors should bear in mind that I am tracking sales to consumers, while the company reports revenue based at the wholesale level.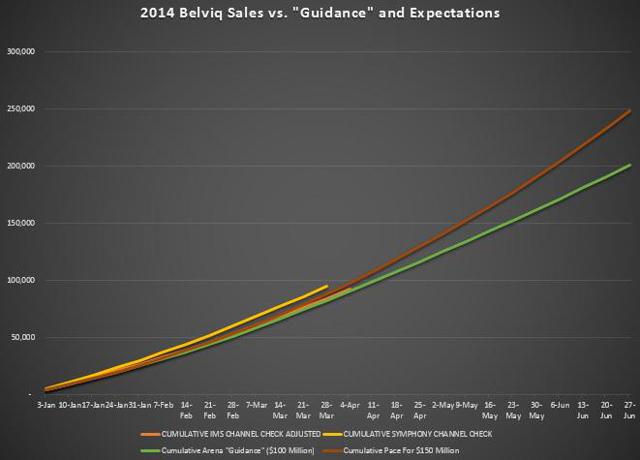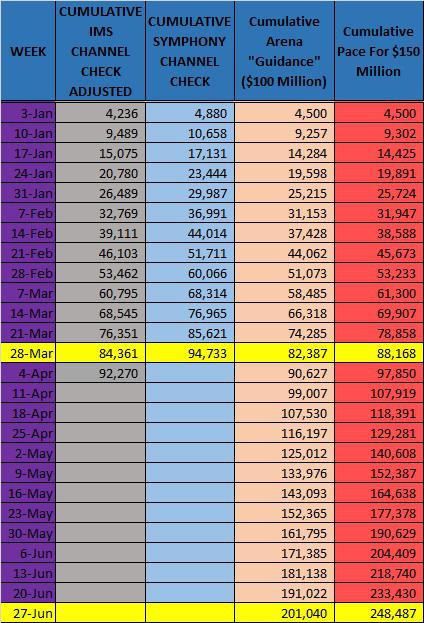 Chart Source - Spencer Osborne
Looking at current performance vs. past results, we see that Q1 sales improved over Q4 sales by about 28% overall. The chart below will now track Q2 sales, as we are entering a new reporting period. We want to see Q2 pace at least 20% better than Q1, and preferably 30% better. Television ads will help, but the added sales force will be more of an impact in Q3 and Q4. The quarter over quarter chart below outlines the near term growth story. For the first week in quarter over quarter comparison, sales in Q2 are an impressive 87% better. Do not get excited yet. It should be noted that the first week in Q1 had the New Year's holiday. That being said, the quarter over quarter numbers should be impressive and actually show more strength than what we saw in Q1 vs. Q4. Next week the chart below will begin to outline that story.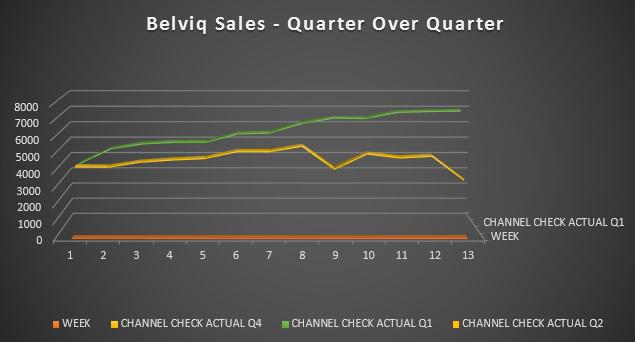 Chart Source - Spencer Osborne
One goal as an investor is to gauge future performance. What many investors often miss is comparing your expectations to that of the street or guidance. The chart below illustrates current sales performance against a "guidance" of $100 million in gross sales and an expectation of $150 million in gross sales. As you can see, the company is currently pacing at about $150 million. If analyst expectations are more toward $100 million we can anticipate a positive reaction for the equity. If analysts are expecting $150 million, then equity appreciation is harder (even though $150 million in sales is good). Thus currently we should be actively assessing analyst expectations. That is precisely why I took the time to understand the latest projections from Needham and arrived at the conclusion that current expectations of that firm are about $150 million in gross sales. Regular readers of my work have been anticipating this level of sales for quite some time now. Remember, the key in making money in an investment is knowing the market.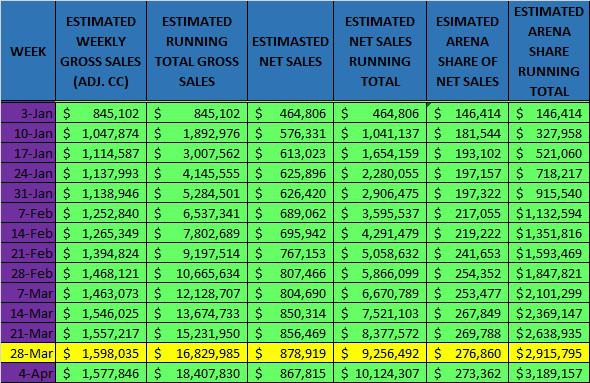 Chart Source - Spencer Osborne
Factors above and beyond sales that can help the equity appreciate include:
Faster sales pace than the street is expecting ($175 million in 2014 or more)
Approval of the drug in another country
Adding new indications to the label and marketing the drug for those indications
Widespread insurance coverage at good tiers
Pipeline news that creates measurable potential
What investors need to do now is assess what the company will be doing with its Q1 conference call. Arena is currently hovering around $6 per share, and in many ways seems oversold. There is a decent buying opportunity here if you anticipate additional approvals and strong sales growth. A more conservative approach may be to stay on the sideline and watch closely as sales develop and the quarterly call completes. Personally, I added to my position near current levels a couple of weeks ago and will await more information from the quarterly calls of Eisai and Arena. Stay Tuned!
Disclosure: I am long ARNA. I wrote this article myself, and it expresses my own opinions. I am not receiving compensation for it (other than from Seeking Alpha). I have no business relationship with any company whose stock is mentioned in this article.
Additional disclosure: I have no position in Vivus or Eisai