Rich Pharmaceuticals, Inc.(OTCQB:RCHA) is a name that I believe is currently the target of an illegal spam penny-stock promotion scheme. It is my view that the stock's intrinsic value is somewhere near $0, and it is with conviction that I recommend that any investors currently in the name sell the entirety of their stakes immediately. Today's morning weakness could be a signal that the dump is near. I also believe that Rich Pharmaceuticals, Inc. is a stock definitely worth shorting. My track record of identifying and publicly exposing such highly overvalued equities is excellent:
Company Background
Rich Pharmaceuticals, Inc. (RCHA) is a Biopharmaceutical Company developing a treatment for Acute Myelocytic Leukemia (AML)/white blood cell elevation and other blood related diseases. Rich Pharmaceuticals' goal is to extend refractory patients life expectancy and increase quality of life. Rich Pharmaceuticals' primary development stage product candidate which is known as PD-616 is being designed to treat blood and cancer related diseases through none evasive outpatient facilities. Find out more at richpharmaceuticals.com.
Little Revenue. Debts. No Business. Bright Future?
As is usually the case with these types of hyped up scams, it takes only one quick glance at the balance sheet to realize that the $142M market capitalization that this equity commands is beyond ludicrous. With no shot of any drugs being approved until 2016. That is expecting they pass all trials, which no one knows if they even will. It's my suspicion that the purpose of this company is not to succeed but to sell stock. The recent volume is due to overly bullish promotional spam.
Picture of $RCHAChart
You can see that trading in Rich Pharmaceuticals, Inc. started seeing really big increased volume on Apr 7, 2014. A simple twitter search and you can see multiple people reporting to have gotten spam on Sunday April 6th. Coincidence with the time of spam and increased volume in Rich Pharmaceuticals, Inc..? Absolutely not.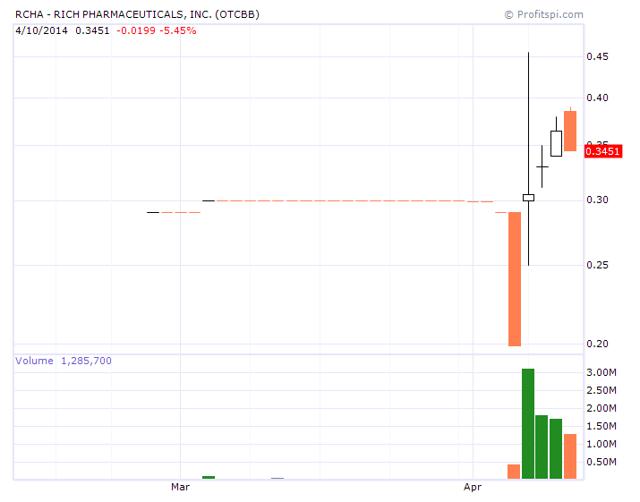 Spam Email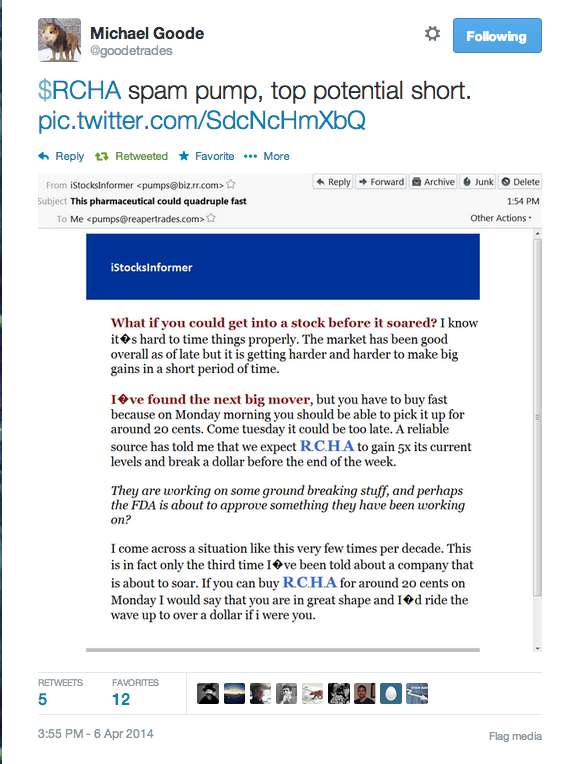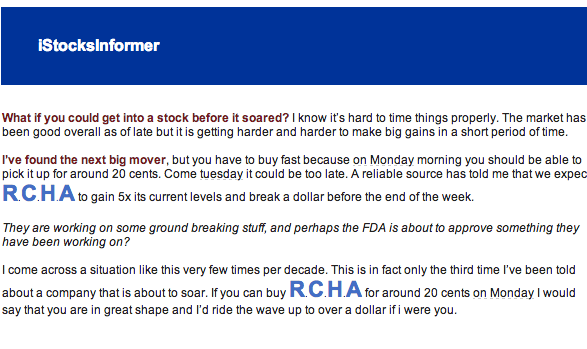 They are even sending spam to government emails (not smart). This raises the potential for a SEC halt.
Disclaimer
There is none. This is illegal
Reasoning for Spam
After going through all the filings you come to the conclusion that there are 300,024,000 free trading shares in anonymous shareholders hands. It is obvious that one or more of those shareholders has hired a spam group. Why would they do that? They did that because they are looking to cash out. You can't sell unless there are suckers to buy your free trading shares. As you can see the spam campaign has brought buyers. Insiders can dump their shares now. This will end ugly. You have been warned.
Recent SEC Halts
The SEC is finally cracking down on pump and dumps lately. Here is a list of big stock promotions that have been halted recently. I believe Rich Pharmaceuticals, Inc. has a chance to be next. My latest report on a illegal spam pump on Imogo Mobile Technologies Corp. was followed by an SEC halt. I believe the halt risk is very high for Rich Pharmaceuticals, Inc., especially with seeing tweets like this here. They are sending spam even to government employees (not smart). Stocks that get halted tend to reopen 2 weeks later down 70%+. My latest report on Imogo Mobile Technologies Corp was halted five trading days after my report was published. Makism 3D Corp. and Life Stem Genetics were two pumps that halted the day after my articles as well.
My Recommendation
If you own shares of this company, get out now. Do not hope that you can hang on to sell them to a greater fool. These shares are worthless. I have showed you that the reason for the promotional spam indicates that the individuals behind this stock scam are trying desperately to unload their worthless shares onto the unsuspecting public and book a huge profit before the inevitable collapse. If you are a more sophisticated investor and can get a borrow on these shares, then I believe that shorting this name will be highly lucrative for you. In this stage of the promotion with the stock halt risk it is not worth staying long overnight to make .05-.10 more in gains when there is a risk of 70% in losses. Spam promotions tend to do much worse then other promotions. If your interested in taking a look of some recent spam promotions take a look at $PRFC $IMTC $NVGC.
Disclosure: I am short RCHA. I wrote this article myself, and it expresses my own opinions. I am not receiving compensation for it (other than from Seeking Alpha). I have no business relationship with any company whose stock is mentioned in this article.
Editor's Note: This article covers one or more stocks trading at less than $1 per share and/or with less than a $100 million market cap. Please be aware of the risks associated with these stocks.