Share price of Potash Corp (NYSE:POT) has risen by 17% since touching its 52-week low in July 2013, outperforming a 9% return for S&P 500 Index. In my opinion, the uptrend should continue from here given the improved outlook for the global potash market and that the stock's valuation remains reasonable on a relative basis and is supported by healthy dividend growth prospects.
There have been multiple signs that the global potash market is stabilizing. According to Cantor Fitzgerald, the potash price in Brazil has been improving since early 2014 when it was at just $310 per tonne. The price in the region is expected to reach $360 per tonne. The price in Southeast Asia has moved up from $280 per tonne in 2013 year-end to $350 in April, and the US price has risen from $350 to $370 per tonne over the same period. Further, potash shipments have also seen solid improvement as year-to-date volume through February has gone up 24% from the prior year level. Owing to changes in the ownership of Uralkali, the company has been considering reestablishing a joint venture partnership with Belarus, which is expected to strengthen global potash prices. Given the renewal discussion remains in progress, I believe consensus estimates for POT have not fully reflected the potential benefits (although some extent of optimism has been baked in given the recent share price appreciation). As such, the success of this partnership renewal would be a solid positive for the share price.
Aside from improved fundamentals, POT offers a 4.1% dividend yield, which is almost the highest among its potash peers. I have performed a cash flow analysis to gauge the company's capacity to sustain the current dividend level and my conclusion is very positive. My calculation started with current consensus revenue estimates. To be conservative in the forecast, I applied a 2.5% to 5.0% haircut to the projections. It is noted that POT has been a strong cash flow generator as the company has managed to maintain an average operating cash flow margin at 46% in the past four years (see chart below). Based on the historical trend, I assumed an operating cash flow margin at 46.0% through 2016. Annual capital expenditures were forecasted to remain at $1.6B through 2016, which is consistent with the actual level in 2013. These assumptions suggest that POT cannot only sustain the current dividend level but is also able to drive an 8% to 10% annual dividend growth over the coming 3 years (see chart below).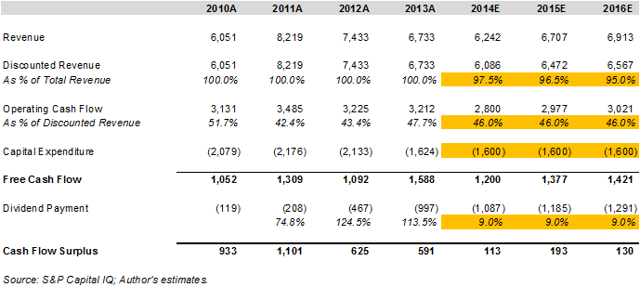 At ~$33, POT trades at 10.0x consensus estimated 2015 EBITDA and 16.5x consensus estimated 2015 EPS, both of which are at a modest premium over peer averages. I believe POT should reasonably deserve a 10%-20% valuation premium over its peers because 1) the company's consensus long-term EPS growth estimate is superior to peer average; 2) both POT's gross and EBITDA margins are also above par; 3) POT is able to deliver healthy investment returns as reflected by its above-average return on equity and return on invested capital metrics; and 4) POT offers one of the highest dividend yields in the industry and the company has sufficient liquidity capacity to support continued dividend growth (see chart below).

In conclusion, POT's current price uptrend is supported by continued potash price recovery and potential resurrection of the Uralkali/Belarus partnership. The stock's 4.1 dividend yield is believed to be sustainable and continued dividend growth should be expected. As valuation remains reasonable on a relative basis, investors are recommended to buy shares at the current level.
All charts are created by the author, and data used in the article and the charts is sourced from S&P Capital IQ, unless otherwise specified.
Disclosure: I am long POT. I wrote this article myself, and it expresses my own opinions. I am not receiving compensation for it (other than from Seeking Alpha). I have no business relationship with any company whose stock is mentioned in this article.